10 Awesome Reasons for Email Marketing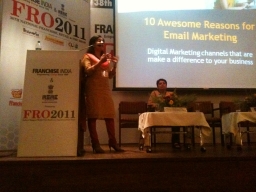 Juvlon was at the Franchise India Conference held on 21st and 22nd May 2011.  It was amazing to see the energy at the event. We saw and met many aspirants who want to become entrepreneurs and start a Franchise business. One of the speakers in the conference mentioned what everyone was feeling, that when you see the presentation from companies, their expansion plans and the eager entrepreneurs you feel that this is a great time of growth for India.
I made a small presentation to the energetic crowd on why digital media is important for small and medium enterprises and why Email is such an awesome channel.
Here is a copy of that presentation.