3 Easy Ways For Graduating to Triggered Emails
Standard email marketing campaigns are an inward looking marketing activity. The communication is company centered – a scheduled newsletter, a compilation of blog posts, a special seasonal promotion campaign etc.
Triggered emails on the other hand are outward looking and audience centered – they are initiated at the point of customer's interaction. For example Triggered emails can be sent out after someone fills out a form on the website, requests for a white paper or other resource, abandons cart etc.
Triggered Email Marketing is the next step in building a meaningful communication with your audience.
However, graduating from a standard email campaign messaging to triggered messaging could involve heavy integration with your website, eCommerce software and the messaging software. For example you may want to send emails to everyone that browsed but haven not shopped in the last 2 hours. This will involve data mining at your ecommerce level, campaigns in real time with your ESP.
However here are some ways you can graduate from simple email messaging to triggered campaigns without the need of heavy-duty integration:
1. Welcome Messages
Welcome message is the first email your reader receives after he signs up on your website for your account, for a software or for an email newsletter. First impressions last. Last year a study conducted by Ciceron found in their study that 83% of the brand they were sampling did not create a good first impression with the audience.
A good impression is created when you send a timely email, welcoming the reader, telling her about your services, or the products she has signed up for and even delighting the reader with promotions in the first email.
A timely email with a good design, relevant content, personalized with the readers name goes a long way in establishing not just a brand but also a relationship with your audience.
2. Birthday Messages
Who does not love gifts and wishes on their birthdays?
I am a book lover and compulsive buyer of books. I actually look forward to receiving the Birthday email from Crossword. (Disclaimer: Crossword is a client of Juvlon.)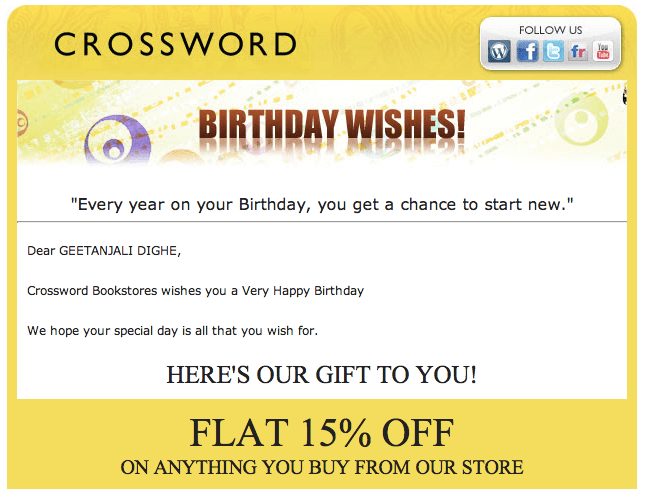 Birthday emails are easy to launch, you need a well-designed email and a list of your customer's birthday data. They can drive incremental income and also build better brand awareness and recall.
Birthday emails have very successful open rates but that does not mean that the implementation needs to be complex. In fact some companies are even sending out a weekly campaigns for the birthdays of their customers that fall in the week.
Return Path shared their experience here.
Not many businesses however collect this information when registering the users. Even from those that do, Ciceron's report found that only 4 of the 23 Brands that asked for the birthday of their customer sent them any birthday communication.
The brand Lee on the other hand created a unique campaign to collect birthdays of their audience in that process also generated sales.
3. Cart Abandonment Campaigns
77% of online shoppers abandoned their baskets in 2013 says EConsultancy. Cart abandonment campaigns are simple in principle. You simply send a reminder email to those who have left the website without shopping, and a proportion of them will come back.
If the email is sent within hours of leaving the cart, the chances of conversion are more. However it might also look desperate. Not all abandoned cart messages need to be sent immediately. A simple email asking if everything was alright, and if the customer faced any technical snags during her purchase is polite way to direct the customer back to the cart. Businesses that are just about starting their triggered campaigns could even send a standard email personalized just with the customer's name. A day or week later a staggered email could be sent with more details.
It is a good practice to create a personalized email with the name of the customer, and the picture of the product that she was considering for purchase.
Post purchase messages
Consider sending out an email after certain duration – say a week after the customer's purchase. This can even be done for transactions done at the retail store.
It is a simple way of staying on top of the customers mind, getting feedback, and developing insight as well. A post purchase campaign can be set up to be sent out weekly for all the people who shopped during that week.
Other messages triggered by content & or events
If you have specific content that you target at your goals, say a visitor on your website saw more than five pages of a certain product category, or viewed 3 articles from your blog. Would you want to target this customer with some specific content? Just like post purchase messages you can send a monthly campaign or a weekly one, depending on your product or service, targeting all such customer who did something specific on your website.
An upcoming holiday, or an event isn't strictly a transaction triggered email, even so a Father's Day, Republic Day, 15th August can be great opportunities for sending out promotional messages.
Automation and Triggered Email campaigns seem daunting to many businesses. In many ways even the simplest of the triggered campaigns will involve the time of your team to mine some of the data that your website & CRM generates.
However Triggered emails are the next important step in your digital marketing strategy that is likely to generate faster results, because you are reaching out to an audience who is already engaged with you. That is half the battle won already.
About the Author:
Geetanjali is passionate about Digital Marketing. She's used Internet enablers for business since the dot-com boom. As a consultant, she helps companies use digital channels to improve their sales. She writes about digital marketing at various magazines and blogs at http://ContactArt.in
---

Colourful balloons image courtesy Wikipedia Creative.  
Shoppers image courtesy Wikipedia Creative.