3 Emails You Should Send in the New Year
As you turn the page on your calendar, it's a good time to revisit your email marketing strategy. You want to send engaging emails that increase brand awareness, drive website traffic, educate your audience about your product and – most of all – encourage your target market to make a purchase from your business.
To help achieve measurable goals, we've created a list of emails that you should send out in 2015. We'll also give you a few tips to make each email a success.
1. Welcome email
You should always work to build your email list. Whether you encourage new people to sign up on your website or collect names near the cash register at your shop, new names should be rolling in. When you get a new name, it's important to send a welcome email.
A welcome email is like meeting someone in person for the first time. You want to make a good first impression. It's not the time to make a sales pitch. A welcome email is just about making an introduction and establishing a relationship.
"I am a proponent of sending out a few emails that build interest, before making a sale," says digital marketing specialist Brad Hines. "You need to warm up your audience before making a sales push."
Here's an example of a welcome email, along with a few tips: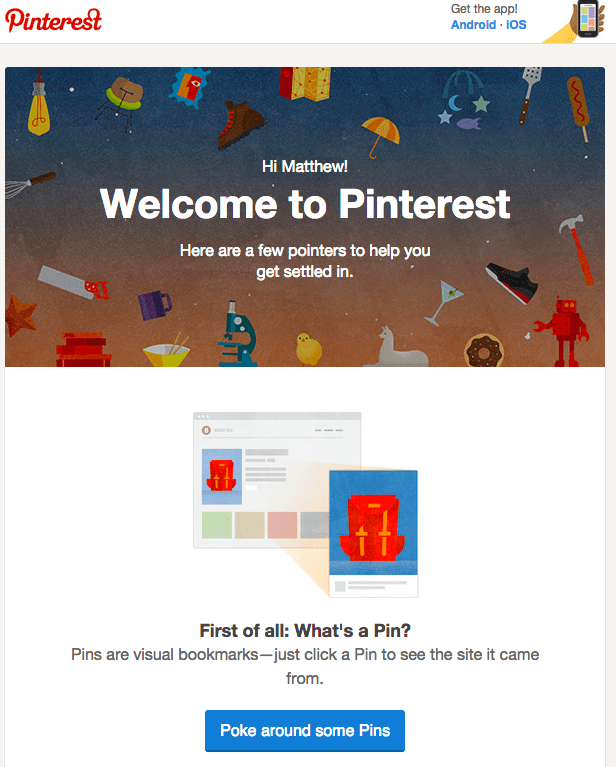 Welcome your audience. It goes without saying, but you should welcome your new contact to the family.
Explain your product. Tell your audience what your product is in a brief statement or two.
Encourage a tour. Your call to action should encourage the reader to tour your website, or learn more about your business like the example above does.
2. Promotional email
The promotional email is the go-to email for many small businesses. This email typically promotes a sale or offers a deal in an attempt to land a sale.
While these emails are an essential part of your email strategy, it shouldn't be the only tool in your arsenal. In fact, you want to send promotional emails sparingly. Your audience will grow tired of too many promotional emails. Save them for big sales or holiday deals.
Take a look at the promotional email below. When you do send one, here are a few tips to follow: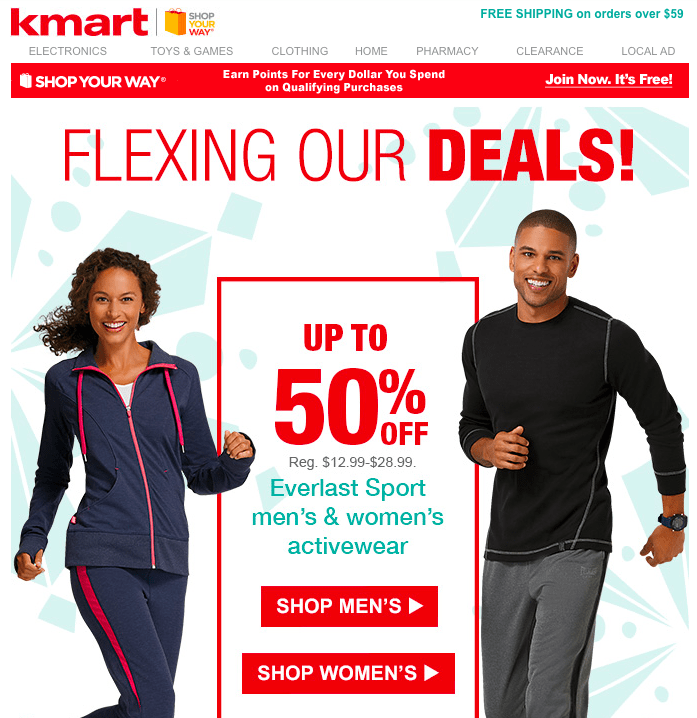 Explain the deal. In a few words, tell your audience what the deal is.
Pick a solid color scheme. Notice the email above uses the color red throughout. Pick one or two colors for your email.
Pictures. An image or a graphic breaks up the text and draws the reader in. Add one to your email.
3. Event email
Email is a great way to invite your customers, clients or partners to an event. Whether you're hosting a customer appreciate day in your store or a webinar online, an email invitation can get people to turn out.
Events make a nice platform to engage with your audience in a comfortable setting. The event doesn't have to cost a lot of money or have a huge guest list. Any time you can interact with your audience, it's a good thing.
Here's an example of an event email and a few tips to send a successful event email: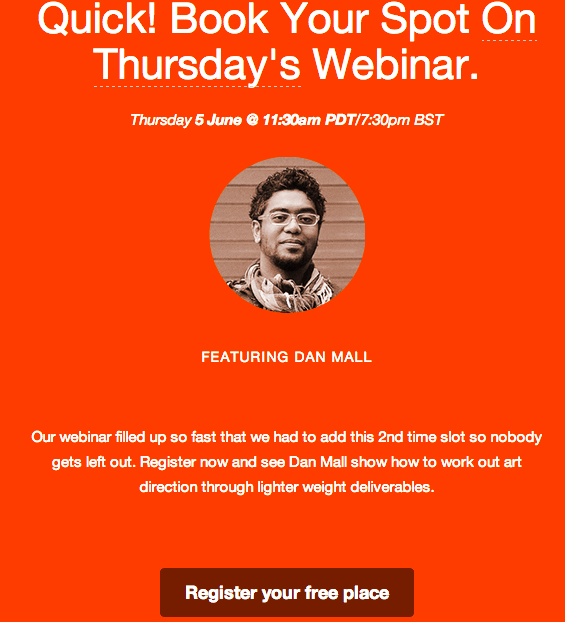 Give the details. Tell your audience the basic event details like where and when.
Explain the event. In a few short sentences, tell your audience why they should attend.
Register button. The call to action in an event email should be a "Register Now" button, or something similar like the email example above.
What emails will your small business send this year? Tell us in the comment section below.
About the Author:
Lisa Furgison is a freelance journalist and co-owner of a media company, McEwen's Media. Find her on Twitter @lfurgison.