3 Ways to Grow Your Email List
Email remains the best digital channel for return on investment. In a survey conducted by eConsultancy, email marketing tops the list for best return on investment followed by organic search (SEO) and content marketing.
On average, companies are attributing 23 percent of their total sales to email marketing. Statistics like this show the value of an email list, which is why businesses should make constant efforts to add to it.
To help businesses add contacts, here are three ways to grow your email list:
1. Add a sign up form to your website
Your website should have a sign up form on it. Just a small box that asks viewers to sign up for your newsletter, receive coupons or stay up-to-date with company news, is an easy way to collect contacts. It's a hassle-free way to attract new subscribers to your list.
Here's an example from Juvlon's website:

Notice the form is short. It asks for a name and an email address. You can add fields to collect more customer data, but you should keep the initial sign up form short. You can always collect more data once a subscriber signs up.
If you need help creating a sign up form, there are third party tools you can use. For example you can use Hello Bar, to add a small bar across the top of your website to collect emails. Or, you can add a pop up that appears on the screen with a tool like PopUp Domination.
2. Try Twitter Lead Generation Cards
Twitter offers a way to collect email addresses through its Lead Generation Cards. You create an offer that encourages people to sign up like a coupon for 30 percent off. To claim the coupon, subscribers must enter their name and email address. You get new contacts, and subscribers get a valuable coupon in their inbox for signing up.
The example below offers subscribers a free trial for signing up.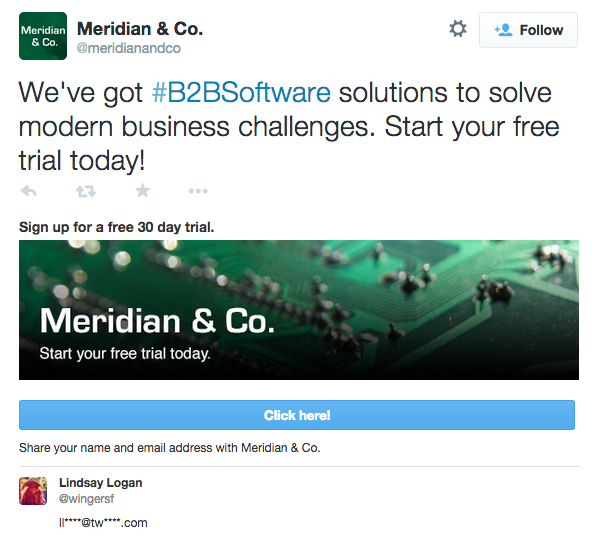 All of the contacts collected are added to a spreadsheet, which you can download and add to your master list.
You have to pay for these cards, but you can target the audience you want and get noticed by subscribers that might not find you otherwise.
You can learn more about Lead Generation Cards on Twitter's website.
3. Use traditional methods
It's a digital world, but that doesn't mean you should ignore more traditional email collection options. For example, when you head to a convention or a networking event, take a clipboard and ask people to sign up for your list.
Have cashiers collect email addresses at the checkout. Have customers provide their email address on a piece of paper in exchange for a giveaway, or collect business cards for the same purpose.
If you've collected postal addresses without emails, mail a coupon to the address that can be redeemed by submitting an email address.
Collecting email addresses is an ongoing effort for every business. The three options above are meant to grow your list in an easy, affordable way.
How do you collect email addresses? What works best for your business? Share your thoughts in the comment section below.
About the Author:
Lisa Furgison is a freelance journalist and co-owner of a media company, McEwen's Media. Find her on Twitter @lfurgison.