5 Innovative Ways to Use SMS Marketing
Most marketers know that text messaging is the most widely and frequently used feature on a smart phone, with 97% of adults using it, according to the Pew Research Center. But not all businesses are taking full advantage of the innovative ways that text message marketing, also known as SMS marketing, can be used to gather data, gain customers, build customer loyalty and increase revenue.
Here are five creative ways businesses can use SMS in their marketing strategy:
1. Polling:
Want a fast, easy way to poll an audience at a live event or webcast? SMS allows respondents to quickly answer questions to provide presenters or businesses with immediate results. Results can be projected in real time in front of the audience, embedded into a company's blog or displayed right on a website.
2. Appointments:
No-shows and last-minute cancellations don't need to be unfortunate necessities for service providers. From salons and chiropractors to dentists and furniture delivery companies, service businesses can use automatic SMS programs to send appointment reminders, request and accept confirmations for appointments and even allow clients to reschedule appointments. Texts can be set to go out in a preferred language and defined period of time before each appointment and can be triggered just by setting the initial appointment.
No-shows and late cancellations are costly. Research indicates individual medical practices lose between $100 and $1,000 per appointment, depending on region and specialty. Preventing just a handful of these no-shows can be beneficial to your bottom line.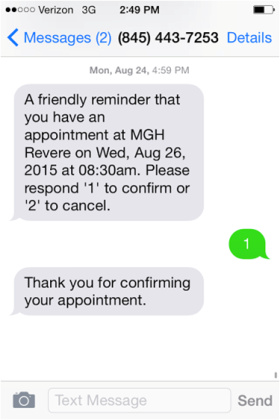 3. Contests
SMS contests are not only simple to create, but also easy to track. Businesses simply send entrants to a particular landing page or use an SMS keyword that entrants text to a business. Participants can easily receive confirmation that their entry was received.
Text-to-win contests allow business to capture information, gain opt-ins, send coupons to all entrants. A typical SMS contest reaps a 37% opt-in rate for future mobile alerts, although some far surpass that. According to Social Hospitality, a text-to-win contest for the Palms Casino Resort in Las Vegas was able to convert 60% of entrants.
4. RSVPs
Grasshopper reports that 90% of text messages are opened within three minutes, which is vital if you're trying to get an immediate head count for an upcoming meeting, class, fundraiser or corporate event. By gathering RSVPs quickly, businesses can determine venue size, seating layout, catering orders and more.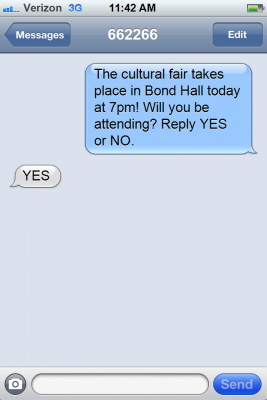 5. Slides
Sharing slides with conference attendees is now a reality in a room full of smartphones. With SMS, presenters can send a link that allows recipients to open slides on a mobile device. It's as simple as asking the audience members to text a keyword to the designated short code. Businesses can designate a particular keyword for each event's slides—NYFRANCHISEEXPO or VEGAS2016EXPO—to track requests.
There are countless ways that businesses can use SMS marketing to share information, engage customers, gather data and increase revenue. The channel provides a timely and affordable method to reach target markets with little effort for great results. Contact Juvlon to know more.