Email marketing hasn't faded since its inception. Over 205 billion emails are sent across every day. The reason behind it's continued success is that email marketing has a hidden treasure of data, which can be interpreted to know about the interests of consumers. The response of the consumer can be used to further improve the effectiveness of the marketing campaign. As per 59% of B2B marketers, email is the most effective channel to generate revenue.
Email has a median ROI of 122% according to a survey conducted by Direct Marketing Association and Demand Metric. This rate is four times higher than other marketing techniques like social media, paid search, and direct mail.
It revealed that 81% & 80% of respondents said email marketing drives customer acquisition and retention respectively. Email marketing can bring the desired results from marketing campaigns for SMEs with some easy strategies listed below:
1) Develop a connection with the audience:
Email marketing should not be restricted to communicating with your audience for discounts, sales or offers. Develop a connection with them by probing about their interests. Publish a newsletter and ensure that you ask the customer to subscribe to it. Observe what kind of links the audiences click, which particular information they read and respond to? As you build your email newsletter list make it the most effective medium to know more about the customer.
2) Communicate consistently with customers:
You will make the most of the email marketing campaign when you consistently communicate with audiences. Send monthly or weekly email updates to your subscribers. The content of the email shouldn't just focus on the sales. Instead, share the latest business updates, educational or information based blog posts, events, future plans for the business or events/activities you plan to launch. Share information about your products or services through email updates which prove as a direct point of communication with your subscribers.
3) Offer a gift:
The traffic on your website is great as potential customers are visiting your website. But, what do they do on the website? It would be fruitful if visitors share their email address before leaving so that you can stay connected with them. Entice the visitors to share their email id by offering useful information in return (or a discount). It is the best opportunity to reach out to your potential and existing customers for a long period of time, even after they leave your website.
Send promotional emails to potential customers, which include coupons and discounts. A more personalized way could be allowing access to exclusive content or arranging an invitation-only invitation-only event. The end goal is to move your potential customer through the sales funnel to conversion. Mention a time limit to avail of these offers so that the customers feel the urgency to take immediate action.
4) Use triggers to target effectively:
When an individual subscribes to your email list or buys your product, always acknowledge the action with a welcome mailer. People do like instant gratification and this personalizes communication with the customer. You can send triggered emails on the customer's birthday or anniversary. Wish your customer on happy occasions, festivals and new year. This gives them an incentive to go to your website and check the new offers and products too.
5) Loyal customers:
There are customers who regularly open your emails and click on the links. They check out offers and love the content you send. Now, it's your prerogative to thank them and send more targeted emails based on their integration with your brand. This will help you in retaining your customers longer and also develop a personal touch.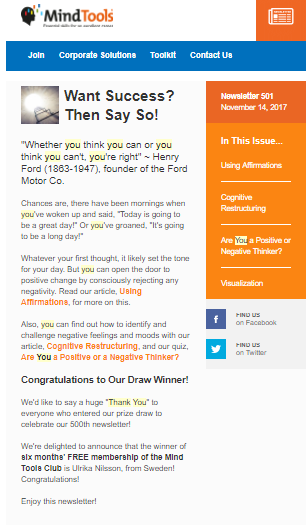 For small and medium businesses email marketing is the most effective medium to create a loyal customer base. Connect with Juvlon as we work along with your team to create this loyal customer base for your business.