Email marketing is the highest ROI-generating marketing channel. It's a well-established stat that for every $1 spent on email, the average return expected is $44+. But to get such returns from email marketing, you need to be strategic about your email campaigns.
For example, if you want to get more business around Christmas, you can't just send an email on Christmas and expect tons of sales. Why? Because most of the online Christmas shopping happens before Christmas. So, to snag all these sales, you need to start sending your Christmas promotional emails well in advance.
An email marketing calendar is a great way to seize all such email marketing opportunities. Let's now see three easy steps to creating an email marketing calendar for 2019.
Step #1: Identify the campaigns to run
As the first step to creating your email marketing calendar, start by listing all the events of the year that matter to your audience or subscribers.
For example, if you run an online store, events or occasions like the Republic day, Valentine's day, Holi … and so on … will matter to you.
Also, try searching for key phrases like "your country name + holidays." If you're lucky, you might get your hands on exhaustive lists (like this one for the US) of events that you can use to shortlist from.
And in case you run a B2B business, events like new product launches or major update releases will be the events that will matter to you. You might also be running marketing campaigns like sending your subscribers an annual report in December every year or, say, a whitepaper every quarter. For inspiration of the different email marketing events for your B2B company, just check out the collection of B2B emails from websites like this. If you find an interesting email, see if you want to add it to your email marketing calendar as well.
At the end of this step, you should have a list of all the events on which you'd like to run email campaigns.
Step #2: Plan the campaigns' tentative timelines
In the second step for creating your email marketing calendar, you need to map the different events you discovered/shortlisted in the first step and to the tentative timelines along which you'll run the email marketing campaigns for them.
For example, if in step 1, you decided that you'll create an email campaign for the Valentine's Day, mark out the days over which your Valentine's Day email marketing campaign will run.
As you'd know most of the shopping around these days happens much before the actual day, so if you send just one email on the 14th of Feb, you'll likely lose a lot of business.
So, to avoid losing this business, start your promotions a week in advance.
That means, your first email from your Valentine's Day email marketing campaign will go on the 7th of Feb.
Let's also say that you decide to send one more email (such as a 10-hour return of the most popular Valentine's Day deals) after the event, suppose on 21st Feb.
Following this logic, you should map your Valentine's Day campaign to the 7th-21st Feb range.
You get the idea, right?
Now, do this for all the events you identified in the first step.
Note:
While you don't need to know exactly what emails or how many of them you'll send for a particular email campaign, but it would help to have a reasonable idea.
Each such email campaign (also known as an automated email series or an autoresponder) will depend on the nature of your campaign and your industry.
For example, for an online store, a new product/collection launch email campaign (say, around the Spring collection) can easily have about 15-20 emails.
A B2B email for a product launch, on the other hand, can have only about 5 or so.
So basically, there's no right number of emails.
The best way to plan these campaigns is to use competitive intelligence. With email marketing competitive analysis, you won't just learn about the different emails your competitors send, but also know their start and stop times. You can also use a free service like MailCharts to help you with doing such an analysis. Or, simply subscribe to about five of your competitors and manually keep a tab on their emails.
Here's an excellent example of such a multi-email campaign from Pepperfry, a leading Indian online furniture store:
This was the first email that went out with the subject line:
Christmas has us feeling extra Santa-mental


Below was the email sent on Christmas:

Step #3: Set up a Google Calendar to use as your email marketing calendar
As the third and final step of creating your email marketing calendar, just add the timelines you set in your second stem to an actual Google calendar.
There are two benefits to doing so:
1) With all your events marked in a Google Calendar, you'll be able to easily visualize your campaigns. Adding and changing schedules of the events/emails is also very handy in a Google Calendar.
2) You'll be able to collaborate better with your content or product development team over your email marketing campaigns as a Google Calendar has great collaboration features.
So how do you do this?
First, go to https://calendar.google.com.
Next, find the Add Calendar Option on the left panel, and click "New Calendar:"
Now, add a relevant name and some description to your new calendar: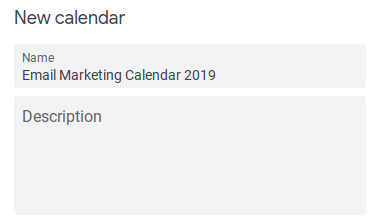 Finally, just go to each month and add the timelines.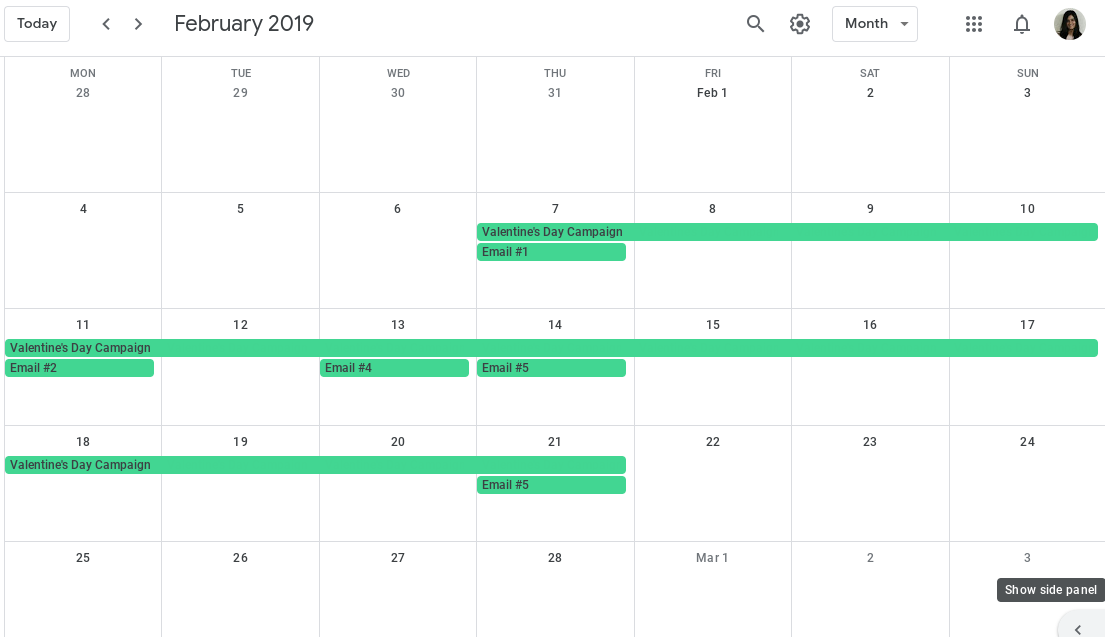 For example, here's the timeline for the Valentine's Day email campaign with entries for about the five emails to be sent:
Don't worry too much about beefing up the individual email entries with too many details. You can do that later as well as you get closer to creating/scheduling your campaigns.
Wrapping it up
Starting with an email marketing plan is the surest way of getting the highest ROI from this super-effective channel. So make your 2019 email marketing calendar today and know exactly which campaign to send and when.
Once you're done with creating your email marketing calendar, explore an email marketing solution like Juvlon that can help you create all the different B2B or B2C campaigns you need to send all through the year. Connect with our team to know more about how you can use Juvlon to translate your email ideas into beautiful, mobile-friendly emails that your subscribers love receiving.