Customer feedback and reviews are valuable asset for all businesses. These feedback and reviews guide and influence the road-map of your product, support or service. It's essential to gather these invaluable as they help you know how your customers or users view your product, services and company. Today we will look how email marketing can help you gather these insights from current customers as well as prospects. I am sharing live examples of how some products and companies prompt the receivers to share their experience about the service and product.
1) Direct survey email
Many a times product or service companies include a couple of email campaigns throughout the year to gather these surveys. These emails are directly requesting the receivers to fill in the form to share the review. While sending these emails such companies filter/segment the list and send it only to their users. The emails if they are exactly to the point and mention the reason why the survey is being circulated receives a very good response from the audience. Just check this email below. Learning Now tv has clearly mentioned that they are seeking the feedback to add-in new programmes in future. The mailer also states the benefits of sharing the suggestions and ensures that I will get the best content from them. At the same time, they have not forgotten to mention the time it will take for complete this survey.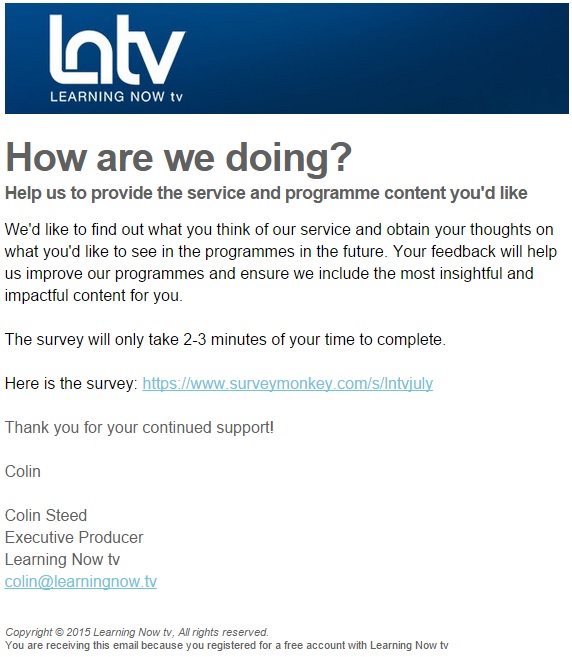 2) Reward the survey
Sometimes receivers do expect something in returns. Once in a while its ok to bribe our receivers :)! Think of remuneration options to entice your readers to fill in the form. I loved this example from Articulate (an e-learning product company) where their 'Head of Customer Happiness' is giving out Amazon gift cards to the lucky ones.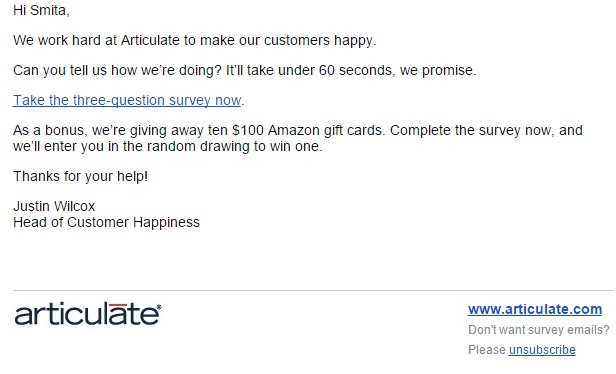 3) Feedback in transactional emails
Transactional emails receive the highest open rates. This is the healthiest assets to make the most of feedback or survey form. Check this mail from Myntra.com where upon exchange of an item, they have sent the confirmation email and have also requested their feedback on the 'exchange experience.'
4) A review after purchase
Customers remember you immediately after they have availed your service or purchased the product. This is the best time to ask for their review. In this email Snapdeal is happy to send this email requesting to write a review about the product. They also are offering a cash prize to lucky ones.
Snapdeal not only suggests to review the product but also guides how to do it. They are suggesting to write a product centric review and describe product experience. They also are mentioning how and when will they be announcing the winners.
A similar kind of feedback request after availing a service.
5) Feedback in newsletter
As a email marketing strategy many businesses send out regular newsletters to their subscribers. These newsletters contain industry news, product updates and features, announcements and many more such kind of content. The subscribers have knowingly opted to receive these newsletters. So again the open rates of such newsletters is very high. So this also is a best place to ask for readers' feedback. Ask them what are they interested to read more about and seek their suggestions and advice on your product or service. I do this in our regular Juvlon newsletter 'Earmark'
I have also seen Target Marketing asking for their help from their readers.
Do share any other examples you have come across or have successfully used to gather customer feedback or reviews.