How To Use Emails To Drive Traffic To Your Blog
The biggest challenge in the marketing industry is having an energetic and engaged audience. You have to attract an audience that will engage and to achieve this goal you need to know your audience well. Knowing your audience is important to marketing as knowing thyself is imperative to get wiser. A wise marketer will always want to know more and more about the target audience.
Having a blog in place provides a great platform to connect with customers but, how are you going to drive traffic to your blog? How will you engage the audience? Well, emails are the best way to drive traffic to your blog. Statistics reveal that email marketing is an effective way to communicate with target audiences.
According to Statista 2019 in 2017, there were 3.7 billion email users and this figure is set to grow to 4.3 billion by 2022. Also, 80% of business professionals believe email marketing betters customer retention.
But, how will you use emails to drive traffic to your blog? Here are some ways:
1. Ask for permission: respect your audience
It is great that you have a list of email ids. You can approach them to subscribe to your blog or initially just send an introductory email to talk about your blog. Give them a choice to subscribe to it. By doing this you are respecting their opinion and privacy.

2. Type of content: inform and create curiosity
Mention in the email about the topics you are going to discuss on the blog. Each blog has a purpose and is in sync with the brand. If customers relate to the brand and your blog, they will sign in. But, informing them in advance what type of content will be shared on the blog will reassure that it will add value.
3. Social media; build the buzz
Whenever you send an email to your customers always add social media handles and those should look prominent. Once customers land on your social media page it will have information about your blog and the blog posts. This is an effective way to drive traffic to your blog. Social media posts will give a glimpse of your blog and a clear idea to the audience about the content published on the blog.
When audiences are more aware of the blog content, willingly visit and sign into the blog they engage and rarely unsubscribe.
4. Segment; perfect way to target your audience
Segment your email list based on customers' preferences, behavior, personality, geography, demographics, and bits of information you gather about them. Later customize the content to fit it. If you are sending the same blog updates to the entire email list it certainly won't get the kind of engagement you are aiming at. It is just counter-productive.
5. Call for opinion; Speak to your audience
It's been quite some time that someone has signed in to your blog? Then its time to ask for an opinion. Are the blog posts interesting and according to expectations? Call for suggestions that can be left on the blog itself or can be emailed. This way your audience feels involved and acknowledged.
6. Short and sweet; customer's time is valuable
Whenever you send email updates to customers add only a few attractive lines about the post. Keep it short, simple and build curiosity about the content. If you are going to share chunks of content through the email, you will not engage your customers and ultimately, they won't open your emails.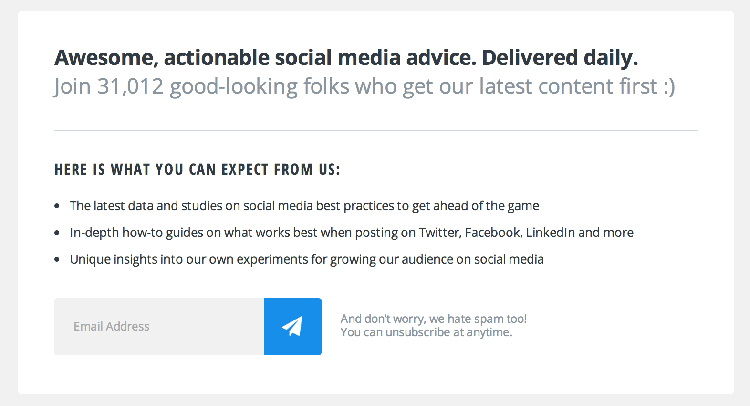 7. Linking; reviving the connect
Some posts drive a lot of traffic from readers or customers. You can link your present articles back to that post and mention them in the email too. Whenever you send the snippets of the blog posts in the email, link it back to the blog post, which has driven high traffic.
8. Be consistent; Keep the connect
You have taken efforts to have audiences sign into your blog, so now don't let them disconnect. Send regular updates and motivate them to leave comments. These comments can be shared on social media to again drive back traffic to your blog.
It's great to have a blog and a lot of companies create one with the idea of connecting to their customers. But, somewhere down the line, they cannot maintain the consistency; either the posts are not regular or the quality of content isn't up to the mark. Having a blog and maintaining it is a challenge but, if you get it right, it's the best platform to connect to your target audience.
Moreover, emails are instrumental in attracting audiences to your blog as customers/ target audiences tend to check their emails regularly. Emails are the vital connection that the brand has with its customers, which can be leveraged to direct traffic to the blog. You can convince audiences through an email marketing campaign to visit the blog to know more about the offerings and choices. You can inform them how the content on the blog is going to help them make choices and find solutions.
Here at Juvlon, we create email marketing campaigns that engage your audiences and pulls traffic to your blog. Connect with our team to know about our services.