How E-Commerce Stores Can Get Direct Sales With Emails
The retail e-commerce sales in India will hit the $32.70 billion mark this year. So, with the right preparation, Indian retailers can sell a lot to the ever-so-growing audience of the digital-savvy Indian buyers.
But to hack into this online buying-friendly demographics, retailers need to choose the right digital marketing channels — emails, for instance.
Emails aren't just the marketing channel with the highest ROI, but email subscribers are also much more likely to buy as compared to a store's search engine leads or social followers. Especially when it comes to driving eCommerce sales, few tactics work so well as some strategic email marketing.
Let's now look at a few tactics that will help you generate more sales and revenue for your online store using emails.
1. Optimizing welcome emails for generating sales
Welcome emails generate 320% more revenue per email than other promotional emails. Yet a huge number of online stores fail to use them.
Consider this:
When a user lands on your store and subscribes to your email list, your store and its products are fresh in their mind. It's quite possible that they already have a few of your items on their wishlist.
Now imagine if immediately upon subscribing, they see an email in their inbox from you with an exclusive offer. Imagine, how much more likely they'll get to buy from you.
Online stores that don't send a welcome email don't just miss the opportunity to greet and warm up the new subscribers but they also miss a great sales tactic. So if you aren't sending welcome emails yet to your new store subscribers, start now. To get the most sales from your store's welcome emails, give your subscribers exclusive offers such as:
A flat discount on the cart value: As a way to thank your users for subscribing to your store and to prompt them for buying, incentivize their buying decision by giving them a flat discount over their first purchase. You can also add a validity date to the offer to get the most of your subscribers to buy.

A coupon code with an expiry date: Another common welcome email sales tactic is to offer a coupon code on some of your best-selling products or categories. Again, add an expiry date to your coupon code, so your subscribers rush to take benefit of your offer.

Store credit to use on the first order: Offering store credit is another way to incentivize your new subscribers for making purchases in your store.
To make your welcome email campaign more effective, follow up on it a few times. So, for example, if you offer a coupon with a 7-day validity, follow up on the 4th day and remind your subscribers about the offer.
Here's an example of a welcome sales email: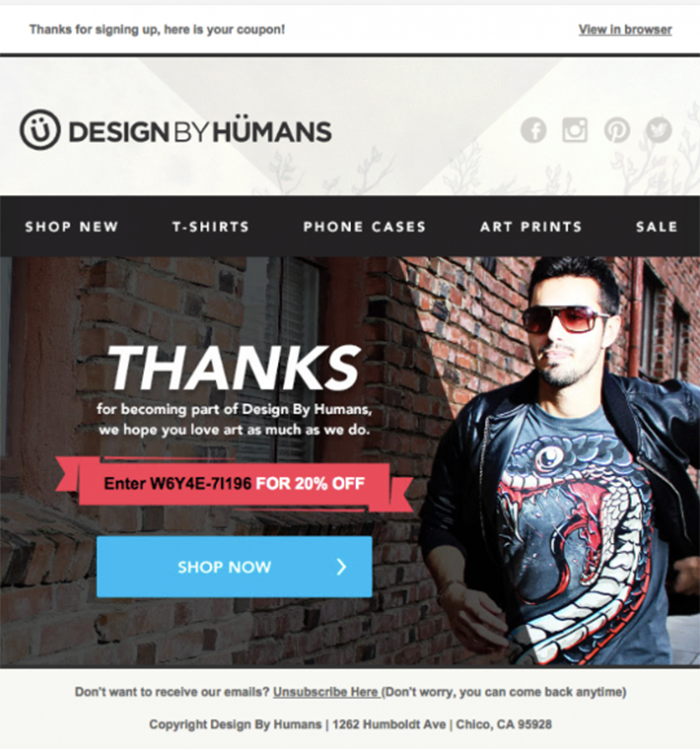 2. Creating email cross-sell/upsell opportunities for boosting sales
Upselling means prompting your buyers to buy more expensive items from your store whereas cross-selling means suggesting additional products to your customers.
Upselling and cross-selling are an effective means for generating more revenue for online stores. And the email channel is one of the most popular channels for making such upselling and cross-selling offers. In fact, the eCommerce giant, Amazon reported that it gets "35% of its revenue from upselling and cross-selling efforts." If you've ever bought on Amazon, you'll probably already know that a good deal of Amazon's upselling and cross-selling happens over its emails.
Here's an example of an email making a cross-sell offer: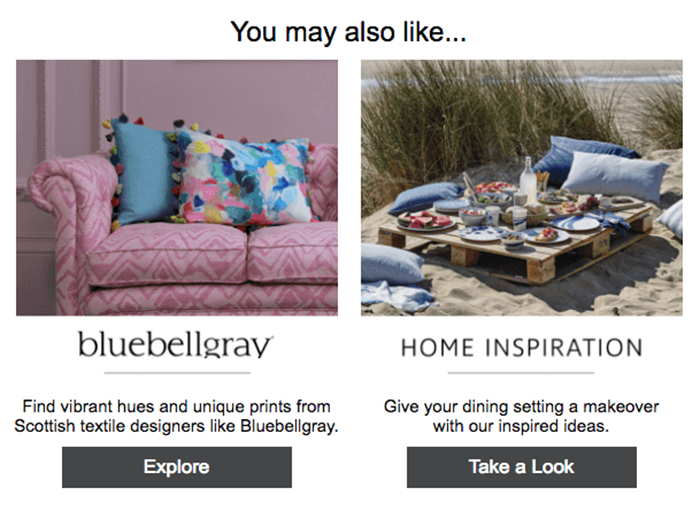 For example, if you sell a productivity journal, as an upsell, you can offer your users to buy a productivity kit with the journal along with a pen, wall calendar, and a diary to go with it. Alternatively, you can recommend the pen, calendar, and diary to your journal buyers as a cross-sell offer.
For making the most relevant upselling and cross-selling offers, you'll need a marketing solution that can use your customers' buying history to make the right recommendations. You can use an email marketing solution like Juvlon for sending such personalized emails.
3. Planning holiday campaigns for generating direct email sales
Thanks to the growing online buyer population and the huge discounts online sellers offer during the holiday seasons, the festive times of the year generate the most sales for retailers.
Again, emails are one of the most effective means for raking in the holiday sales for online stores. In fact, ComScore shares that in 2015 "email marketing was the biggest driver of Black Friday transactions, with 25.1% of sales originating from the marketing channel."
When online stores create targeted holiday campaigns, they can dramatically boost their seasonal festive sales.
Here's an example of a holiday campaign: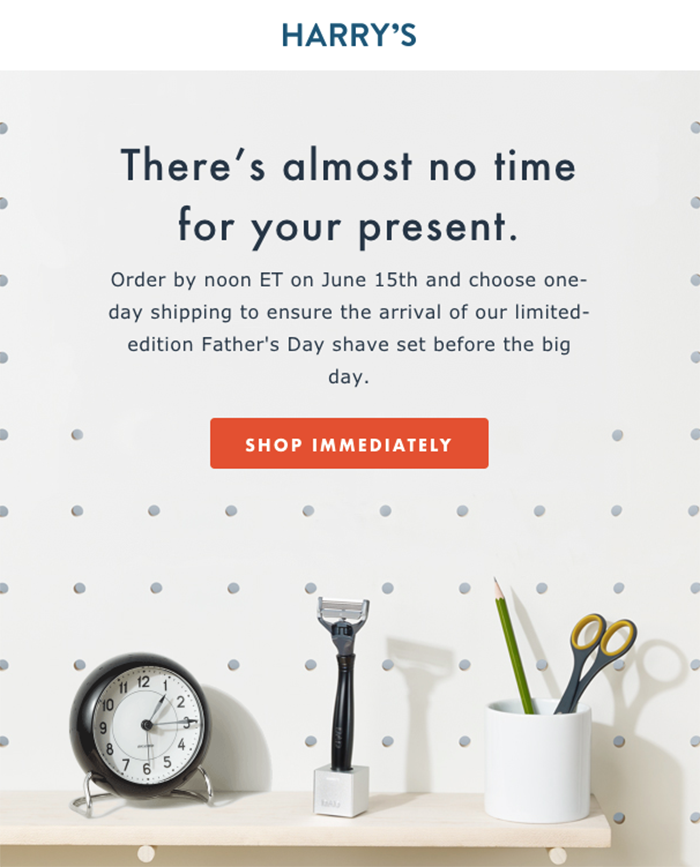 To improve your ROI from your holiday emails, run exclusive promos like cashback, free shipping (or same day shipping), coupons and more.
Also, if you can, go for holiday campaigns with multiple emails rather than creating a one-off email.
Wrapping it up…
Emails are — without a doubt — one of the highest revenue-generating channels for an online store. So if you aren't trying to make direct sales from your emails, you're losing out on a huge marketing opportunity.
If you need a powerful email marketing solution to power your e-commerce selling, we are here to help you out. Start your free trial now!