When it comes to marketing, complementary channels are almost always going to increase your results, because where one mode of communication falls short, the other picks up the slack. With the integration of Email and SMS marketing, the results can be spelled out in these four striking benefits for your marketing campaigns.
Reach
Although 90% of American adults own cell phones, the Pew Research Center reports that only 64% are smartphones. That leaves another 26% that may or may not have access to email when they're away from a computer. For last-minute openings due to cancellations, in-store alerts and urgent changes to an event, flight or service appointment, SMS messages are often the best way to reach customers.
American Airlines uses SMS messages like the one below to give travelers up-to-date information on things like arrivals, departures and gate changes. Keeping both SMS and Email options available allows for the best reach possible.
Response time
Even if businesses have mastered the art of crafting great emails to increase open rates, not everyone checks email daily. Although 92% of online adults use email, only 61% access email on an average day, according to the Pew Research Center. The Center also reports that, on the contrary, texting is the most frequently used app on smartphones and that 9 out of 10 cell phone owners say they "frequently" carry their phones with them. Few channels are as fast as SMS messages when it comes to actually reaching your customer. Textedly reports that 98% of all text messages are read within five minutes.
If your message is something that requires a response—such as confirming an appointment later that day, consider this: According to the CMO Council, the average person takes 90 minutes to respond to an email but only 90 seconds to respond to a text message once they read it.
Length
Brevity can be great and SMS messages certainly fit the bill, as they are limited to 160 characters. That's great when you're simply sending a promo code for 10% off, but longer content, like newsletters or some multimedia, needs the expanse that only email can offer. Length is still important when creating email. While you're not limited to a specific character count, you shouldn't abuse a subscriber's time. Keep emails as short as possible, even if you're sending a newsletter. Take a look at the newsletter below. It offers a short description of the content and encourages readers to move to its blog to finish the article.
Email helps you to spread the word amongst a global audience, and reaches thousands of customers with a detailed version of your marketing campaign, while providing benefits like segmentation and return on investment.
Satisfaction
It varies by industry and target market, but many customers say they want to receive SMS messages. Salesforce reports that nearly half of Millennials want to receive text message alerts from their bank for things like overdraft fees, bill payments and transfers. It makes sense, seeing that real-time transactions, like the example below, can certainly cut down on fraudulent activity.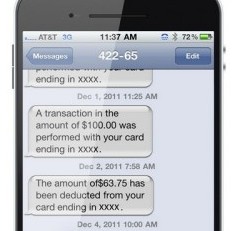 On the flip side, MarketingSherpa reports that 72% of U.S. adults still prefer to receive communications from companies via email. A marketer's job is to learn about customers' preferred means of being contacted.
Businesses that embrace both SMS and email marketing techniques reap more rewards than those which rely solely on one or the other. To make text and email marketing a seamless part of your strategy, use a marketing platform like Juvlon that offers both options.