Brands cannot afford to lose touch with their customers. But, they shouldn't even feel too wooed and chased. While they should certainly feel connected and see a part of themselves, their identity in the brand. Something about the brand should be special for them to not opt for competitor's brands. It's tough to establish this fine balance.
In fact, its statistically proven that 45% customers who use an app in the first week after they download it, are most likely to not be retained. But, the benefits of retaining app users and email subscribers are high. It's 50% easier to make a sale to existing customers as compared to new ones.
Somewhere in a series of emails, you might fail to connect or lose touch with a customer. It's surely a loss to the brand as now you have to reinvest resources to revive the connection and trigger a purchase. Winning back such customers should be your priority.
Tips for a 'win back' campaign:
1) Discounts for a limited period
Offering special discount would be a great way to win back customers and trigger a purchase. But, there are people who would postpone a response. Procrastination is the worst enemy of marketers. So, if you want a quick response, attach the discount to a deadline. Create an urgency and tell customers that the discount is valid till a particular date. This would motivate customers to act impulsively and you would cut through the procrastination barrier.
In the subject line, you can mention that the sale is only for today or for few days. For example: "5%,12%, 18%,28%….Great Shopping Treats! Just for Today"
2) Appreciate customer's presence
Give a feeling of belonging and importance by appreciating your customer. If they have made a purchase a long time back tell them that they are cherished assets and you want them back. You can send a "Please come back" or a "Miss you" message. Attach this with an incentive as it has a greater chance of winning them back.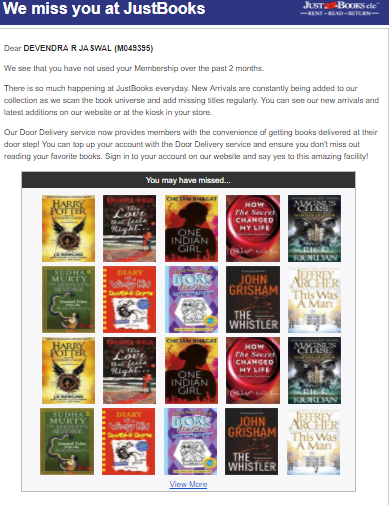 3) Re-permission to email
If you have been unsuccessful in re-engaging customers, it's time you dig into your sales data. You would see that many of them have been inactive for months or a year. It's obvious, when you send them discounts, they would probably ignore the email. They might have even forgotten you though they had made a purchase. This calls for a re-engagement.
You should again ask them permission to continue sending emails. Just barging into their inbox with a sale will give you no results. Ask them permission to restart mailing offers.
4) You missed something awesome
Remind your customers about your product line, offers and attract them to return and buy again. Share with them what new products or services you've added. Make a visually attractive email that shares your recommendations. Based on the last purchase, gauge what would interest them. To motivate them to start buying again offer free shipping.
5) Targeted sales
Based on the behavior of your customers you can send them relevant emails. Analyzing the responses of the customers you can know their preferences. Juvlon provides facilities to compare and contrast different email responses of customers. In this manner, you can know the kind of emails that have got better responses and drive conversions for your business.
Customers are at the epicenter of your business, if you can observe and analyze their behavior to derive maximum sales, you are on the right track. Get in touch with Juvlon so that we can assist you in this journey.