Email Habits That Are Alienating Your Customers
Email is one of the cheapest and most effective ways to reach your customers, but some marketing mistakes or lackluster efforts are enough to derail a campaign. To stay out of the spam box, increase your opens, boost your click-throughs and limit your unsubscribes, correct any of these bad email habits immediately.
Not putting enough effort into subject lines
According to the Direct Marketing Association, nearly two-thirds of your customers will delete or ignore an email based on the subject line. That's a lot of pressure on a few words of text.
So what makes a bad subject line? Spammy words like "guarantee" and "deal" can often serve as red flags to both filters and readers. Using all caps is a quick way to turn off your recipient, as is an irrelevant subject line.
More isn't necessarily better when it comes to word count. According to Intelligent Data Group, subject lines with 50 characters or fewer had a 12 percent higher open rate and 75 percent higher click-through rate than longer subject lines.
Not tailoring content and segmenting emails
No single email is going to appeal to everyone, which makes tailoring your content to a particular customer your best chance to hit your market. But writing a targeted message requires you to send it to the correct person. That's where segmenting comes in.
Beyond the basics of demographics, like gender, age and location, you can factor in behavior. Past purchases, recent searches and downloads, webinar registrations, saved wish lists and app engagement can all help you microsegment to hone in on your audience.
Not using triggered emails
Triggered emails capitalize on a customer's behavior to provide the timeliest and most relevant message possible.
There are countless actions that could launch an email aiming to elicit a response from the customer. When a customer makes a purchase, a triggered email might include an order confirmation and shipment tracking. Leaving a review might trigger a thank-you message. Cart abandonment emails could signal a free shipping incentive, like this email does: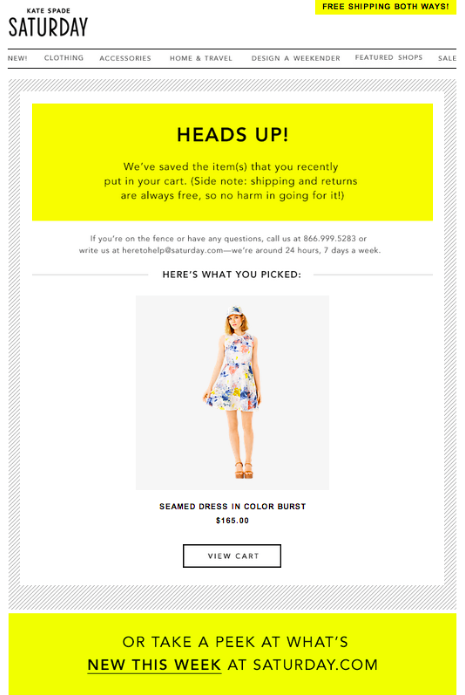 Don't miss the opportunity to put timeliness and relevancy to work for your email campaigns.
Not double-checking everything before hitting "send"
Receiving an email that begins by greeting you with the wrong first name is still an issue as more businesses are being advised to personalize their email campaigns. Incorporating first names can be a nice touch, but only if it's the correct one.
Typos happen, but proofing your email and then having another person review it can seriously reduce your chances for errors. Here's an example of a typo. The customer's name should be in parenthesis.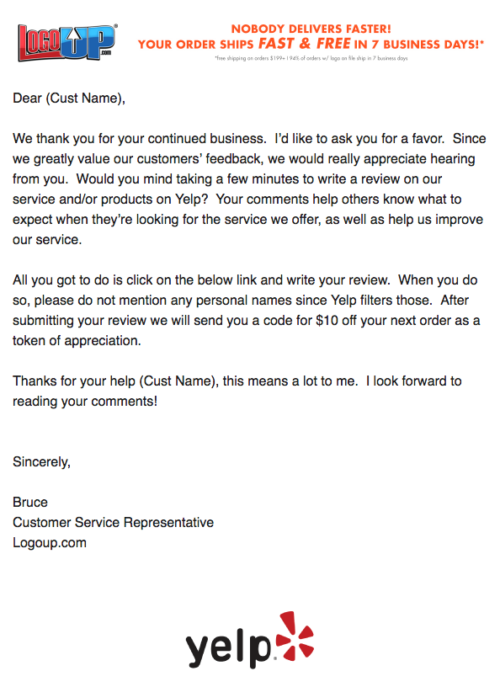 Failing to use metrics
Metrics can help you figure out bounce rate, click-through and conversion rates, the number of emails that were forwarded and your overall return on investment, among others. Use the gift of analytics to improve your emails.
If your bad email habits have you alienating customers, it's time to make a change. When done correctly, email marketing is 40 times more effective than Facebook and Twitter, according to McKinsey and Company. So nip your email mistakes in the bud today and you'll grow your business tomorrow.