Email Marketing Design Trends For 2018
The very first email was sent by Ray Tomlinson way back in 1971 to himself to test its functionality. Since then, it has been a marketer's favorite marketing channel. According to a market survey, in 2017 the average return for email marketing was 44$ for every 1$ spent, which proves that it is worth your time. Email connects you to your customers at a very personal level i.e their inbox! So why not make the most of it?
Customer's inbox is a battlefield where marketers fight for the attention of their customers. And why not? We all receive a huge number of emails every day. According to Hubspot, 86% of business professionals prefer to use email when communicating for business purposes. This means that you have to cope up with the recent trends to provide your customers the best email experience!
It's time to make some comprehensive changes in your email design so that it stands out in your customer's inbox. This includes changing your email template, color schemes, images, the color of CTA's to start with. Email marketing design will evolve more in 2018 as marketers will take advantage of developments in email automation to generate more revenue from emails like; welcome emails, cart abandonment emails, transactional emails, etc.
We have some email design trends for 2018, which will help you to ace your email marketing and generate higher ROI.
1. Creating interactive email experience
Email marketing is changing, and with support for interactive elements, the new email looks much more appealing. According to Litmus's research, 85% of all email respondents have not experimented with interactive email yet.
Here are some trending elements of interactive emails:
Hamburger menus and other navigation
Image galleries and sliders
Hover Effects
Reviews
Quizzes
Search bars
Add-to-cart functionality
Email interactivity includes some of the interactions that would take place on the landing page by adding them to the email. By allowing more action to happen inside an email, it improves subscriber engagement and helps them to explore more within the email.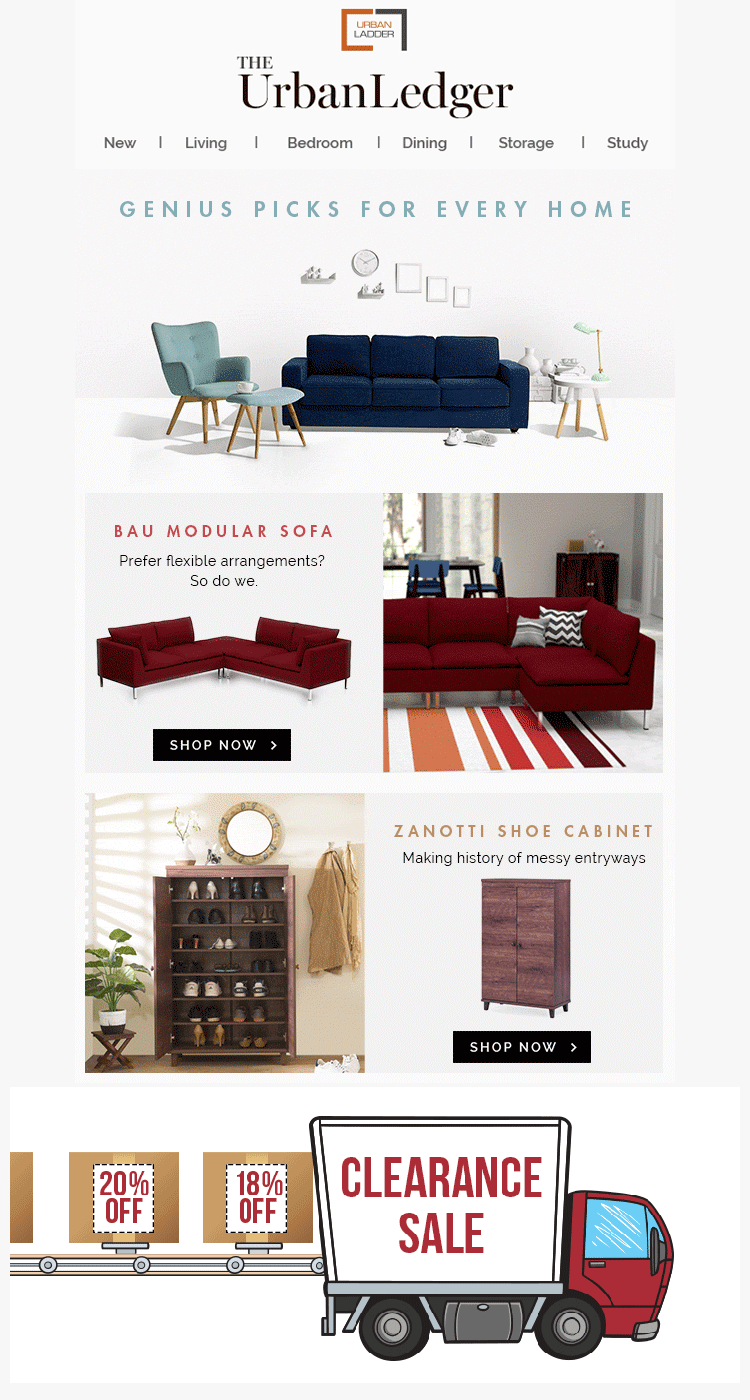 2. Typography trend
With emails gaining more and more popularity, it becomes difficult to stand out in the subscriber's inbox. But including a visually appealing font can help you to attract a subscriber's attention and will make your email aesthetically appealing. Also, it reflects the message of the email at a glance.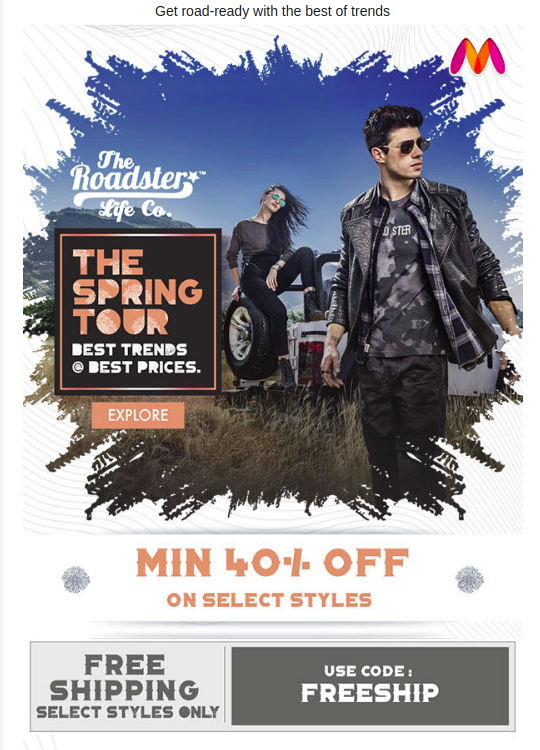 3. Focusing more on personalization and segmentation
We are living in the era of personalization, where it plays a major role in the success of your campaign and engages your subscribers. A study by Statistica suggests that emails with personalized content received a 5% lift in open rates compared to emails with no personalization. Emails are now personalized beyond just the first name, where the main challenge is sending specific content to the right person when the person is looking for it.
4. Using short, precise and relevant email content
Creating dynamic content based on the information that you have gathered about a customer (likes, search history, previous purchase etc.) will help marketers connect directly with their subscribers and will increase their conversion rates.
Integrating artificial intelligence with your email marketing can help you to focus on creating templates to which you could add tailored content. This will yield a beautiful email which would look and feel like a personal message.
5. Highlighting the important phrase
We all are in a big hurry when it comes to reading. Instead of a big chunk of text what we all prefer content that is precise, in which we have some important part of the text highlighted so as to get an essence of the whole email at a glance. By using this technique, you not only save time but there are more chances that your emails are opened and read.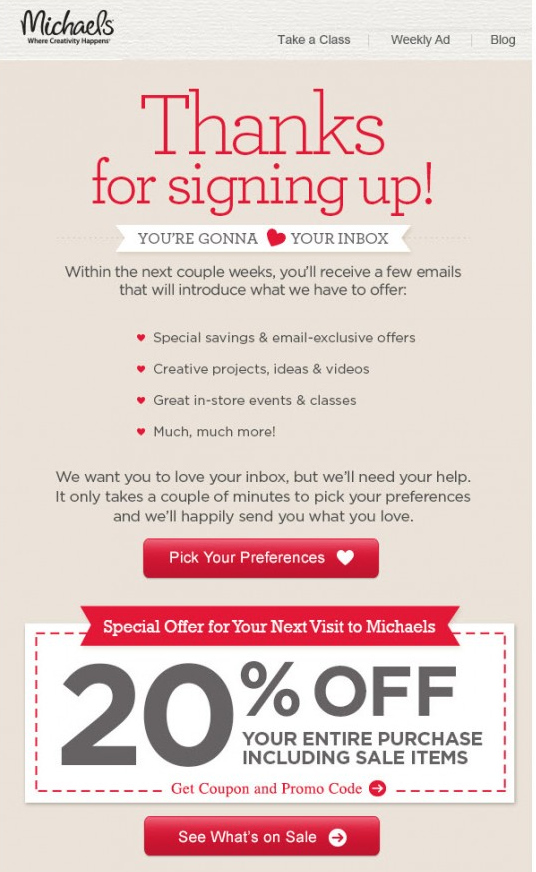 6. Making specific sections shareable
While reading an email, you love a piece of content and you want to share it with your friends, but you cannot unless you scroll all the way to the bottom of the email. Instead of adding social sharing buttons at the end of an email, including them on a line or sections of texts, helps to increase user engagement and drives traffic to your website.
7. Ask for feedback in the same email
More subscribers intend to give feedback when you ask for it in the same email at the end where the subscriber just need to click on their desired option, instead of diverting subscribers to your site. This reduces the time required to take the desired action. Google has been using this trend for a long time.

8. Choose the right color for your CTA button
We all know the impact a CTA button has on a subscriber. The color of CTA's decides the chances whether the subscriber is likely to convert or not. It changes the complete look and feel of your email hence affecting the decision of subscribers. Your CTAs should grab the attention of your subscribers compelling them to take the desired action. Also, the color that you choose for your CTA should go well with your brand. On the safer side, you should either go for general colors such as blue or green or a color that reflects your brand.

9. More use of images and emojis in email
Using big chunks of text is now a thing of the past. Emails which convey your message through images is now trending. To make an email more interesting and to make it more human, marketers have started using emojis in emails.
10. Simple, clean and attractive designs
Emails are mostly accessed through mobile phones. Compared to desktop or tablets mobiles have less space, which means your email should have simple, clean design followed by a clear CTA to which you can add tailored content.
11. Use of illustrations
Who likes to read boring emails? Well, no one. What if adding some illustrations and graphics make your email more exciting and memorable? Yes, one of the design strategies that is now trending is the use of illustrations in an email. Many companies are now using cartoons/characters to engage readers and drive conversions.
Upgrading the email design is a popular way to keep your subscriber interested in your brand. Emails are getting better and smarter design-wise with each passing day making it a popular choice for marketers.