Email marketing For Non-profit Organisations
The word 'non-profit organizations' or NGO says it all. They exist for a purpose that goes beyond profits and make a considerable difference in someone's life. They depend on financial and other kind of support from people who believe in their cause. To reach more people, raise extra funds, hunt for volunteers and board members, the best way is to spread awareness about their cause through marketing campaigns. A planned email marketing strategy helps to focus on spreading awareness about the organization and building trust among the audiences.
Today, we bring you some tips on email marketing for non-profit organization.
Share your story:
People have signed into your email list because, they care for the cause you stand for. They would also love to know more about what spurred and moved you to start the NGO. How your NGO will touch and improve people's lives?
You can appeal your subscribers to donate or extend their support through beautiful and informative marketing emails. These help you to connect with your audience and update them about your organization's needs and progress.The below example of UNICEF is a perfect one where they are explaining about neo-natal deaths in India and at the end there is only single call-to-action.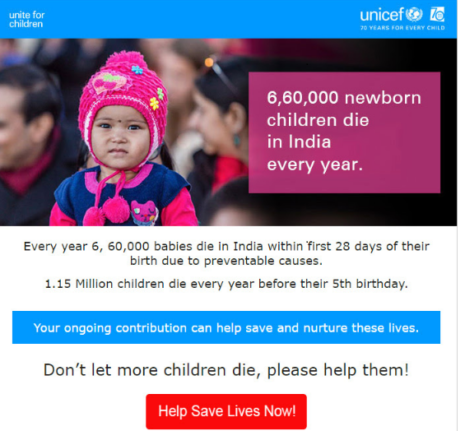 Follow up:
When a subscriber takes an action, like he/she signs for an event, or donates, signs for the newsletter, etc don't end your communication just there. Stay connected and keep the conversation going through a follow-up email. Generally, this will be an automated mail, which will give additional information and more calls-to-action.
Express gratitude:
Non-profit organizations are extremely grateful towards donors, sponsors and volunteers because, they keep the show running. So, it's vital to send an automated email to thank for any kind of contribution that is made by the subscribers. Thank-you emails express gratitude for the time and efforts that people take to contribute, and keep them engaged. Along with this, well-drafted email content always wins extra points in the minds of your readers, and helps you create a lasting impression.
Update on the activities:
Post this communication there is always a possibility of losing touch. It takes more efforts to build new audiences, so if you keep your donors and contacts continuously engaged through marketing emails, you can retain them.
Keep informing your audiences through email updates about the activities that your NGO performs, member activities and their progress through personalized emails.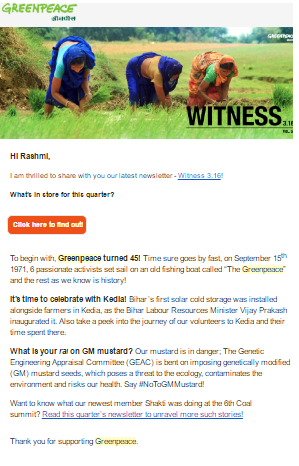 Segment your audiences:
Always create target segments before sending emails. Break down the email list into different target groups. For example, you have the new audiences, loyal donors, first time contributors, unresponsive subscribers, etc. For each of these groups create targetted emails. Be sure you are sending relevant and interesting information to your audiences.
Email marketing for non-profit organizations is an attempt to gather support of like-minded people who support a cause. These emails are more like a heartfelt request. So, emails should be designed and crafted to appeal the audiences accordingly. Always mention a single call to action and one goal while you write the email content to keep the message simple. Saying less is more impactful. Include videos or images in your emails about the organisation's progress.
If you wish to know more Juvlon is here to support you to run email campaigns. Click here to know about how Juvlon makes email marketing simpler and focussed for customers who work for a cause.