Email marketing to capture End-of-Summer Sales
Seasonal profits are only as good as the marketing businesses do to promote their products and services, and with an average 4,300% return on investment, email is still king. Here are four email campaigns to help boost summer sales.
1. Holiday and Event Tie-Ins
June has Father's Day, July has Independence Day, and this year, August has the Summer Olympics. Businesses that creatively play off these events, and others, can capture some of consumers' summer holiday spending, including:
• A Natisonal Retail Foundation (NRF) 2015 survey found that 64.4% of Americans celebrating the Fourth of July planned to attend a cookout, picnic or barbecue, spending an average of $71.23 per household, and more than 48 million planned to purchase decorations, apparel and other merchandise.
• Another 2015 NRF survey found that three in 10 consumers planned to shop online for Father's Day, and expected to spend an average $157.
Marketers could also have fun with some of the lesser-known holidays, such as National Splurge Day in June, National Hammock Day in July and National Sister's Day in August. Here's a list of unique holidays for each month of the year.
Here's an email campaign from Beyond Yoga that tied into Summer Solstice: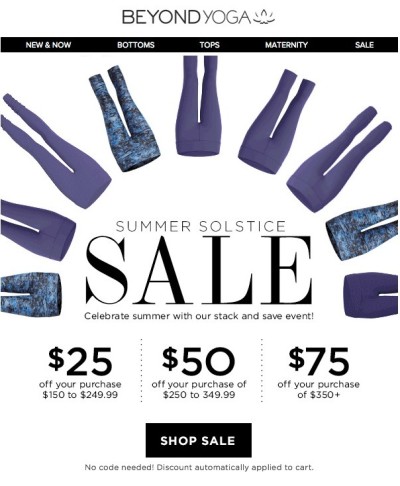 2. New Arrivals
Another way to appeal to customers is with an email that introduces new products or services. Deus used a "Shop Now" button in the email below to take consumers to the new selections. The company sweetened the pot with an online exclusive deal: a free Deus bag with orders over $50.

Retail marketers would be wise to consider a mid-May to early-June email campaign that includes the recommendation of gift cards, as well as gift suggestions for newly released items that might appeal to students graduating from high school and college.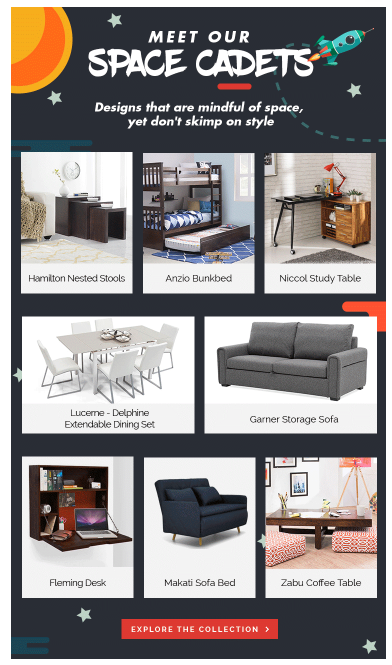 This is because NRF's 2015 Graduation Spending Survey found that:
• The average person buying graduation gifts will spend $102.50 and will shop for two graduates.
• Excluding cash, the most popular gift given to graduates was a gift card, followed by apparel and electronics.
3. Customer Appreciation Events
Why not show your customers that you value them, like West Marine did with its Customer Appreciation Days?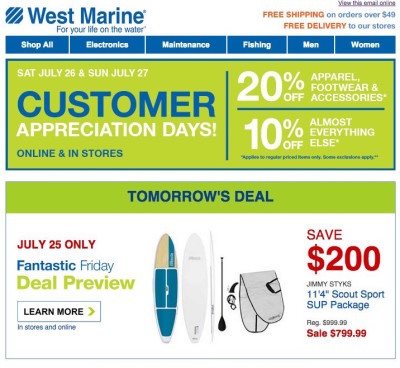 Consider these statistics from CustomersThatStick.com:
• It is 16X more expensive to bring a new customer to the same level of profitability as a lost customer.
• Loyal customers are worth up to 10X as much as their first purchase.
• Increasing customer retention rates by 5% increases profits by 25% to 95%.
4. End-of-Summer/Back-to-School Sales
Savvy consumers know that end-of-summer sales often provide the best opportunity to purchase summer attire, pool accessories and patio furniture for next year. But it's also when many people start back-to-school shopping.
According to the National Retail Federation, in 2015, the average school and college shopper had completed about half of their shopping by August 11. That means businesses should be emailing back-to-school promotions in July, as Bonton did with this July 22, 2015 email campaign: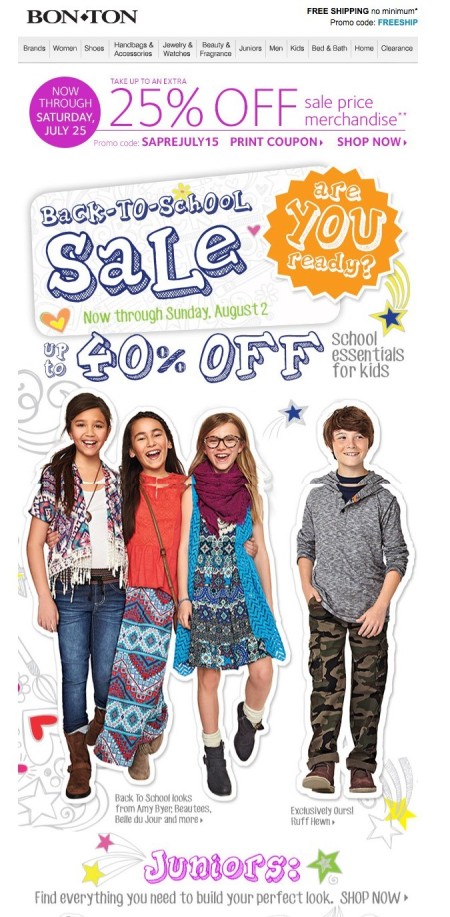 So what kind of email campaigns work best? Of those early shoppers surveyed by the National Retail Federation, 51.3% said they were influenced by coupons, sales and promotions, so businesses would be smart to include a discount or coupon code to appeal to the budget-friendly early birds this summer. Master the email marketing craft and send out your promotional emails using Juvlon.