Email Marketing Trends to Help You Dominate in 2017
Ready to ring in the New Year? This year promises to be a strong one for email marketing. Recent research shows the return on investment for email is high. For every $1 spent, businesses make $40 in return.
Here's a chart that shows how email marketing stacks up against other marketing options in terms of return on investment: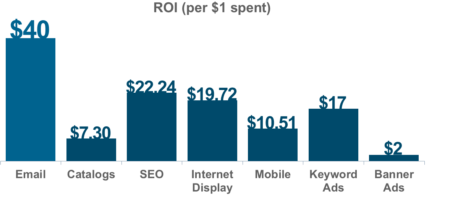 Email marketing is still the fastest growing channel for ROI. Businesses are eight times more likely to receive a 50 percent boost in sales with email marketing than any other marketing platform, according to a report from Econsultancy and Adestra,
Email will continue its reign into 2017; so here are three email trends you should keep an eye on to make your marketing efforts successful this year:
Focus on mobile
Smartphones are used for more than playing Pokémon Go and checking Newsfeeds on Facebook, they're the go-to method of checking email. And in 2017, it's estimated that 4.77 billion people will own a cell phone worldwide, according to Statista.
So how can you send mobile-friendly emails? Here are some tips:
Use an email service provider like Juvlon that offers premade templates that look great on any mobile device, or use a tool like PreviewMyEmail to see how your email looks on various devices. Remember, forty-two percent of smartphone users will delete your email immediately if it doesn't display properly.
People are addicted to cell phones, so that may mean your customers will check their email more frequently, or at unusual times. This year, test various send dates and times to see which ones are most effective for your business.
Keep the text short. Smartphones have small screens; so 5-7 sentences can look like a wall of text. Keep your messages simple so subscribers can easily read them on their screens.
Be Visual
Email design will play a big role in 2017. As consumers grow more accustomed to great pictures and graphics on social media, they'll expect the same from their email. Here are some tips to get visual this year:
Try to incorporate an image to 1/3 of your email while the other 2/3 is text. This ensures users who disable images in their email will still understand your message.
Include a call to action link in your photos too. This will allow you to track the effectiveness of photos in your emails.
Do not use background images in your emails. They generally do not render properly.
Here's a great example of a visual email from an online eyeglass store, Zenni Optical: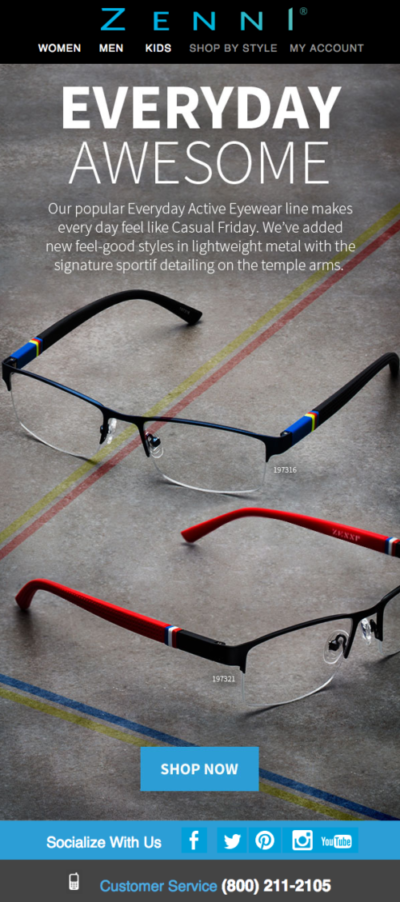 Provide discounts
Research shows emails with discounts drive purchase decisions. A survey hosted by BlueHornet shows 42 percent of consumers sign up for emails solely because they were looking for discounts. Discounts has the led the sign-up charge for three years in a row.
Here are a few tips to offer subscribers discounts that spark purchases:
The discounts that consumers are most looking for are price reduction and free shipping, according to BlueHornet.
Four out of ten participants said they bought something because of email sent to their mobile device, according to BlueHornet.
By focusing on these three tips, you'll be ready to take your email marketing to the next level in 2017.