We all know it by now that emails are a great way to reach your target audience. If you wish to craft emails that lead to click throughs and conversions, you need to know your audience, their interests and preferences. Once you know what appeals your audiences, convert this vital information into an email that wouldn't miss their attention.
Checklist to optimize your email
Grab attention
Treat emailing your customer as a form of story-telling. The beginning should have a hook. It should grab the attention of your audience and they should be compelled to know more. Use a tone, words and attitude that appeals your audience. If it's an offer, discount or coupon the audience would choose to make a purchase if you manage to grab and sustain their attention.
Subject line
The first thing that your audience notices is the subject line. Some subject lines just turn you off. For example, the subject line of a BookMyShow email says, "Aren't you curious?' Now, this subject line is interrogative but, without a purpose. It gives no clear indication what the email is all about?
Clarity
We continue with the same example of BookMyShow. When you open the email, it gives no clear information, though it speaks about a discount. When you click the image, you reach the landing page, which reveals a discount of 50% on movies. The process doesn't end here, you need to click on a call to action (book now). If you make the customer navigate through so many pages to reach the discount they might lose patience.
Be clear, brief and quick in converting a click into sale. Why test the patience of the customer?
Say more with less words
It's best to be brief, concise and clear in your message. Let it not confuse the reader about what you are trying to convey? A mailer from ICICI Direct has a subject line, 'Stay protected and enjoy peace of mind'. When you open the mail it clearly defines the purpose, 'Pick any insurance, stay protected always'.
The rest of the email has images and the customer can choose from varied kinds of insurance like car, property, travel, etc. It also has a clarity of thought and the objective is clear. Avoid cramming too much information.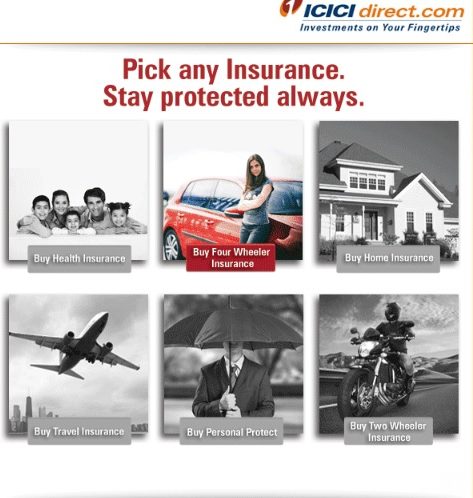 Images
The use of images is always effective. Here is an example of 'let the image say it all'.
Convince
Clearly mention in your content and images how your products would make a difference in your audiences' life. It would convince people to click through and reach the landing page or the website.
Convert
Let the call-to-action box be clear and visible in the email. Don't sound as if you are pushing the audience to buy. Give them a reason to buy, don't push but, pull the audience to buy. The below example is a simple offer, its not too pushy, it uses the occasion of Woman's Day to promote the sale.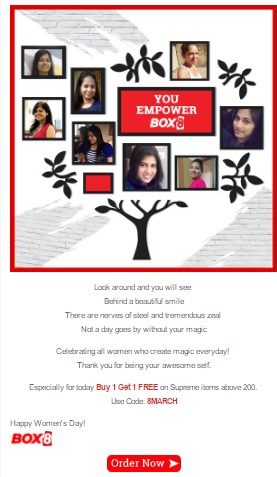 Creating the best email is intelligently deciphering the data that you get about your audience and converting it into information, which gets percolated into an impactful emailer.
We at Juvlon collaborate with you to know your customers better through varied products. Get in touch with us to optimize email campaigns.