Email personalization examples you can't help but love
Personalizing promotional emails is a necessity in today's marketing efforts. Being polite, courteous and getting to know your customer helps build trust and buying power. We'll talk about the power of personalization, and give you some examples from real companies that you'll love.
The stats on personalization
Econsultancy reports that 74% of marketers say targeted personalization helped increase customer engagement.
Experian reports that multichannel retailers see a 37% increase in unique open rates for emails with personalized subject lines when compared to emails sent during the same period with non-personalized subject lines.
Personalized promotional mailings have 29 percent higher unique open rates and 41 percent higher unique click rates than non-personalized mailings.
Here are some great examples you can mimic.
Write a personalized letter
Consider writing a personalized letter to your subscribers. In the example below, from the American Red Cross, you'll notice that Jen immediately introduces herself and states her purpose.
While doing so, she connects by giving intimate details about her experiences with the American Red Cross and how it has not only effected her life but the lives of others. Adding the picture of her dog Asia with a CTA (call to action) further details her experiences.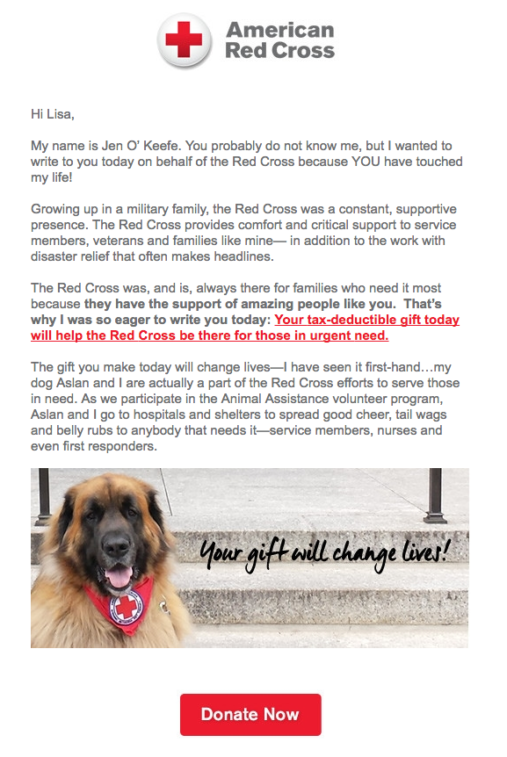 Give subscribers a personalized offer
Take a look at the example below from Burt's Bees. From the start, the company is working on personalization. The subject line includes a first name.

Some question the use of emojis, but when they're used sparingly they can help make your emails stand out in an inbox.
Now, take a look at the email itself. The offer makes the customer feel like they have specifically set aside a product for the subscriber. In addition, the company is collecting more data from the customer, asking the subscriber to verify a few details through a form.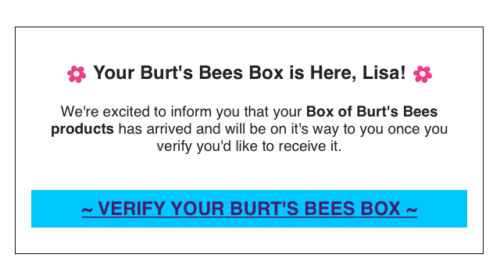 It's a personalized email with a great product incentive.
Wish your subscribers a happy birthday
Take the time to wish your subscribers a happy birthday with a special offer. Collect the birthdates of your customers so you can set up an automated email to send to customers when it's their special day. You might send the email a few days before their birthday, so they can make a purchase or book a reservation in advance.
You should address the subscriber by name, and can even include specific product suggestions based on their previous purchases or interests.
Here's an example of a birthday email: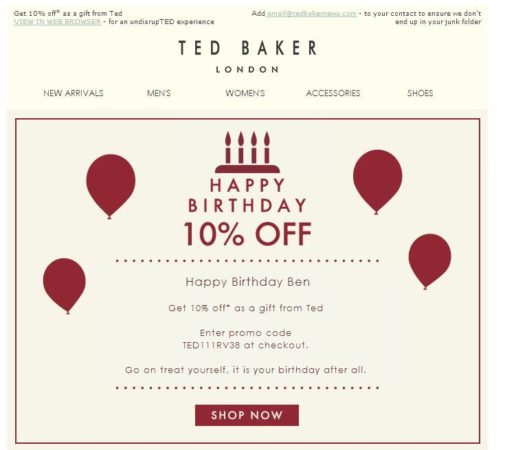 Send emails based on past purchases or browsing history
To engage website visitors, you can send personalized emails based on their past purchases or their browsing history.
Here's a snippet of an email that was sent to a customer after they browsed a website. The customer was obviously looking at tables, but didn't make the purchase. By using automation, the potential customer is sent an email that reminds them about a product they showed interest in.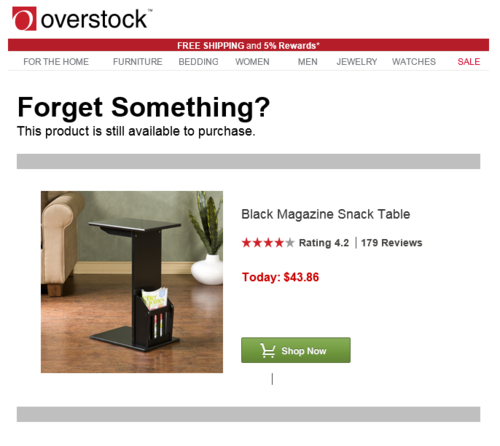 The next time you create an email – get personal. Start collecting customer data so you can create personalized emails every time. Providing a personal touch could be the difference between engaged subscribers and inactive ones.