Emails We Loved In 2016 – Part II
Our love for email marketing knows no boundaries. And hence, in the second part of this series we bring you some inspiring emails that show us how to do email marketing in the right way.
1. Dormify – Speak the customer's language
An automated, personalized message based on buyers history is an absolute must in the email marketing game these days. Use the language and email design carefully based on the age group and interests of your customers. Dormify does this impressively to stand out from the crowd and gives its subscribers a nice, warm-and-fuzzy impression of their brand.
Segmented, targeted & personalized emails generate 58% of business revenue
2. Book My Show – The more targeted the better
The secret to successful email is surprisingly simple: Know your audience. Segment accordingly. A perfectly triggered transactional email from Book my show pushes its customers further down the sales funnel by helping them know about additional services they can avail after their first purchase.
Personalized emails deliver 6x higher transaction rates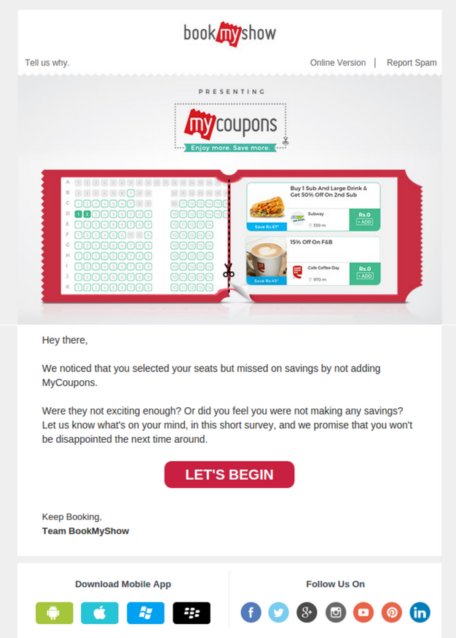 3. Tour radar – One dazzling email to impress
A simplistic design, with useful information is sufficient to convey your message in your marketing email. But that doesn't mean you can't enhance it by adding a bright, enchanting Gif like this one. Tour Radar totally sells with an everlasting impact by using an impressive gif image to rope in new travelers.
GIFs increase click rates by 42%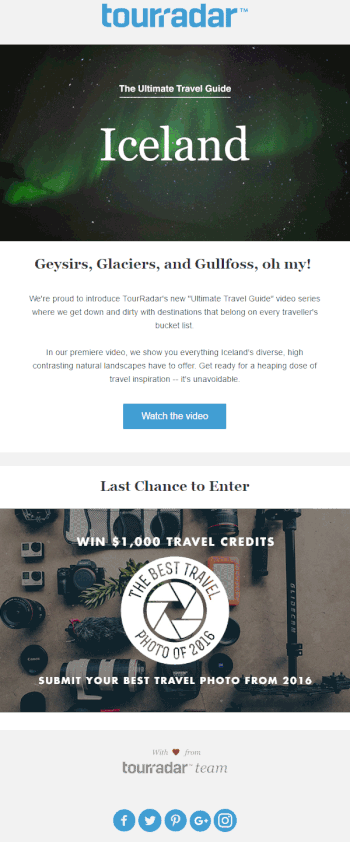 4. Titan – Re-engagement through special occasions
Re-engagement emails to your subscribers or long lost customers are a beautiful thing. Take this example from Titan, wherein they target their subscribers with a reminder for Father's day and hope to win them back, by suggesting suitable products for the occasion and weaving a story through subtle content. Full marks for the headline!
63% of marketers say that re-engagement emails have proven to be very effective

5. Pottery barn – Welcome email scores major points
The best way to introduce your brand to new subscribers? Set up an automated email to fire off immediately upon signup. This welcome note by Pottery Barn does it all: It says "thanks" to new subscribers, tells them what to expect in future emails, offers up a discount, and allows them to set their preferences, while introducing their entire range of products.
Welcome messages increase long-term engagement by 33%