Great Examples of Welcome Emails
When new contacts sign up for your email list, it's important to welcome them to the family. By sending a welcome email, you start a relationship that can have long-term benefits.
Seventy-four percent of subscribers expect a welcome email. You don't want to let them down, do you?
Plus, those that open your welcome email read more than 40 percent of the emails that your company sends over the next 180 days. That means you have a window of opportunity to convert new contacts into loyal customers.
To help you create a welcome email that's effective, here are three kinds of welcome emails that your business can learn from:
1. The "THANK YOU" email
One of the most common ways to welcome new subscribers is to thank them for signing up. Here's an example from an office supply company: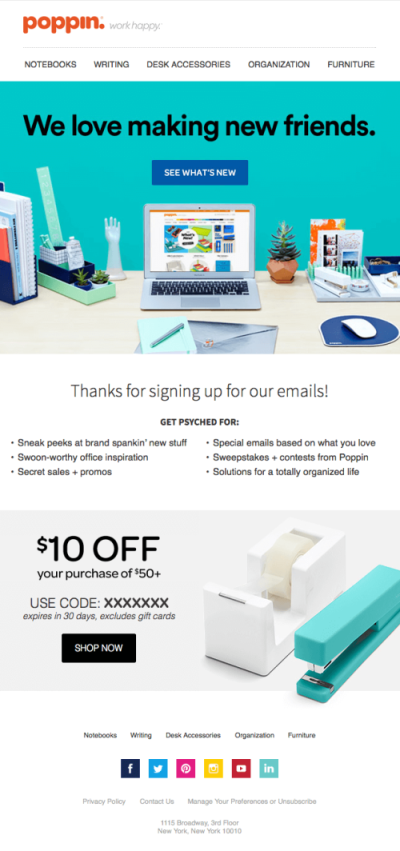 The company starts out with a nice welcome message and then thanks subscribers for adding their name to the list. Aside from the simple "thank you" message, here are a few other takeaways from this email:
> Benefits are outlined-
After thanking subscribers, the company reinforces the decision to sign up by highlighting the benefits of their email list. The benefits are displayed in an easy-to-see format, with a bulleted list taking center stage.
> An incentive-
This email also offers potential customers an incentive to start buying. The $10 off coupon is a nice perk for those just signing up. Welcome emails generate 320 percent more revenue per email than other promotional offers; so adding a coupon is a good idea.
> A call to action-
Every email should have a call to action and this one has a blue button right at the top of the email. It's placement is "above the fold," meaning you don't have to scroll down to find it.
2. The "EXPLAINER" email
When a new subscriber comes onboard, you can use the opportunity to highlight the best features of your business. Here's a welcome email that explains what a business is all about:

Again, there's a nice welcome message to start and then the company dives into three business details. Here are a few takeaways from this email:
> Organization matters-
There's a lot of text to this email, but since the company uses a great layout it doesn't feel cluttered.
> Use images-
Without images, this welcome email wouldn't be nearly as attractive or effective. Make sure your emails have a healthy balance of text and pictures.
> Call to action links-
In this case, the company offers several calls to action. There are links after each highlighted point.
3. The "VIDEO" email
The average person receives 123 emails a day. That means your email has to standout. What better way to standout than to try something different? Give video a try.
More and more companies are sending subscribers a welcome video. Here's a snapshot of a welcome email that contains a video: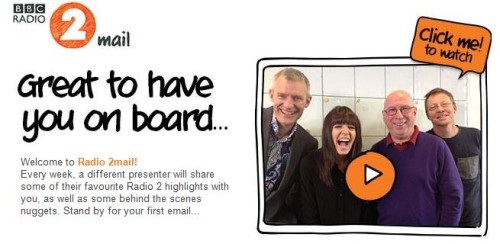 This email offers limited text, and instead encourages subscribers to watch the video. Here are a few other takeaways from this concept:
> Make the video instantly playable-
If the video is difficult to play, subscribers won't watch it. If they have to click on a link, or wait for the video to load, you'll likely lose them. So, make the video instantly playable.
> Keep the video short-
Remember, your subscribers don't have a lot of time, so make sure the video is short and simple. Keep it to a minute or less. You can always send more videos later.
> Cover the basics-
Just as the other welcome emails offer a nice greeting and explain why their email list is great, your video should do the same.
Which welcome email will you use? Share your comments in the box below.