The Ultimate Guide To Create Effective Follow-Up Email Series
Email campaigns don't last till just one single email. No marketer stops at sending only one email. The first mail is followed up by a few emails and this is an attempt not to just get noticed but, to generate the response defined as the per the email strategy.
But, isn't the failure to get the response from the first email to imply that the customer isn't interested? If they truly wished they would have responded to the first email itself. This just isn't true. Most of the times the customer needs to be reached a couple of times to generate a response.
Why are email marketers such staunch believers of follow up emails?
A study from Iko System revealed that they received an 18% response rate to their first email and 13% to the fourth. While a whooping 27% response to their sixth follow-up email. This is precisely why we should bother sending follow-up emails.
Statistics reveal that 80% of sales are generated after at least 5 follow-ups. But, ironically 44% of sales people quit after the first rejection. 22% of them don't follow-up after facing rejection twice.
14% quit after 3 follow-ups and 12% stop after 4 follow-ups. Consequently, 92% of sales people give up after 5 follow-ups. So, if you are persistent, you will manage to beat the 92% sales people. It is easy to say this and pretty tough to follow, in spite of knowing these statistics.
What is the challenge? It's about the feeling of getting rejected. Most of the sales people are afraid of being rejected. But, if they are persistent they can easily witness results.
While you send follow-up emails they will be based on the responses of the customers. Obviously, not all customers will respond in the same manner. So, different emails need to be designed for different customer responses.
Automation assists the marketer in registering varied responses and trigger the apt emails to them. It just makes the process of follow-ups easier.
How will you create winning follow-up emails:
1. Define your objective and convey it to the customers
Every email should have an objective because it gives a clear perspective about what you are going to say to your audiences? What response do you want from them? It gives a clarity about how to write an effective mail to get a call-to-action.
2. Is it the right time?
When it comes to follow-up the biggest issue is timing. Many prospective consumers see the first email when they are too busy to open, read and respond to it. But, if the follow-up emails reach them at a better time they will respond.
On day 1 send the initial follow-up.
Day 3 send the 2nd follow-up.
Day 7 send the 3rd follow-up.
Day 14 send the 4th follow-up.
Day 25 send the 5th follow-up and after the 25th day send a follow-up email once a month.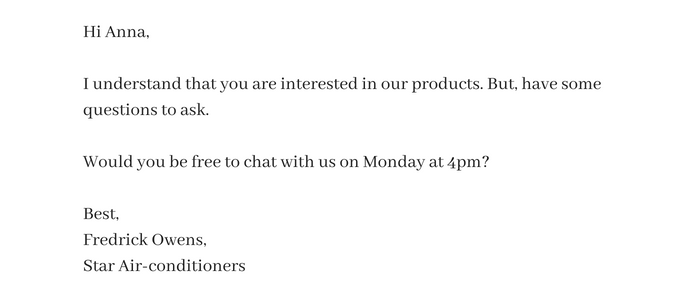 3. Be clear
Why have you wished to connect with the customer again? You have a reason for that, don't you? So, convey that to the audiences clearly. They shouldn't be confused, puzzled or be irritated about the fact that you have reached to them again. The content should have the clarity to explain the purpose of writing to the audiences.
It may be anything like speaking to them about offers, sharing company information, educating customers about the new product line, etc.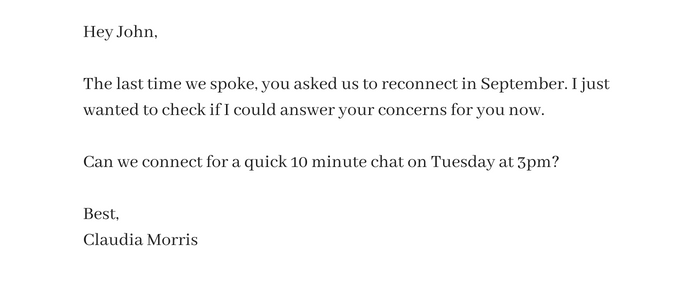 4. Context
If you are sending a follow-up email let the audiences know that it's with reference to your last mail. Without this context, they would be puzzled about what the email is referring to? They would not know why this email was sent to them. Once you mention that this email is with reference to the prior one they would remember you and immediately respond if interested and ignore if not.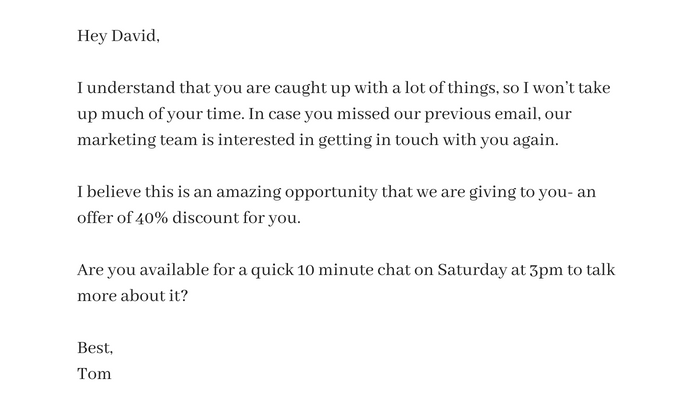 5. Personalization
Like all emails, a follow-up email should have a personal touch. With analytics and automation, a marketer would know what links in the initial email have been clicked by the customers. They would know whether the customers have visited the website? What pages of the website have been visited? Based on these responses marketers should design specific emails for customers. This would make customers feel that the marketers care about them and are interested in solving their challenges and providing a solution.
6. Stalky and over-chase
Connect with the customer without over-chasing and without being stalky. Make your presence felt without being stalky. Start off sending emails frequently then recede over time.
If a relationship is developed with customers or prospects without them making a purchase then sending a follow-up email once a month still makes sense to keep the relation going. It's like a long-term investment. You never know how this connection will benefit and bear fruits.
7. When do you stop?
Most people use silence to exhibit or convey that they aren't interested. So, you can send five follow-up emails and then just stop if they don't respond to either of the emails. You should rather focus your energy and efforts on someone else.
How to write a great follow-up email
Add value to the customer's life. Give them something unique- an offer, information, product or industry knowledge, discount, or probably something that interests them the most. Sending emails at the right time, adds value to their life.
Always have a unique pitch. Even while you are offering a discount let it not be as if you are just wooing the customer into a discounted price. Present your pitch in a unique manner which would make the prospect feel special.
Make your call-to-action so unique that the customer is driven to the CTA but, doesn't realize that they've been driven to the CTA.
Test, test and keep testing your follow-up emails. Observer the responses of the customers and based on the design the next follow-up email. Keep trying something unique every time and test their responses.
Our Juvlon team is always there to assist and guide you. Get in touch with us now!!