How eCommerce Brands Can Offer More Than Discounts In Their Emails
When it comes to email marketing, most eCommerce store owners are hardwired to think only in terms of the different "coupon codes" they can send to their subscribers. While it's true that emails are a great channel for online stores to make direct sales, but it's not the only thing online stores should use it for.
In addition to using emails for promoting sales, online stores must also use them to "connect" with their subscribers and to keep them engaged. Let's look at a few content-packed emails (that go beyond offering discounts) that every online store must consider sending.
Promoting newer products with cross-selling and launch emails
Cross-selling isn't just one of the most revenue-generating sales tactics for an online store, but it's also great at boosting customer retention. In fact, it can boost conversion rates by as much as 30% and customer retention by 10%.  In fact, Amazon is known to have successfully used cross-selling and upselling to increase its revenue by a whopping 35%!
But cross-selling/upselling via emails doesn't have to include HARD-SELLING. Instead, they can be made to feel like soft recommendations. Take this clever cross-selling example from J.Crew Group Inc (an American multi-brand retailer).
Instead of adding 9 different products along with direct "Buy now" buttons for each, this email gives its users three beautiful styling choices. Also, notice how this eCommerce email puts the products in context beautifully. And the quote callout acts like a personal recommendation from a recent buyer:
You can also use such an email for your product launches as well. Instead of simply giving your users the product description, a discount code, and the link to purchase, come up with something as engaging as this example.
In case you can't promote your products using a similar style, at least try to explain your product's features in such emails instead of only flashing a discount coupon or offer. Here's an example where the email offers more value than just a coupon code.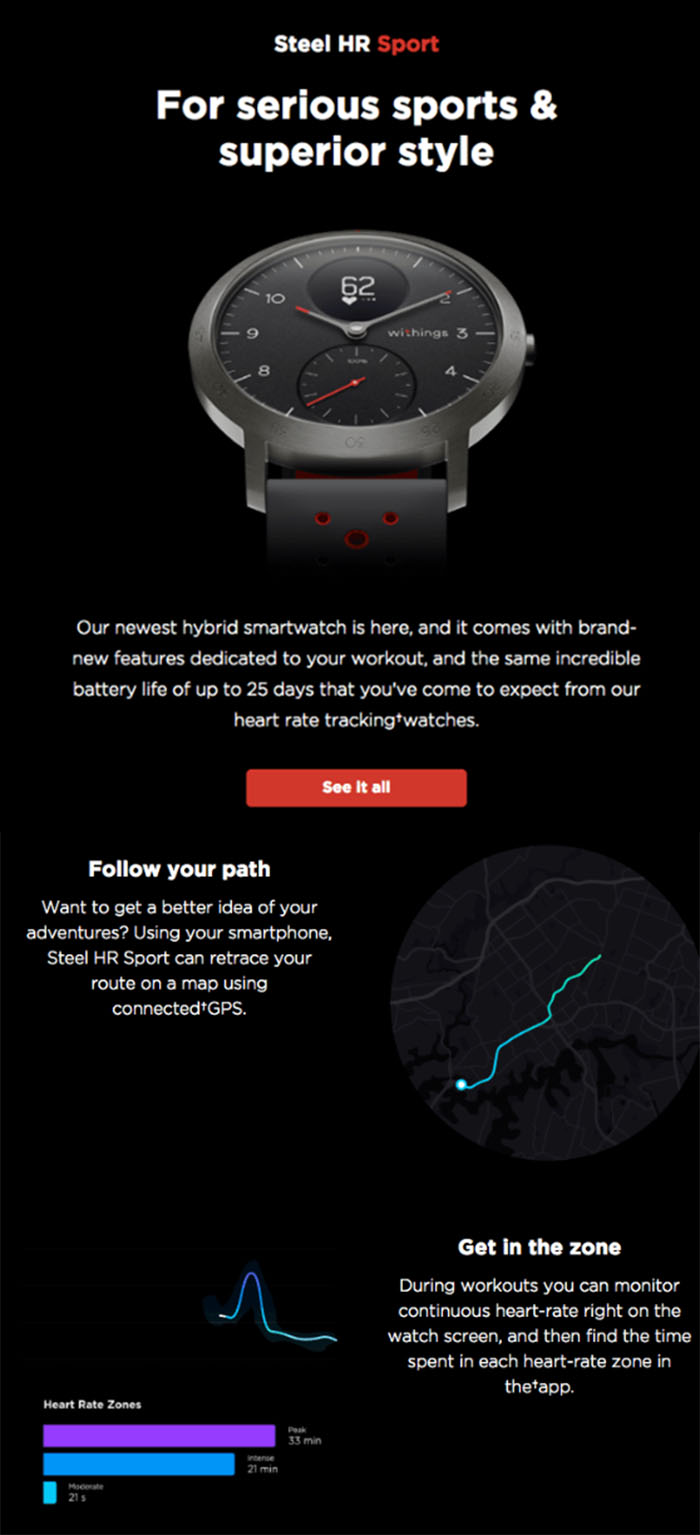 Packing value into the welcome email (or the welcome email series)
A welcome email can go a long way in laying the foundation of a strong relationship between your store and your new subscriber. A non-salesly, warm, and friendly welcome email won't just kickstart your subscriber's email journey on a great note, but it will also drive them back to your blog/store website.
Following up this welcome email of yours with a regular monthly or weekly newsletter — packed with tips, tricks, and other valuable content for your subscribers — is actually a great way to build consistent traffic to your store.
An example of such a value-packed welcome email comes from One Kings Lane (an online store offering home decor, furniture, and design services). One Kings Lane sends an aesthetic welcome email to its subscribers sharing a few links to its most popular collections and linking to its most recent blog content. Not just that, One Kings Lane also uses its welcome email to start conversations with its subscribers with a neat "Got a question?" callout.
As you can see, this email doesn't make any attempt at hard selling. Instead, it tries to make a genuine connection with the subscriber while offering some great value.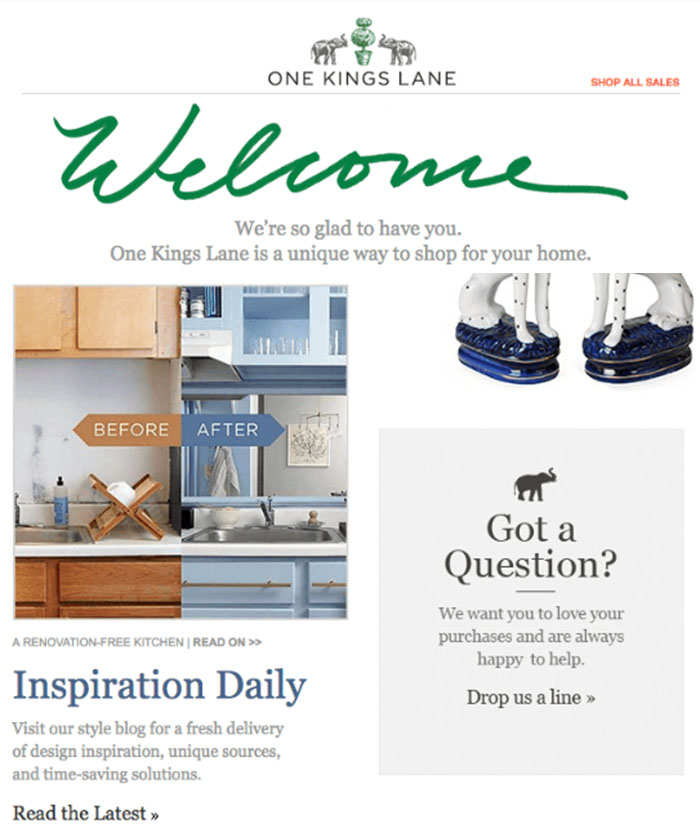 Offering engaging ways to re-engage with re-engagement emails
Disengagement is a common problem for most subscriber bases. And it reflects in steep drops in critical email marketing metrics like the email open and click-through rates.
Luckily, to revive the engagement of your online store's subscribers, all you need to do is send them a special type of email called a re-engagement email. According to research, about 45% of recipients who received a re-engagement email read subsequent emails.
As you can see, re-engagement emails don't just jolt your subscribers out of the snoozing mode, but they also make them more likely to read and respond to all the following emails as well.
But as an online store, you must try to make your re-engagement email a little more "engaging" than just offering a discount code as a  nudge.
Take this email from Bath & Body Works, for instance. Notice how it doesn't doesn't focus on offering coupons but on making a genuine effort at re-engaging the subscriber: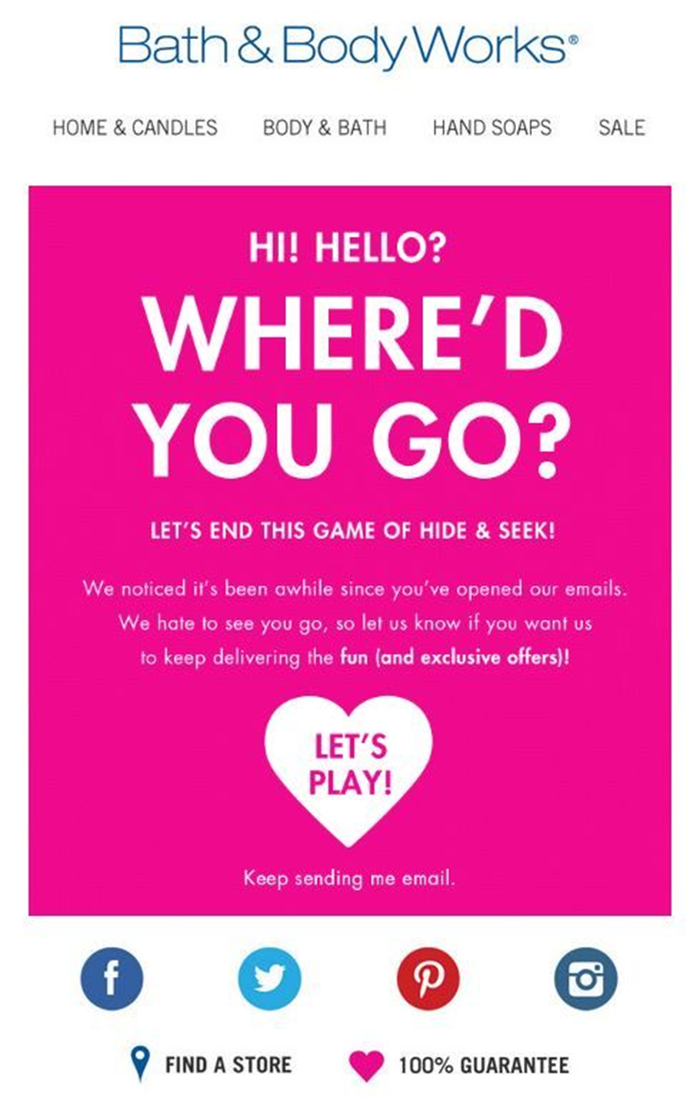 Top eCommerce copywriter, John McIntyre suggests sending an entire email re-engagement series instead of a single email. He suggests sending a bunch of emails that:
Begin with a reminder
Follow up with an amazing offer
Inform subscribers that you're going to delete or unsubscribe them soon
Wrapping it up …
In addition to the above emails, you can also add a few of these cool retention emails to your eCommerce email marketing mix.
Always remember that it's only by offering a mix of content and value that you'll be able to earn your subscriber's trust. Simply bombarding them with coupons and deals will only end up in making you look like you only care about your store's revenue!
If you run an online store and would like to create such emails, check out our ready-to-use email templates or our super easy-to-use drag and drop email builder that can be used to design all kinds of emails. Sign up now!