Say NO To Buying An Email List. Grow Your Own List.
Having an email list is one of the most basic requirements of email marketing. Whether you are SME or a renowned brand, you need email addresses of your leads and customers so that you can stay in touch with them at every point in their sales funnel. Their engagement with your brand will help you to get a better understanding of your prospects.
While building an email list you will come across a very easy option of purchasing an email list. Many of us would go for a purchased list as it quick and simple. Also we, marketers, are in a great rush to expand our email list. But as we all know, while growing your email list, your focus should be on quality and not quantity. Because what is the use of a huge email list if your subscribers don't open your emails? Buying an email list will have a negative impact on your email campaigns. Result? You will not get the desired outcome from your campaign.
So, why you should not buy an email list?
Here are some reasons why you should always say no to buying an email list:
1. Issues with email deliverability
An email list which is bought has email addresses which are not verified and some of them may not even exist now. Sending emails to these addresses would affect your email deliverability as many emails would bounce. This would affect the reputation of your IP.
Sometimes, the email list providers create dummy email-ids to build their list. These ids are tracked down by different spam catchers and if you send emails to these ids, you could be added to the different blacklist databases and your emails would be eventually blocked hence affecting your email deliverability and IP reputation.
2. Email addresses are not verified
Always keep in mind that good email addresses are never for sale. Just think for a minute why would a company sell you their opt-in data if they themselves can make the most out of it? The ids in a purchased list are either blocked, blacklisted or do not exists. And sending emails to them would have a negative impact on your domain.
3. Your brand reputation will be affected
When a company is new to email marketing, they don't have an email list ready except for their customers. For them, at this stage, buying an email list would seem a very easy way to reach their audience. But the people on the purchased list don't actually know you and you too are not aware of their requirements. If you send emails to them your engagement rates would be affected as your emails would seem irrelevant to them or even spammy. Some would even opt-out of your emails.
4. You will be penalized by your email service provider
If you are using an email service provider for sending emails, you will know that these services strongly recommend that you have your own opt-in email list. Why? Because the email address in the purchased list can affect the deliverability of other customers on that shared IP address.
5. Violation of the consent rules under GDPR:
The GDPR or General Data Protection Regulation, a European data privacy act that is in effect from May 2018, doubles down on the opt-in side of this relationship. Purchased email ids do not go well with this act. Even if your email recipient is in Europe, he will be protected by this act irrespective of the location of your business. In short, buying a purchased list is simply illegal under this act.
How to grow an opt-in email list
Opt-in lists are those wherein the email recipients have you the permission to communicate with them and receive email communications from your business. An opt-in email list has subscribers who look forward to your emails and are interested to know more about your business, your products, offers, etc.
Creating an opt-in email list is challenging but always gets you the desired results in the long-run. Here are some ways in which you can grow your opt-in email list:
1. Create gated content
Remember, you need to give your visitors a reason to subscribe to your emails. Why would someone subscribe to your emails if they do not find anything that is worth it? An offer or some interesting piece of content like a report or white paper or an ebook. Offer them some gated content wherein your visitors will need to give their email addresses to download your content.
Take a look at this email: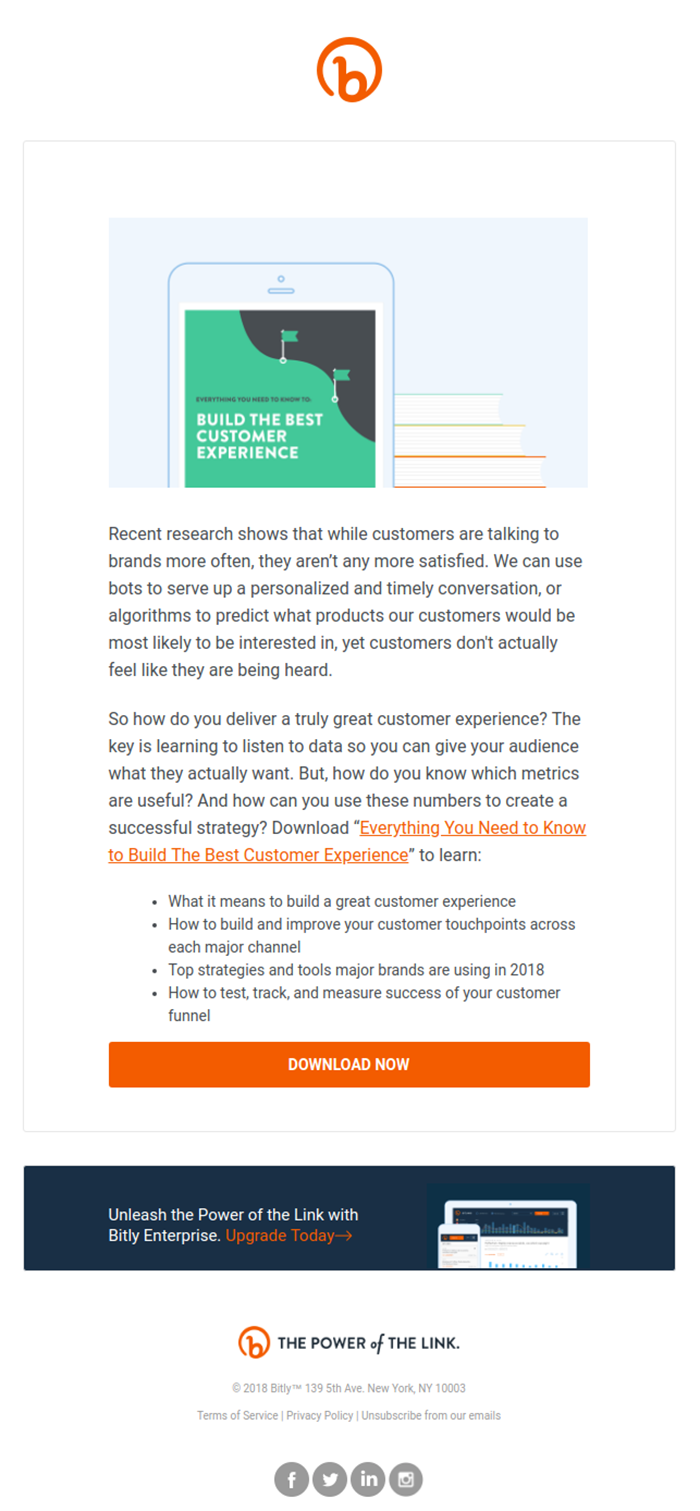 2. Subscription forms on the website
Keep your newsletter subscription forms at the most viewable area on your webpage. Make sure your content is interesting enough so your subscribers are compelled to subscribe to your newsletter. Sending a weekly newsletter which includes your product update, some interesting stats/tips or a piece of content which adds to their knowledge can not only engage your subscribers but also compels them to share it across. Result? You get some more opt-in subscribers!
But don't forget to send them a welcome email when they subscribe. Make sure you add an outline of what they can expect from your brand.
3. Refer a friend
"Refer a friend and get an offer" is the best way to get you more contacts. This way you also retain your existing customers by offering them discounts and different deals.
Take a look at this interesting referral email: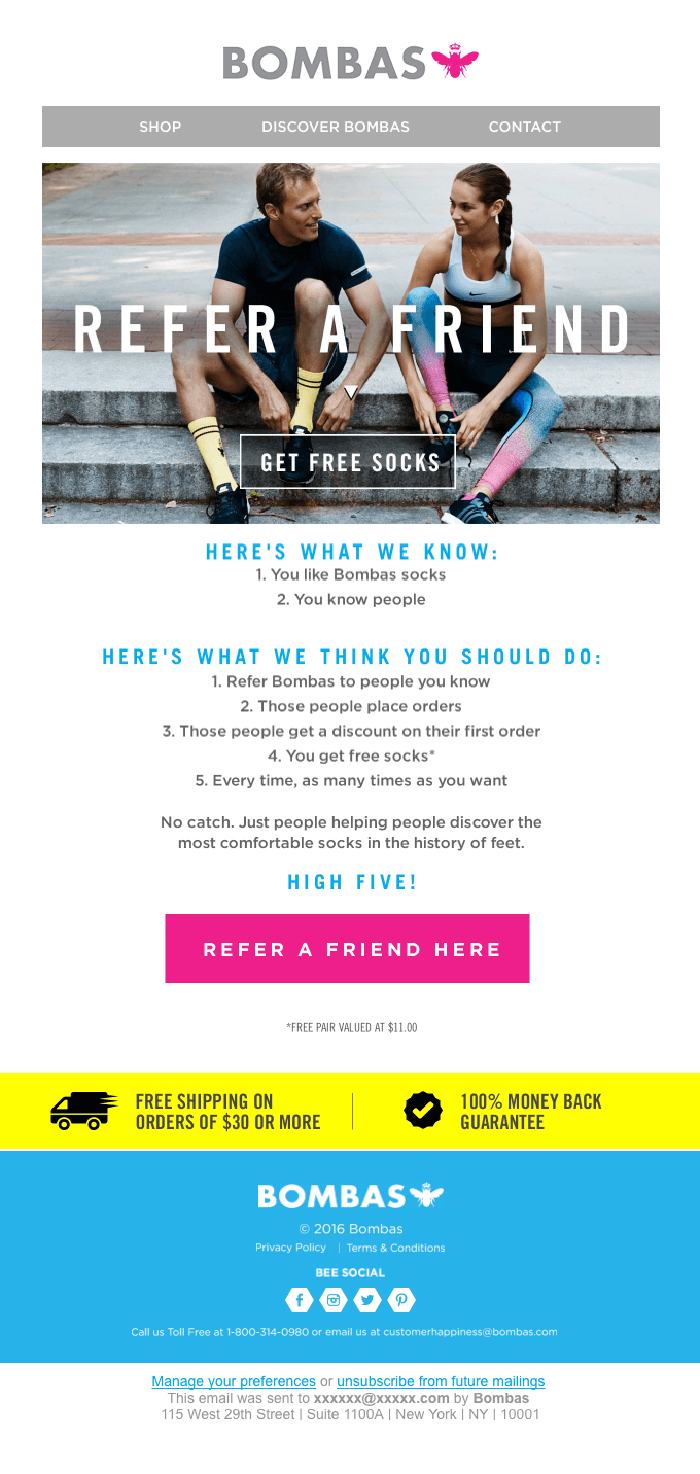 4. Social media
Social media platforms give you global exposure and can target a huge audience. You can share your content across social media platforms like Twitter, Google+, Facebook, Linkedin, etc. from you can get a few email ids of the people interested in your brand. You can also join your Facebook and LinkedIn groups which talk about your specific niche. These groups allow you to share knowledgeable content. You can target a very specific audience on LinkedIn as it serves as a professional platform for businesses and these are exactly the type of audience that you are looking for.
5. Run a contest
This method is the best way to engage your targeted audience. Run an interesting contest based on a theme wherein people need to share their email address to take part in it.
Take a look at the below email: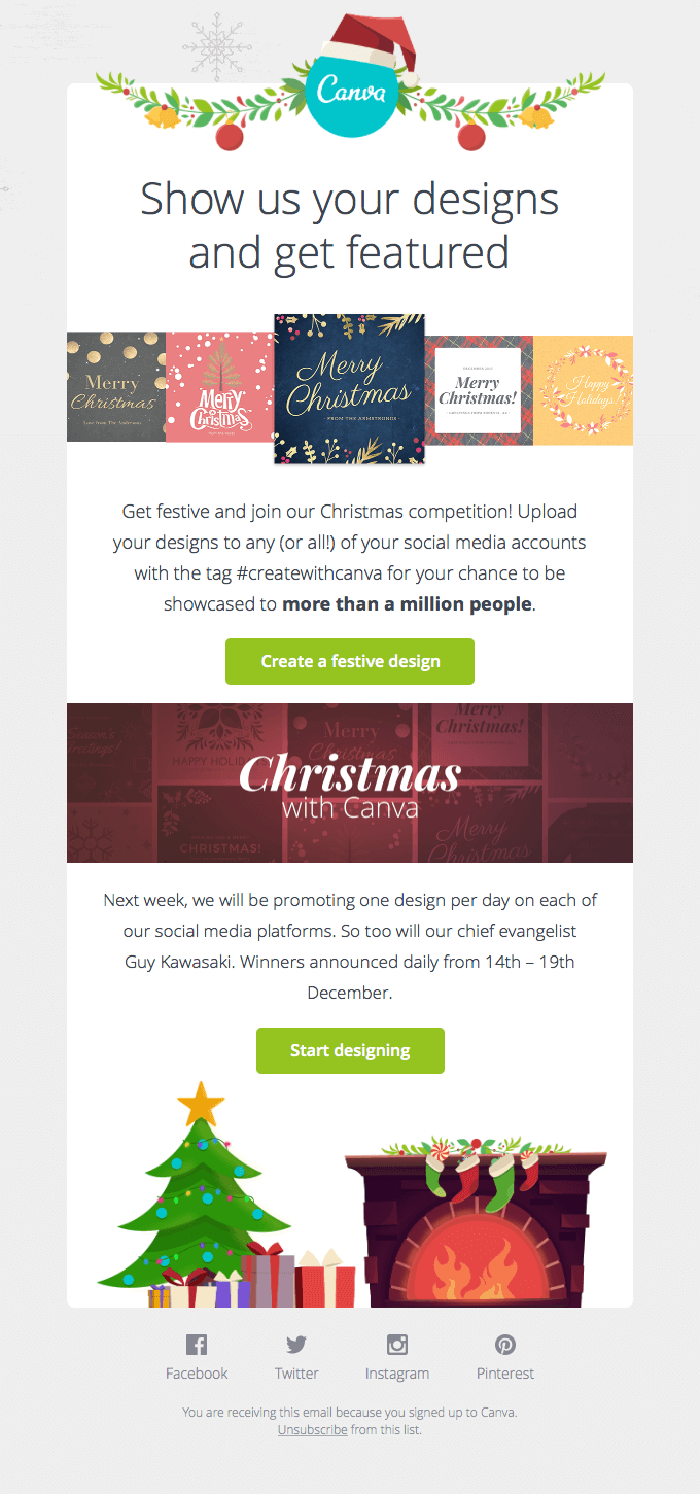 6. Host webinars
People look forward to new and verified content and what can be better than a webinar? There are a lot of people in this industry who are looking out for expert tips and suggestions. Hosting a webinar would surely drive you more subscribers. Make sure you start promoting your webinar well before the scheduled date.
Here is an example of email which promotes your webinar: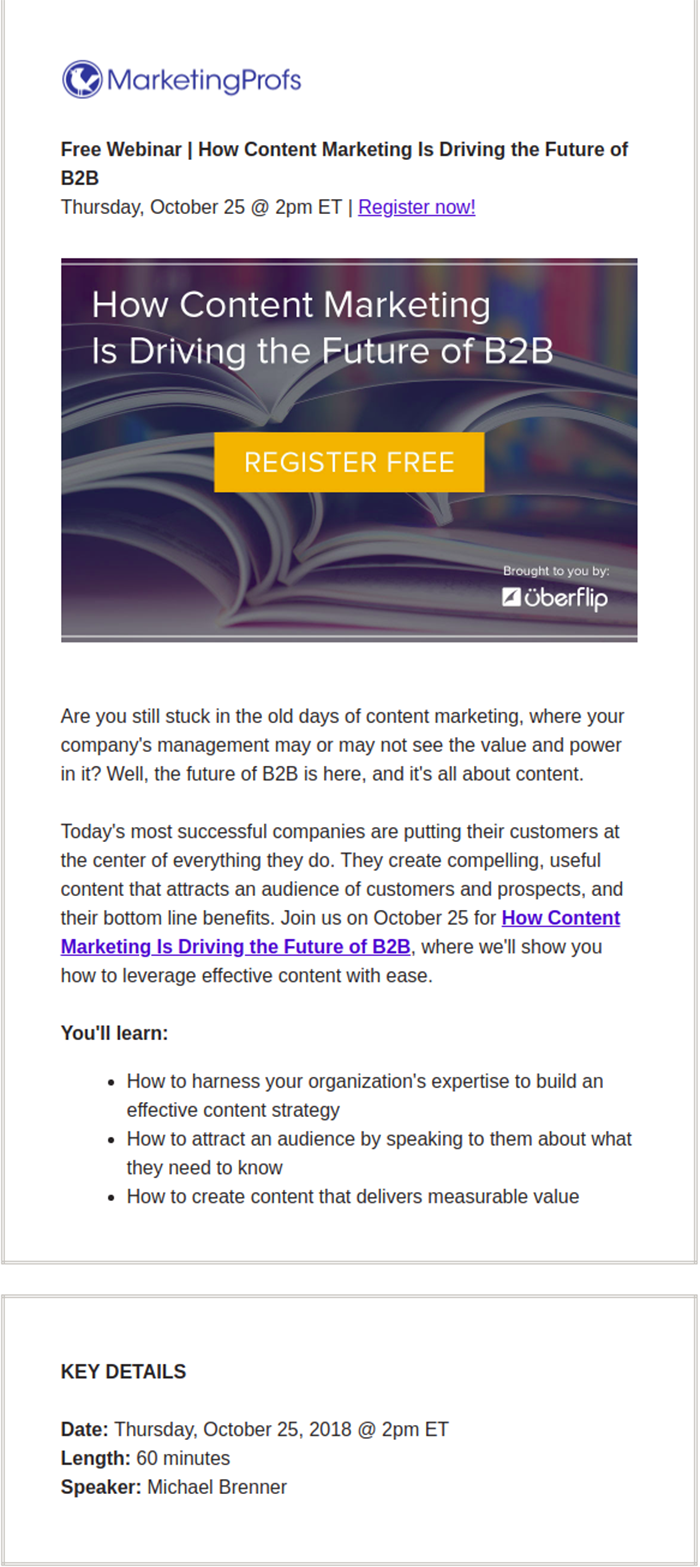 7. Include a signup link in your emails:
Not everyone who gets your emails is on your email list. Confused? This happens when your email gets forwarded or shared. So, make sure you add a signup link in your emails so that the person receiving it can signup to your newsletter when you provide him/her a link.
Some key factors that you should keep in mind while building your email list:
Focus on building your email list and not buying it.
Know the purpose of your list. Define why are you doing it before you start collecting subscribers.
Keep your list data clean from the start.
Place your subscribe form where it will get maximum visibility on your website.
Provide your customers with the data that you had promised them while subscribing to your brand.
Growing your opt-in email list requires a lot of patience and creativity. You have to plan your marketing strategy in such a way that your visitors not only engage in your emails but also look forward to more interaction with your brand!
The Juvlon team will guide you in building and maintaining a healthy email list. To know more, you can contact our team.