How to Use Email Marketing to Support a Product Launch
You're eager to get your newest addition in front of your customers, but simply sending out a desperate "Buy this!" message is hardly best practices. Instead, take a cue from some of these companies that successfully promoted a product launch in a unique way.
Take a minimalist approach
Why clutter an email with multiple products that may divert attention from your new item? Any promo that requires scrolling could impede your customer from even seeing the big news.
Instead, consider this email from Away, which uses a clean, simple piece focusing solely on its new carry-on piece. Not only are there no other products in the email, but there's no text-heavy copy. Instead, customers who are interested can click "It's here" for more information.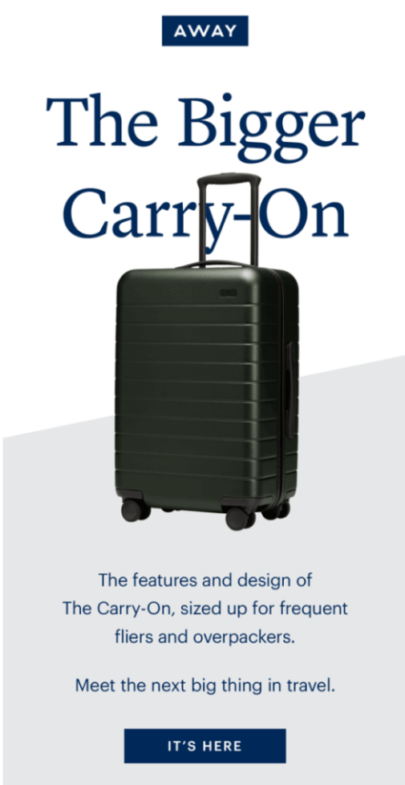 Offer pre-orders 
Who doesn't want to feel like they're the first on the block to own something? Giving customers the opportunity to "buy before the masses" allows them to feel special. Oftentimes, no discount incentive is even needed.
Apple did this with its iPhone 7 and its Apple Watch Series 2.

Use humor 
Consider that, according to Expanded Ramblings, the open rate for email is 34.1 percent. How do you ensure your email is the one in three that your customers open and actually read?
Consistently using funny approaches to selling builds on a promise to customers of being entertained. Chubbies Shorts does a great job of tickling the funny bones of its email recipients without hitting them over the head with a sales pitch for its new shorts.

Build suspense 
Curiosity can go a long way to keep customers' interest piqued. Sending out one or two emails to promote a "secret," soon-to-be-announced product can build excitement if it's not overdone.
Boosted Boards did this successfully by fanning the fire of wonder with a release date—without an overkill of information on the product itself.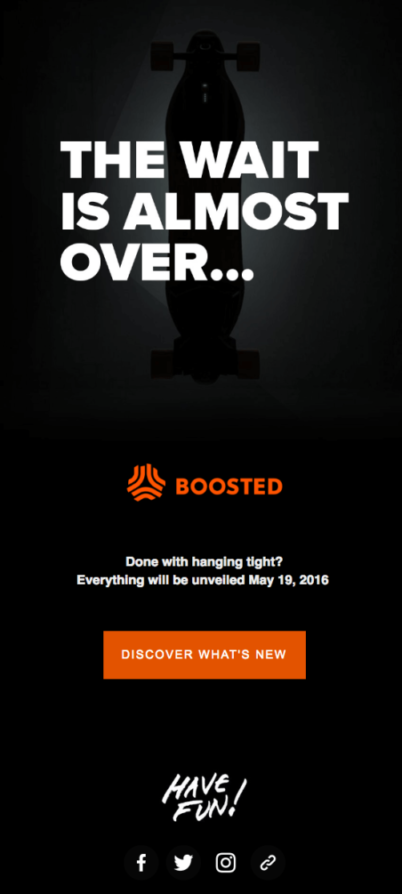 Include a tutorial on how to use the product
Whether you're launching a new online tool or selling a new bicycle, your customers may want to see how it works. Offer a live webinar, a video tutorial or even a free personal consultation, depending on cost of your product.
Hold a contest 
If you've got a customer sitting on the fence about buying your new product, a contest can be just the hook they need.
There are countless ways to host a contest with a product launch: every purchase of the new product earns the customer an entry into a drawing; a certain dollar amount earns the customer an entry; sign up for a free trial to be entered; forward the email to five friends to be entered; or share the product on social media to be entered, among others.
When Trulia launched its boards, it sent out an email encouraging people to create a board to organize, narrow and share their favorite homes, providing a simple way for the email recipients to enter the contest.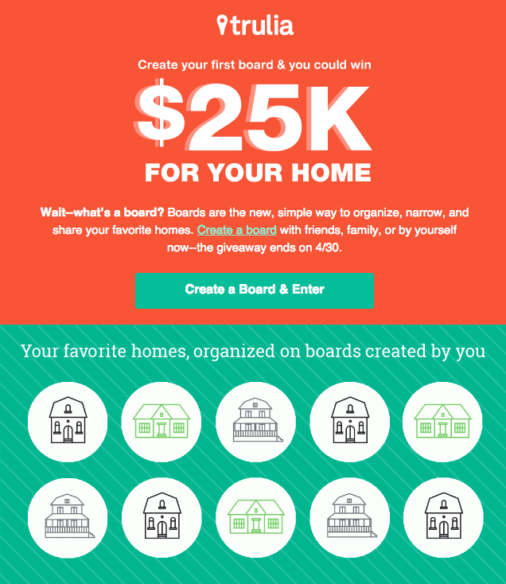 Use these tips to successfully launch your next product, and to earn the trust of your customers by providing humor, value, information or all of the above.