How to use Google Analytics to measure your Email Marketing Campaign
Google Analytics offers a set of easy-to-use and highly effective tools which can dramatically improve the performance measurement of an email campaign. To start with, email marketers need to define a goal of tracking their campaigns. In addition to knowing the amount of leads and conversions generated from a single email marketing campaign, tracking with Google Analytics can also enable marketers to check real time email performance, user activity on website and most effective tabs in the email.
In order to track the Email marketing campaign to such extent, the first step is to define campaign tags. Campaign tags are part of the links which are in your email campaign and holds additional information. Primarily, there are five categories of campaign tags:
1. Campaign Name: This is the name of the email campaign which is assigned in order to differentiate between various campaigns and effectively monitor performance of each campaign. E.g. June Newsletter, May offers, etc.
2. Campaign Source: This tag is meant to denote the distributor or source of an email campaign. Email marketers using their own email services for the campaign can mention their own company name in this tag. If email service providers other than own organization are used, then their name needs to be mentioned here as campaign source. E.g. Juvlon.
3. Campaign Medium: As this tagging will be applicable to your an marketing campaign, the medium for campaign automatically becomes 'email'.
4. Campaign Content: This is an optional tag which can be used if the same email campaign has multiple calls to action. Using this tag, Google Analytics can help you understand which links in an email campaign were most effective and which were least. E.g. 25% discount, Product pictures, Terms & Conditions, Read more, etc.
5. Campaign Term: This is also an optional tag which can be used to identify paid keywords in search marketing based campaigns.
Without these campaign tags, the campaign tracking reports club the traffic from email campaigns with other sources such as bookmarks or direct visit from URL typed in browser, under 'Direct Traffic'.
Using Google Analytics, links can be made with in-built campaign tags which can then be inserted into an email marketing campaign. Thereafter, marketers can track the email performance by using the 'Advanced Settings' in Google Analytics. Following steps can be followed to measure various aspects of an email marketing campaign:
Step 1: Click the 'Add Segment' option which is available next to the 'All Sessions' tab above standard reports. Create a new segment by the name 'Campaign medium email' or any other name to indicate that the segment measures the email campaign performance.

Step 2: From the menu on the left, select 'Traffic Sources'.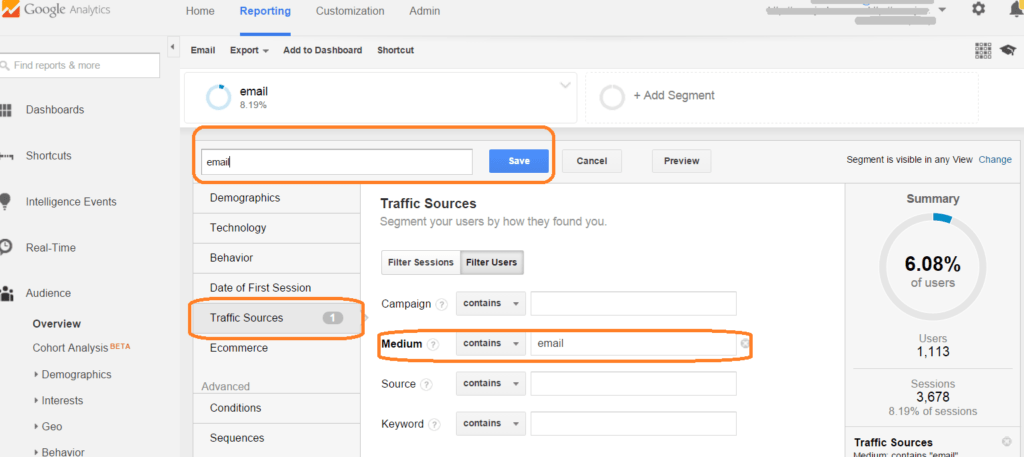 Step 3: In the field 'Medium' in 'Traffic Sources', select the option 'Exactly matches' and type in the word 'email'.
Step 4: Click 'save' to create a new segment which can specifically measure email campaign performance in all standard reports.
The effect of any email marketing campaign can be categorically reviewed and monitored by selecting this 'Advanced Setting' in Google Analytics. 'Real Time Reports' can indicate real time activity of users directed to the website from links inserted in the email campaign. 'Overview Reports' can effectively represent the quantum of traffic generated by an email marketing campaign in comparison to the overall traffic attracted to the website.
By selecting the 'Acquisition' option from the menu bar on the left side, productivity and performance of an email campaign can be measured in monetary terms. Google Analytics can provide performance of each campaign link by indicating the number of sessions initiated by that link, time of each session, number of new and return users attracted, number of transactions initiated and the total revenue generated by each campaign link.
Google Analytics also offers a 'Behaviour Flow' report which presents information about actions performed by visitors to the website. By selecting 'Behaviour Flow' report from the left side menu bar and narrowing the report presentation to a single campaign, which can be selected from a drop down about the first column of report; an email marketer can comprehensively study the performance of every single email marketing campaign.
All these functionalities of Google Analytics are, however, dependent on proper campaign tagging and URL building to be inserted into the email campaign. Juvlon offers a user-friendly URL building service which saves you the trouble of tagging each email manually. Campaign tags can be automatically generated by Juvlon and changes or additions in campaign tags can be done dynamically.
Google Analytics is based on the 'Urchin Tracking Module' also known as UTM. The campaign tags are therefore called UTM variables which need to be individually generated for each email campaign. With Juvlon, these UTM variables are automatically added to the links in every single email campaign, making your performance measurement with Google Analytics highly effective and efficient.
About the Author:
Smita More is a marketing professional and drives marketing activities for Juvlon – Email Marketing Software. Connect with Smita on LinkedIn.