How to use SMS Marketing as a Marketing Tool
Viral use of smartphones and mobiles has brought brands closer to their customers. Mobile applications, mobile optimized websites are just a part of it. Texting or SMS has evolved from just being a personal communication media to a promotion opportunity, if done right. As effective as it is, pushing your customers too hard by constantly arriving in their inbox will send them straight to the opt-out list.
So here are 4 most effective ways in which SMS marketing can be utilized as a winning marketing arsenal.
1. Promote an offer
The key here is to create value while promoting your offer. There are a variety of ways in which small business owners can do this.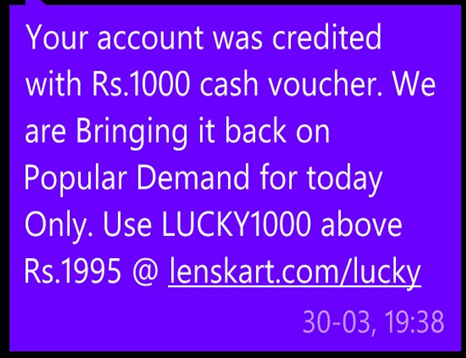 From contests and giveaways to coupons, deals and sweepstakes customers are more likely to opt in to your marketing campaign if they're getting something in return. Keep the message simple, add the coupon or offer detail, supplement with a link (preferably shortened with bit.ly or goo.gl) or your store name and address and a compelling call to action. Oh and don't forget to give them an opt-out. That way it will get easier for you to sharpen your target customer list.
2. Notify about an order status
Honestly I love it when I receive a text that reads like this. The whole novelty of ordering stuff online is the fact that it comes to you wrapped, and at your doorstep. It's like you paying for a gift of your choice to be delivered to you.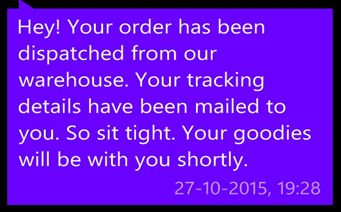 SMSes notifying you of your order status from time to time and at every stage of delivery ups the curiosity quotient and builds up an excitement which online shoppers like you and me love. Marketers can get as creative as possible here and not overdo it, keep it to the right frequency and your customers will rush to your store every single day!
3. Promoting an event
SMS marketing is a great tool to promote your event. Events are a pretty specialized affair and it is recommended that marketers segment their customers sharply to avoid huge opt outs and increase the efficiency of their campaigns. Event promotion can be done via SMS in phases.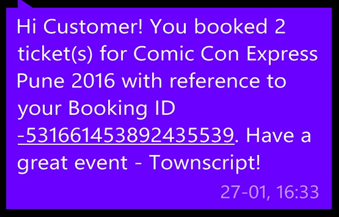 Say, sending out teasers a month before the event, then announcing the availability of tickets, keeping your participants engaged from the period of booking to the main event and a post event communication. As events are for a specific purpose, marketers need to stick only to the customers who are genuinely interested in the event and have opted in on your website for SMS based communications from you.
4. Integrate SMS with emails to boost subscribers
With rising density of smartphones among users, SMS messages that contain a URL carry a high rate of click-through. Using SMS marketing as an accessory to your email campaigns not only improves your email open rate but also your end conversions. For instance, send out an SMS to your customers notifying them of an email that you have sent within 24 hours of rolling out your email campaigns or just add the link with a strong call to action. Not only will the email open rates spike up but your end goal of getting sign-ups and subscriptions will climb up too!
SMSes carry a sense of urgency that no other form of communication does. Owing to this, overdoing SMS marketing may come across as pushy and disturbing to your customers leading to opt-outs. It is one thing to send out bulk SMSes and another to do a clinically planned SMS campaigns. Which one do you opt for?