Most Appealing Emails Of 2018
What is it that drives your email campaign? What are you trying to achieve through it? You need to answer these vital questions even before you start planning to design an email. A purpose driven email campaign reaches the target audience and gets the desired response. Without a purpose, an email campaign becomes directionless and may be perceived as spam by most of the audiences.
If you are wondering why most of the brands still prefer sending emails to their customers when there are so many options available to connect to customers, then these statistics would answer your query.
In 2017, global email users amounted to 3.7 billion. In 2022, this figure is set to grow to 4.3 billion users i.e. half of the world's populations, according to Statista 2018.
If an email marketing strategy is well chalked out, it will surely give you leads and returns. According to DMA 2018 study, for every $1 you spend on email marketing, the average return of $32 can be expected.
The year 2018 has passed by and we are at the brink of welcoming a brand new year. In this year we have shared some ideas, thoughts, and reflections on email marketing on our blog. Before bidding adieu to the year 2018 let us look at some impressive email campaigns of the year.
The most appealing emails of 2018:
1. Lenskart
Not necessary that a discount would appeal to all audience. The timing of offering a discount should be relevant, only then will it be impactful and would elicit a response from the target audiences. Here is a simple discount offer but, the subject line is impactful:
New eyewear styles on 20.19% O F F

It is an offer meant to welcome the year 2019. Thus, the discount offer is priced at 20.19%. The email doesn't mention anything else, other than the discount, except for the brands on which the discount is offered. The simplest way to pull the attention of audiences.
Most emails have too much information and that distracts the audience from the focus of the email campaign. A simple message and maximum focus always work.
2. Gajalee
Emails are a medium through which brands connect with their customers. Emails shouldn't always be about products/services you offer, a discount coupon or some contest. They are also a medium to share your victories and achievements with your customers. Here is the best example of how a restaurant lets its loyal customers know that they are nominated for an award. They also call for customer's participation- a vote that could help them be the winner.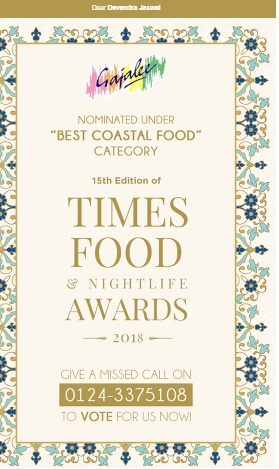 If the customer participation is high, it's obvious that they have managed to connect with the customers. Isn't it a great way to share the brand's achievement and a reason to connect with your audiences? Share your achievements with your audiences.
3. Firstcry
Firstcry is brand for kid's products – everything and anything related to kids can be found on this website. If you look at their above email campaign the visuals are great and so is the content.
It's a novel way of connecting with the audiences who are parents- they are so eager to peep into their kid's mind. There are notes from kids and each note has a product suggestion at the end, which can be brought on the Firstcry website.
A refreshing way of recommending products. The subject line is so different and catchy. It would compel parents to open the email.
Ssshhhh…Between you and me, Sneak Peek into a Kid's Diary

So far, I found this the best email campaign for the year 2018 for having the apt combination of content, concept, design and knowing the pulse of its audiences.
Emails should have content, concept, and design that grabs audience attention- knowing the pulse of your audience is at the crux of email marketing that is why personalization is vital in email marketing.
4. Urban Ladder
Urban Ladder comes up with some innovative ideas to connect with the customers through each email campaign. Most houses have space challenge and people find it difficult to fit in furniture in a smaller space. So, here they are recommending furniture that can fit into a small space- they call them space savers. A smart way of furnishing your house.
Emails should resolve a customer's challenge and provide a solution. If your email is providing a solution, customers are bound to respond.

5. Harvard Business Review
HBR is an academic and professional website, which sells content on management topics. Often as professionals, we are eager to know what our colleagues read. HBR knowing the pulse of its reader had launched an email campaign that mentioned the subject line as:
What Your Colleagues Are Reading Now

This creates suspense too that compels the reader to open the email. The email ranks different products (ebooks, guides, toolkits) that most people are buying on HBR. Also, there is a discount attached to it.
Subject lines are the first thing the audience notices. Have a subject that compels your audiences to open the email. Half your job is done when you have a compelling subject line.
Content, concept, subject line and design of an email should be simple and appealing to your audiences. Its vital that you know the pulse of your audience. This is at the crux of all appealing email campaigns.
Juvlon team is here to assist you and we are eager to hear from you. Connect with us at sales@juvlon.io.