New Feature – Google Analytics Tracking – Track email visitors in Google Analytics
In this article, I will tell you how to track visits on your website which have come from your "Email Campaign"s through our new feature.
Now, lets say you are sending an email to ten thousand people and you have created a beautiful email. You have linked it to your home or other product related pages and you are ready to send it. After this, you want to track – how many people actually came to your website by clicking on the links mentioned in those mails. -We, at Juvlon.com, have come up with a feature where you just need to do a single click and the tracking will be done automatically.
Note: For tracking your visits on the Website or Email Campaign its necessary to have Google Analytics Code installed on your website.
When you log-in to your account on Juvlon, you will get this screen:
Create New Campaign: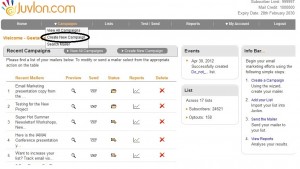 "Create Campaign" and name it.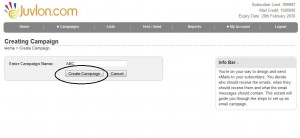 Then click on the Option "Enable Google Analytics Tracking"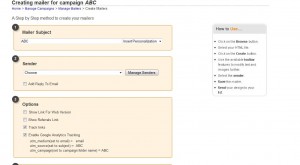 Done!
Once you log-in in Google Analytics, you should see the email visitors under "Traffic Source" and "Campaign"