Business revolves around brand loyal customers, more so in the service business where building a loyal customer base is the driving factor. Building loyalty requires you to continuously converse, connect and engage with the customer. Often emails act as a bridge between the brand and the customer. There is a need to use effective email marketing to reach out to your target audience. In this blog, we have some email marketing tips and techniques for the service industry to boost sales and revenue.
The service-industry success depends upon customer experience. There is nothing tangible on sale. The customer is expecting a unique experience. For example in the hotel industry, customers live at a hotel and experience the lifestyle, facilities, food, decor, and hospitality. In the hospitality industry, a smile speaks volumes. The customer will return to you in future only because of the delightful experience.
Thus, there are two aspects; attracting customers and maintaining a loyal customer base. For this purpose, email marketing can work wonders for the service industry.
Here are some effective email marketing tips for the service industry:
Keep it simple:
Don't have varied email campaigns to reach out to customers. Chalk out clearly and precisely the aim of email campaigns to your target audience. Each mail should motivate the customer to visit your website or blog. Multiple touch points and messages confuse the reader. Repetitive emails with the same message just clog your customer's inbox. Limit your emails and let the content be simple and minimal.
The below email is from Anjali Mukerjee who is a famous nutritionist. In this mailer the aim is specific and the content is simple. It talks only about few tips on maintaining a healthy diet and shedding few kilos. She doesn't talk about anything else in the email.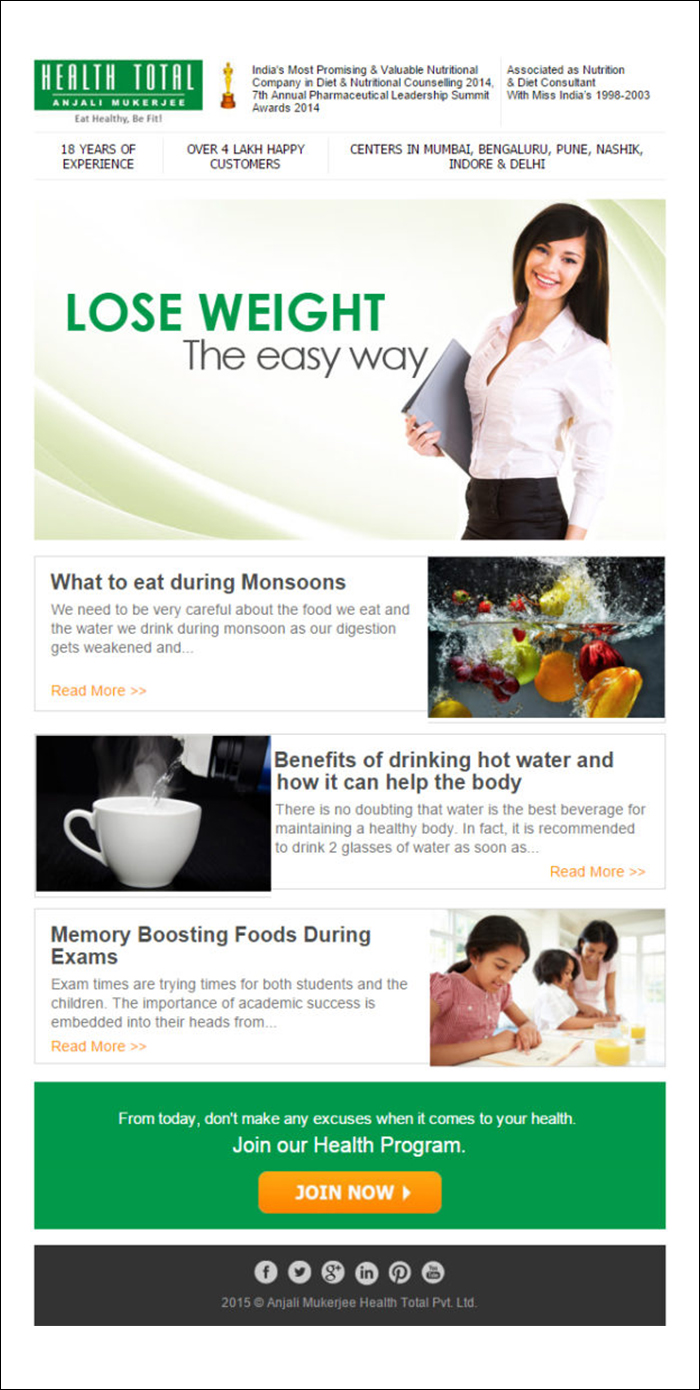 Personalize:
One best way to have effective email marketing campaign is to collect a bit of personal information from the customer each time you send an email. The first email can register the customer's name, country, and date of birth. In the next email, you can address the customer with his / her name. Something like, 'Hi Robert, we are delighted that you subscribed to our email updates. Here are some special offers for you.' At the end, you can say, 'We would like to know a few things about you to serve you with the best offers.'
You can ask for the birth date, anniversary date, hobbies, profession, etc. You can send emails on special days and occasions. If you are into tourism you can send mailers prior to his/her birth date or new year to plan a holiday to various destinations at a discounted cost. These mailers are effective as they trigger a sale.
Personalizing is the buzzword in the email marketing industry today. Imagine you are a fan of Hunter Hayes, the songwriter, and multi-instrumentalist. As a fan, you signed from your social identity to his website. At this point, you are asked for your birthday. This information is stored and passed to the email marketing platform and when it's your birthday you get this below mail that offers a cool 15% discount if you purchase from his online store.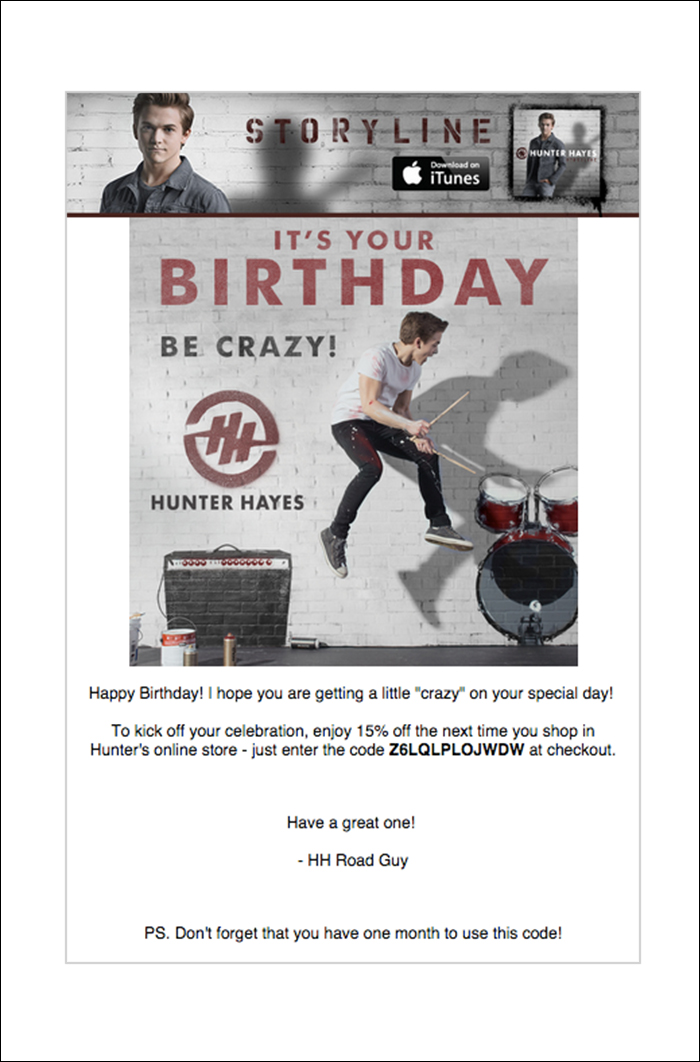 Focus on customer choice:
In the service industry the better connect you establish with your customers by knowing them, the longer will be the association. Know what are their choices and preferences. If you are running a chain of hotels try to find out how often your customer travels out of the city. Which places he/she travels to? Use the information you have with you about the customer to send emails at the right time.
Priceline is a travel booking site. It tailors emails after observing the customers onsite behavior so that it results in maximum conversions. When a consumer books a trip through Priceline, it will shoot an email welcoming her home back from the trip along with a discount towards her next adventure.
Add to the knowledge:
Are you in the travel and tourism business? Send a mailer with two or three travel tips and connect the same mail to your blog to learn more. There are chances that the visitor will hit the link to visit your blog, which continues the topic and further your website.
Hoovers is an American business research company. The below email marketing campaign grabs the attention of the customer by providing useful information. This would ultimately take the customer to the website.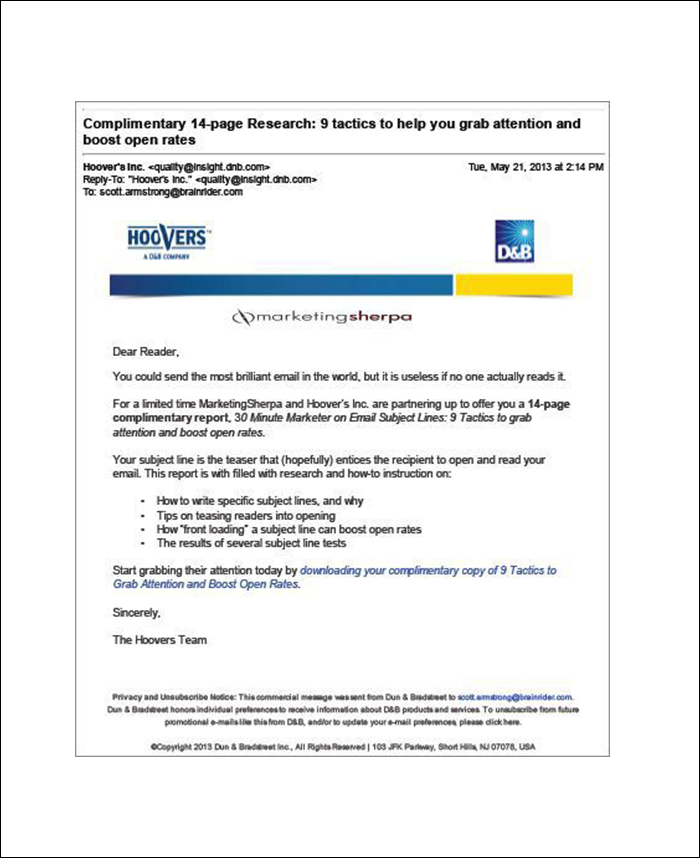 Ask for suggestions:
With the aim of always being connected to your customer even after he/she has experienced your service, send an email asking for suggestions. Ask your customer about the experience and suggestions to improve your service. Customers are always eager to share their thoughts. An email from a financial service company can be as follows:
'You just used our online banking service. How do rate our service, list your suggestions.' The customer feels heard and acknowledged. After all, it's all about serving your customer better and staying connected.
Here is an example where the customers have been asked for a rating about their products. Such emails can be sent by non-retailers too asking customers to rate their service.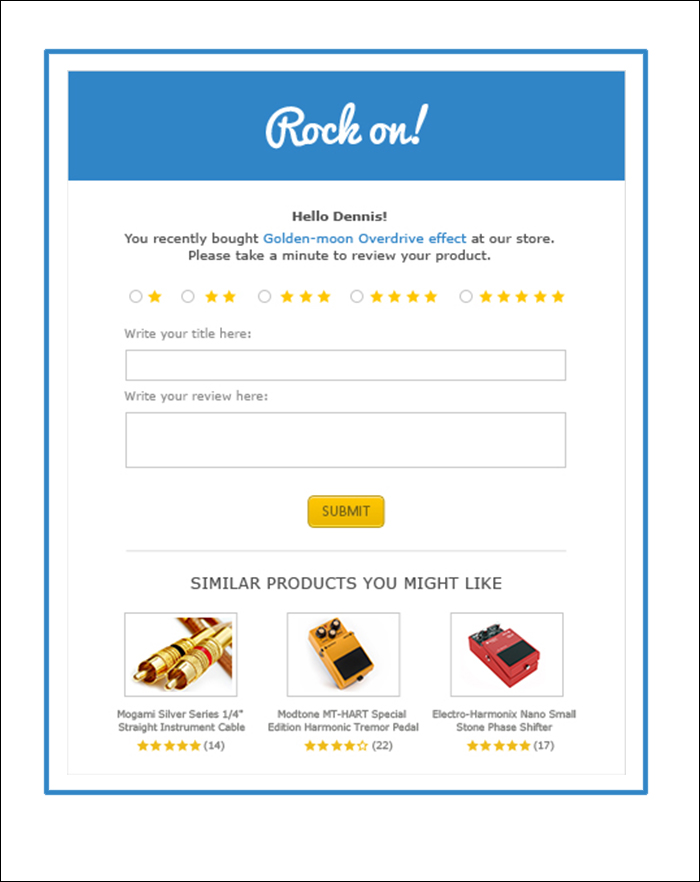 Have you observed recent email marketing trends in the service industry? We would love it if you could share these trends.