Oops! How to Handle Email Mistakes
We all make mistakes, but when a mistake happens in an email, what should you do? You don't want to lose customers over a marketing error. Here's what you need to know to recover from email marketing mistakes.
Accessing the severity of your mistake
Of course, there are varying levels of mistakes. Customers can forgive a misspelling, but might not be so forgiving if you send an email with broken links or incorrect purchase information. Here's a categorized list of mistakes based on severity:
Code yellow
Description: Minor editorial mistakes like a misspelled word or punctuation errors fall into this category.
Action: Nothing. Your customers can forgive a misspelled word here or there, just don't make a habit out of it.
Code orange
Description: An embarrassing mistake that makes the company look bad, but doesn't impact its reputation, like sending an email to the wrong segment.
Action: Send an apology email and explain what happened.
Code red
Description: A missed opportunity to make revenue due to problems, like broken links or incorrect information.
Action: Send an apology email, explain the problem and offer an incentive to bring the customer back.
Code black
Description: A major mistake that will likely damage your brand, like accidentally releasing private information.
Action: Create a full-scale marketing solution that includes an apology email. The email should not only apologize, but also explain what corrective measure will be taken to prevent the problem from happening in the future. The email is just one component; you'll want to use other channels to inform your customers as well.
Tips to create an apology email
If you make a mistake, you'll likely send an apology email, but what should it say? It all depends on the mistake. Here are a few tips to help you craft an apology email.
Apologize
Put the words, "We're Sorry" or something similar right in the subject line so customers will open your email. The headline in the email should also be an apology. Take a look at the example below. Notice the header, which says, "Oops, Please Pardon Our Mistake."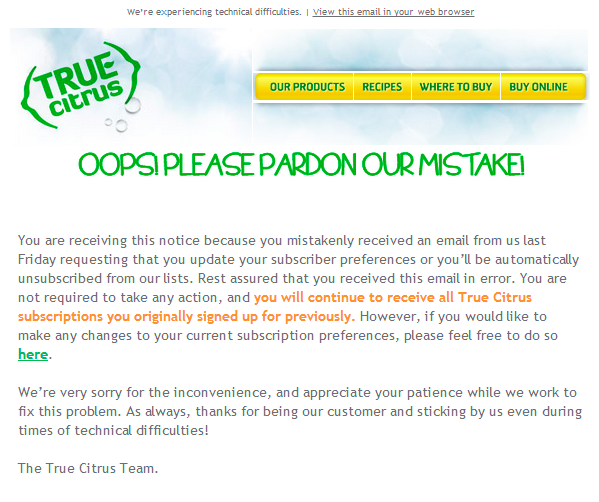 Explain the problem
What went wrong? Explain why the problem occurred. For example, Dunkin' Donuts invited customers to have coffee with football star Rob Gronkowski. The company meant to send the email to customers in a certain geographic area, but emailed its entire list instead. The company explained what went wrong in this apology email: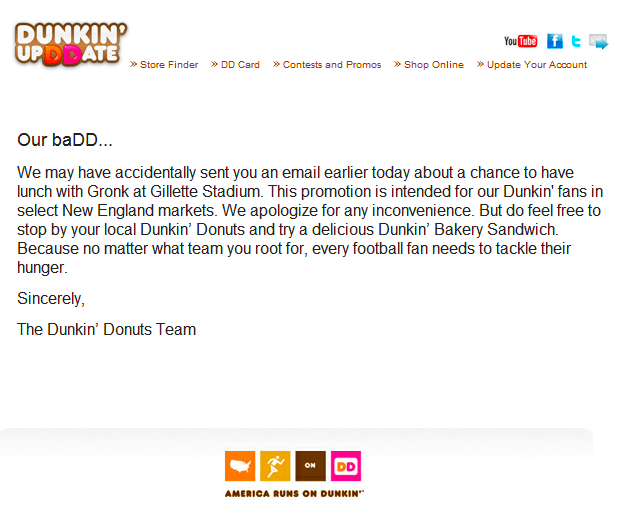 Offer a token of apology
Depending on the level of your mistake, you might consider offering a special promotion, gift or credit. If you make a small mistake, consider offering a coupon like 50% off your next cup of coffee. It's a small gesture that will bring customers back.
Bigger mistakes require bigger tokens. Consider offering an in-store credit, a free month of service or a voucher to claim a free gift. Think of this as damage control. You don't want to lose customers over a mistake.
Explain corrective action, if necessary
If your mistake lands in the "code black" category, make sure you tell customers what you're doing to ensure a similar mistake never happens again. Are you removing an employee? Enhancing digital security? Reassure customers that you're taking action, not just blankly apologizing and moving on.
Have you made a mistake in a recent email campaign? How did you handle it? Share your experience in the comment section below.
About the Author:
Lisa Furgison is a freelance journalist and co-owner of a media company, McEwen's Media. Find her on Twitter @lfurgison.