Repurposing content (or using or sharing the same content over different channels) doesn't just save time and effort for content and marketing teams but also helps leverage the same content multiple times. But according to Curata, only "29 percent of leading marketers systematically reuse and repurpose content." Which means most of the companies fail to leverage their content on their marketing channels like email, social, etc.
Content repurposing can be very effective at meeting your marketing goals, especially when you use it with email marketing (given that 67% of companies find email marketing to be their highest earning channel.)
So if you aren't leveraging your email marketing channel to repurpose your content, you're missing out on some really great marketing opportunities. But in this post, we have a simple three-step process that you can use to repurpose your website and blog content for creating winning email marketing campaigns that help you reach your business goals.
Here goes.
Step 1: Create a content repurposing plan
Creating a plan is the first and the most critical step toward formulating a successful email marketing campaign for repurposing content. An email marketing campaign around repurposed content needs a plan that outlines the campaigns:
The goals and micro goals of your email campaign around repurposing content could be anything from getting more sales, boosting engagement to ensuring successful onboarding for new customers.
Depending on your campaign goals, you'll decide what content to pick from your website for repurposing in your emails. For example, if you're repurposing your content for an email campaign for generating sales, you'll pick content like case studies, customer success stories, customer testimonials and so on. We'll go over this in detail in step two.
The target audience of your email marketing campaigns are typically the different segments that you have in your subscriber masterlist. Some of your email subscriber list segments could be blog subscribers, leads, customers and so on.
And depending on your campaign's goals, you'll have to pick the right segment to target. For instance, if you're content repurposing campaign's goal is to generate more sales, you'll have to target the 'leads' segment and not the 'blog subscribers' segment as the former will be more ready to buy as compared to the latter segment. (We'll cover this topic in depth in step three.)
Finally, your content repurposing email campaign's plan must list a bunch of KPIs you'll use to measure its performance. Some of your KPIs could look like your campaign's open rate, its click-through rate, the demo signups or sales it brings, etc.
In addition to these, the plan for your email marketing campaign for repurposing content should also list out the tools you're going to need — for instance, an email autoresponder tool like Juvlon.
Once you've identified the steps of your content repurposing email campaign's goals, you're ready for step two.
Step 2: Find/pick the right content to repurpose
Any business website, including yours, has lots of content. There are blog posts, case studies, user-generated content, white papers, infographics, videos, ads, etc.
For an effective email campaign for repurposing content, you must pick the right content pieces to repurpose (or share with your list).
Here's how to do it:
Suppose your email campaign's goal is to prompt your leads to buy.
So to pick the right content for this goal, start by taking an inventory all your website content and filter out the content pieces that might push the lead to buy your product.
A few examples of such content are:
A case study like: "How company X used our product/service to boost sales by Y%"

A blog post or podcast with a customer interview like: "Why we use Product X daily and how it makes us more productive"

Or a news item like: "We were named one of the top 5 IT service providers" or press coverage like "How company X solves problem Y for the industry"
You get the idea, right?
Now, in case your email campaign's goal is to ensure a good onboarding for your users, you'll need to pick all the content from your website that would help with it. In this case, your content to repurpose would include:
Onboarding videos and tutorials
Common FAQs about product troubleshooting
Product best practices webinars/videos
And so on.
It's only with the right choice of content to repurpose that your email campaign will get good results, so spend time on this step.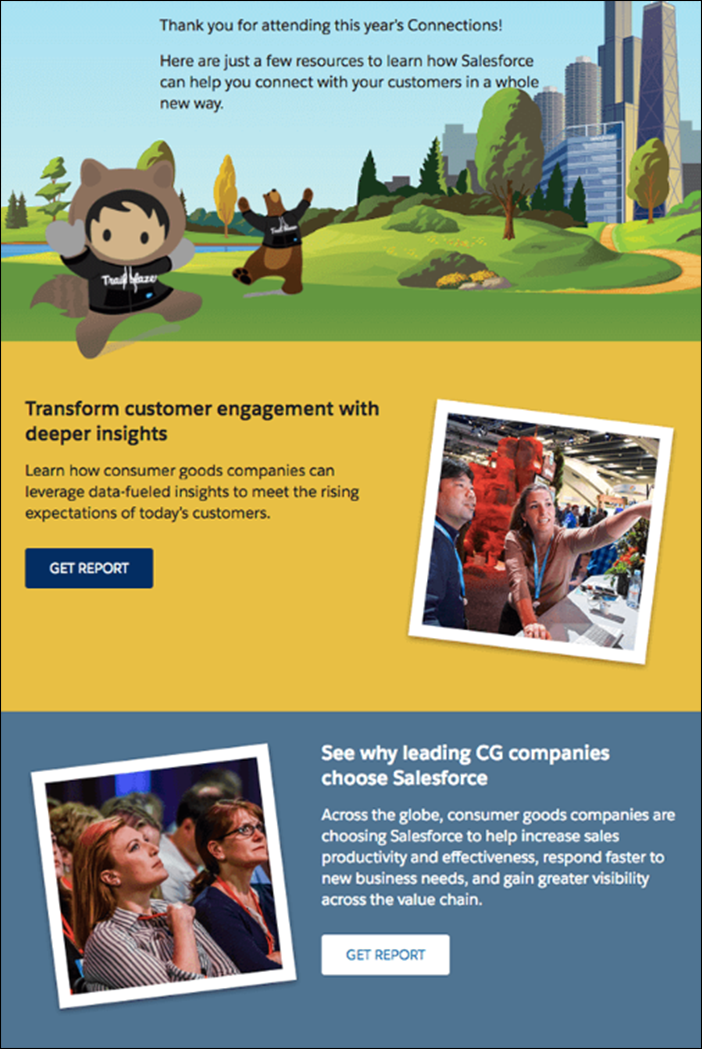 Example: An email repurposing a lot of content to get the leads to buy.
Once you've identified out all your relevant content for sharing with your email list, you need to 'prepare' or 'repurpose' your content in a format that your email subscribers will engage better with.
For example, if you have a 2000-word long case study from your blog, consider creating a quick 2-min video for it and share the video right inside your email.
Or, if you have a report that offers 10 reasons to choose your product, consider creating an infographic from it and add the infographic to your email itself.
You can even convert the tips from your blog posts into fun, quirky GIFs to share with your email list (instead of simply inviting your subscribers to read your blog posts). You can also convert your product's features and benefits into a series of GIFs and share the GIFs in your emails.
Basically, you need to think in terms of content formats like GIFs, images, videos, audios and more that can be easily shared and engaged with inside emails. This will improve your repurposing campaign's performance.
Step 3: Target the right segment in your email list
Once you're clear on your content repurposing goals and have mapped out the relevant content for repurposing, you're ready to pick the right list segment.
Segmenting your email list and sending the right content to the right segment can dramatically boost your campaign's performance. MailChimp conducted a study on its users and found that segmented campaigns received:
14.31% higher open rates
100.95% more clicks
9.37% lower unsubscribe rates than non-segmented campaigns
So as the third and last step of building your content repurposing email campaign, you need to pick the right segment of your list for sending your repurposed content.
Here's how to go about it:
First, look at all the segments in your subscriber list. If you don't have any segments yet, here's how you can build them.
Next, pick the segment that you should target to meet your email campaign's goals. For example, if your campaign's goal is to onboard your paid or trial users, pick your list segment of customers.
Or, if your campaign's goal is to build brand awareness or earn your potential users' trust, pick your general website subscriber audience.
If you don't choose the right segment, you'll end up spamming your subscribers. For instance, sending onboarding or your product best practices content to your blog subscribers will be irrelevant to them (because they aren't your product users yet). Or, if your campaign's goal is to get sales, then sending blog post update emails to your masterlist, again, won't get any great results (because blog post update emails are educational in nature, and aren't so sales-friendly).
Example: An onboarding email repurposing/promoting the Setup guide to the 'customers' segment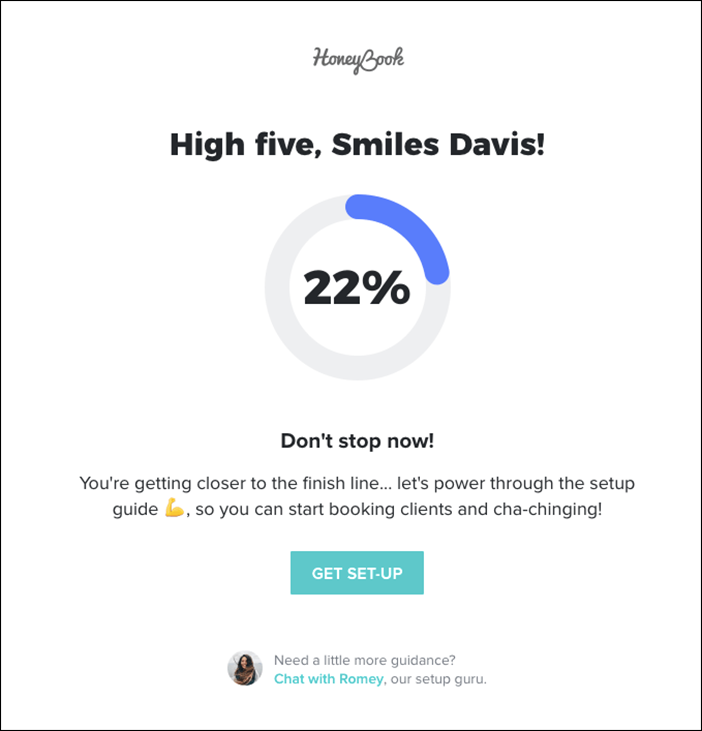 Putting it all together with autoresponders
Once you've set your campaign goals, chosen the right contents, and picked the right segments, you're ready to put together your content repurposing email campaign, i.e., you need to create your autoresponder.
To put an autoresponder together, just list all the content you've chosen to repurpose and arrange it in a sequence that makes sense. For example, if you're creating an autoresponder for your leads list (with the goal of getting them to buy), your final content repurposing email autoresponder sequence would look like:
Email #1: Case study #1
Email #2: A review from a high-authority website or influencer
Email #3: Case study #2
Email #4: A review from a high-authority website or influencer
Email #5: Case study #3
Email #6: A review from a high-authority website or influencer
Email #7: Signup email
And while there's no right 'number' of emails you need to send in your autoresponder series, sticking to an 8-10 email sequence should be enough in most cases.
To get the best results for your content repurposing sequence, write great subject lines. Here are some subject line writing tips to get you started.
Typically when planning on repurposing your content for email campaigns, you'll end up with 2-3 different autoresponders. Sure, putting together multiple autoresponders needs efforts, but because they'll send relevant content to hyper-targeted segments, they get great results.
So that's all that's there to building email campaigns for repurposing content. If you've any questions about any of the steps or if you need help with understanding how Juvlon can help you build a winning email campaign for repurposing your content, leave them in the comments below and we'll get back to you.