SMS is the fastest way to reach consumers
From the good old days of pagers to the simple basic phones then progressing to the present flood of smartphones, text messages never seem to be out of fashion. In this app crazy world what grabs your attention immediately to your mobile phone is a text message. Whenever you order something there is always a SMS from the company or marketer that acknowledges your order, which shortly mentions the delivery time, date and the product. It's like an assurance that your order has been placed and it's on its way to be delivered.
The impact of SMS marketing campaigns today is impressive according to these statistics:
It's believed that within 3 minutes 90% of all text messages are read. Insights shared in the Transactional Messaging Consumer Report says 78% of consumers believed that text messaging is a fast way to communicate as compared to sending emails.
It also reported by Vibes that 77% of members registered for loyalty program said that they would prefer to be informed about discounts or any special offers through SMSes.
According to 2015 State of Marketing Survey conducted by Salesforce 89% of marketers using SMS marketing believe that its more effective than other mediums like corporate websites (64%) and banner advertisements (59%).
The SMS Advantage Report conducted in 2014 by SAP and Loudhouse Research reveals that for customers SMS services made them feel like they are cared about by the companies and feel in control of the services they receive.
These are some impactful and interesting SMS marketing campaign that are must to consider when you design your campaign:
Fastrack:
Once you buy a watch, bag or any accessory at the Fastrack Store (youth fashion sub-brand of Titan) they continue staying connected with you. This is a trendy text message that connects well with the youth who are constantly on the phone.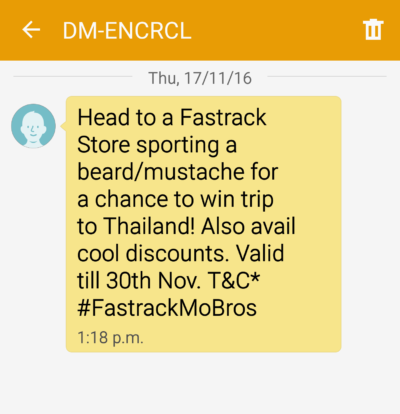 Faasos:
I am a regular at Faasos but, had never tried their application. When I did, it turned out to be super convenient. They keep me informed about offers through text messages along with the link to the application. This is a way to motivate consumers to download the application.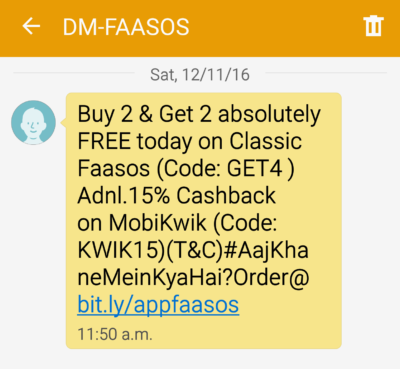 Star bazaar:
Star bazaar is a leading hypermarket chain and every Wednesdays they offer products at discounted rates. Just to remind their customers they run a SMS campaign that attracts the customers to the store by mentioning the discounts on products.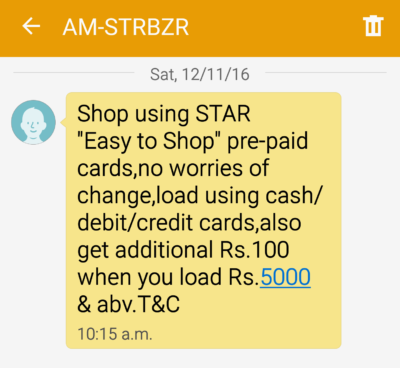 Practo:
Practo is a website that lists doctors and sends triggered SMS updates about medical appointments, follow-ups and check-ups to patients. This is a smart way of updating your group of customers and building a community of patients and doctors through text messaging.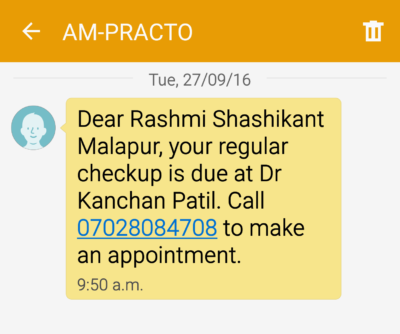 The importance and impact of text messages hasn't faded and will probably never fade owing to it's affordability and convenience. Meet our Juvlon team to maximize returns from SMS marketing campaigns that are customized for your target audience to keep them connected and engaged.