Spice Up Your Email Marketing Strategies
The New Year represents a fresh start, which is why it's the perfect time to add new emails to your line up. Sometimes businesses fall into an email rut, and send emails with the same look and message over and over again. But, 2017 is your year. It's time to spice up your email marketing strategies.
To help, here are three emails that you can start sending to customers this year:
1. Welcome email
Are you sending welcome emails? If not, it's the first email you should add to your list. Welcome emails get results. Research shows welcome emails get four times the open rates and five times the click-through rates compared to other email promotions, according to Experian. And here's another benefit: you can automate welcome emails. As soon as a new contact signs up for your email list, you can trigger a welcome email to immediately (or almost immediately) land in the customer's inbox. By using automation, you'll see even higher open and click rates.
Average open rates for welcome emails that are sent through automation hover around 88 percent, compared to welcome emails that are sent in batches that garner a 57 percent open rate. Click-through rates are higher too with automation, hitting 29 percent compared to 14 percent without automation, according to research from Experian.
Here's a great example of a welcome email: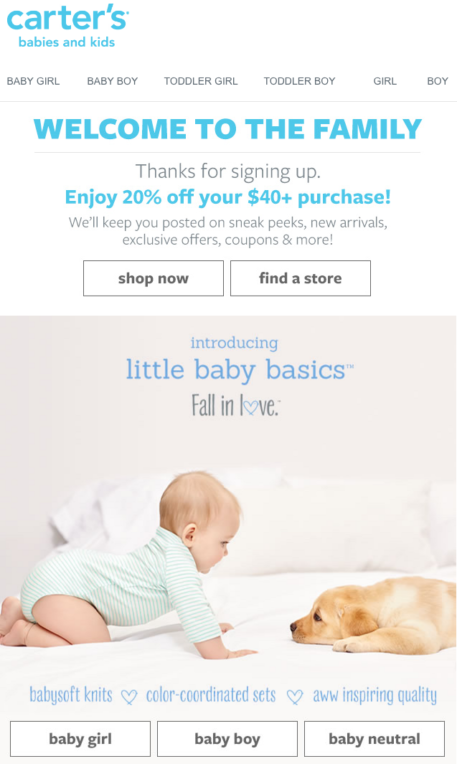 Make sure your welcome email includes:
A welcome message
A discount or special offer
Images
A call to action
2. Event invitations
Forty-seven percent of businesses send invitations to events in the mail, but email is so much easier. So, this year send your customers event invitations. Keep in mind, an "event" doesn't have to be a black-tie affair with a guest list of 1,000+. An event can be a customer appreciation sale, a product demonstration, a sidewalk sale, a free tasting, a book signing, a webinar, a grand opening or a guest speaking engagement.
Here's a great example of an event email for a grand opening: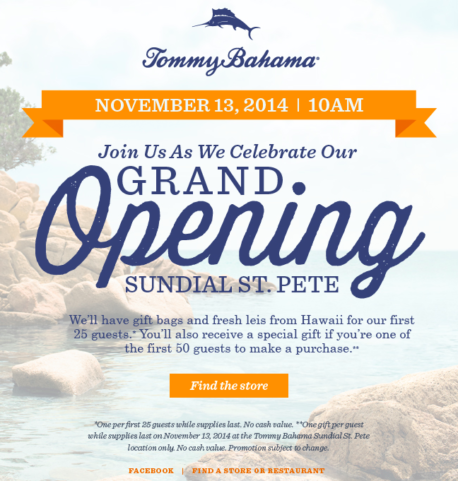 You can also create a reminder email, which you can automate, and send the day before the event.
Make sure your event email includes:
Event details like location, date and time
A special offer for guests
Schedule of events, if necessary
A call to action
3. New arrival email
Customers love new stuff; so let them know when a new product or service is available with a 'new arrival' email.
Let's say your store is about to carry a new line of handbags, let customers know about the product in an email. Or, maybe your investment firm is about to offer a new consultation service to help people prepare for retirement, or an online education site is about to launch a new class – tell customers about it via email.
Here's a great example of a 'new arrival' email: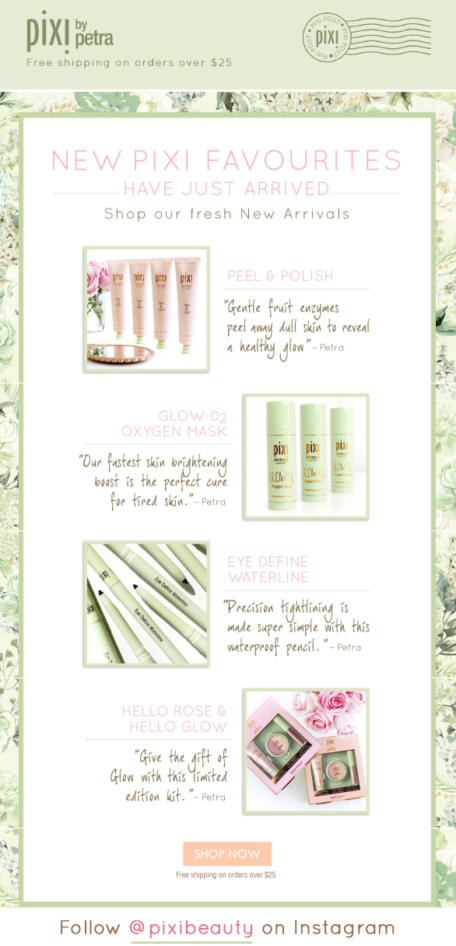 Make sure your 'new arrival' email includes:
A message about what the new arrival is
Pictures of the new product, or a picture representing the new service
A call to action that gives customers the chance to purchase the new item, or sign up for the new service
By adding these three emails to your arsenal this year, you'll be able to attract and retain more customers. Remember, sending a variety of emails is the key to keeping customers interested and engaged with your brand.