The Anatomy of an Effective Promotional Text Message
A growing number of businesses are adding text messaging to their arsenal of marketing tools. Why? There are a lot of reasons, but perhaps the most compelling is the average open and conversion rates of text messages. What kind of rates are we talking about?
Text messages have an open rate of 98 percent and an average click-through rate of 36 percent. Impressive, right?
Before sending texts to your customers, it's important to understand what makes a promotional text successful. To help, we'll explain the anatomy of a text message so business owners can create and send effective texts to their audience.
An irresistible offer
A can't-resist offer is the heart of every promotional text. You need an incentive that compels customers to act. Maybe it's a special coupon or a free trial offer. Whatever it is, make sure it's worth a customer's time.
A deadline
Your irresistible offer should have a deadline. Think of it as the feet of your text. By setting a deadline, you create a sense of urgency that encourages customers to hop to their feet and act.
Take a look at the example below from a fast food restaurant, Chipotle. The deal expires on 2/23, two days after it was sent.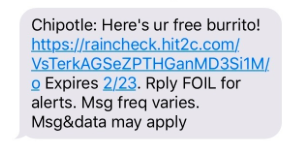 A call to action
Smart businesses include a call to action, or CTA, in every text. That's why we consider the CTA the brain of a text.
Most CTAs are shorten links that take customers to a specific website where they can print a coupon, browse products online or reserve a spot to an event. Notice the CTA from department store, Macy's, in the text below: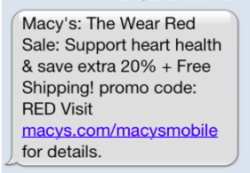 You can also encourage customers to come into your store as the call to action.
The business name
Don't forget to include your business name in the text. It might seem obvious, but you'd be surprised how many companies leave out this important detail. Because the company name is an important visual, it represents the eyes of a text message.
A way to opt-out
Your text should have a way for customers to opt out. In other words, if they don't want to receive texts from you anymore, how do they remove their name from your list?
Think of the opt-out information as the circulatory system of a text. This system keeps blood flowing the body just as the opt-out process keeps uninterested customers flowing off your list.
The most common opt-out method is for customers to text a certain word to the company to signify they'd like to stop communication. In the example below from retailer, Old Navy, customers can text the word "stop" to no longer receive texts from the company.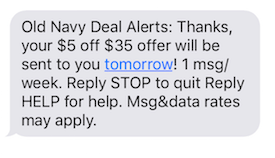 Text message marketing, sometimes called SMS marketing, is a great addition to any marketing strategy. You can even work with providers that offer both email marketing and SMS marketing options. By combining the two, you'll increase your reach, build stronger customer relationships and improve your bottom line. To know more, contact our expert team at juvlon.com