Regular yoga practice helps us ​maintain our health and ​maintaining IP​ reputation​ will help in successful email marketing program! Sending bulk or mass emails from 'cold' or new IPs may harm IP reputation. To avoid this you need to warm these cold IP address up gradually so that International Service Providers (ISPs) mark them legitimate. I am sharing 4 tips for how to warm-up your IPs.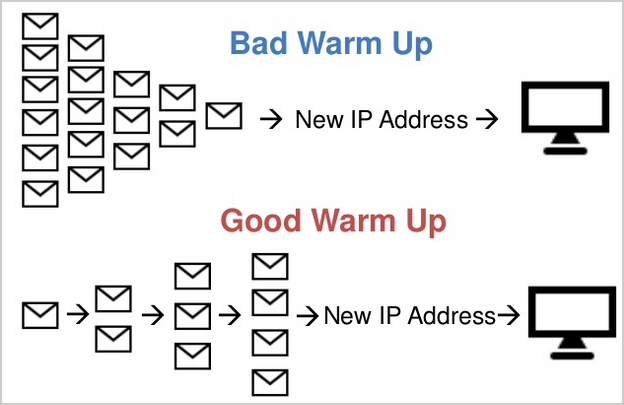 1. Maintain sending volume and frequency: The best practice is to spread your initial sending over multiple days. Increase the mails gradually, exponentially from 100, 200, 400 etc every alternate day stay at 10,000 mails per IP. For example, If you plan on sending 40,000 emails a week, we recommend that you split your lists into at least four sub-lists with limit of no more than 10,000 recipients in each list. Email only one sub-list per day over the first few days.
Note: Send limited mails to ISPs like Gmail, Yahoo and Hotmail. These ISPs only take feed from blacklisting agencies they never report.
2. Segment your list: Segment your best and active contacts even before you start your IP warming. Having high delivery rates with your initial campaigns will help build your IP's reputation. Send mail only to active lists. Preferably previous opens to maintain reputation. Gmail tolerates spam by 1 in 10,000. So we have to be extra careful here. Send your marketing emails only to Opt-in data base.
Note: Use data to educate while you are warming your IP. You can send whitepapers, links to blogs and ebooks instead of promoting your products/services or sending offers. ISPs like to see that you are being responsive and are not spamming the inboxes.
3. Keep Marketing and transactional emails separate: Sending marketing emails is always a challenge. It all depends on the content of your email. Be creative and careful while drafting such emails. Transactional emails generally get through ISPs. Hence we would recommend to use more than one (at least 2) dedicated IPs — one for marketing and the other for transactional emails. Keep marketing and transactional emails separate.
Note: Emails like newsletters, coupons or other promotional mail fall into Marketing Email category. Welcome messages, account verification, invoices, and receipts, shipping notices, confirmations, service updates, subscription renewals, account updates, password delivery notifications, alerts and social notifications are some examples of Transactional emails
4. Follow email marketing best practices: Personalization, using your list wisely and monitoring user engagement will definitely help improve your IP reputation and ultimately better email delivery.
Warming up of IPs take time. Follow these tips and have patience!!
About the Author:
Ravi Iyer, Head- Email Operations at Niche Software Solutions, Keeps tab on Email Deliverability, Creating Infra for Bulk Email sending. He also suggests improvements to Client Campaigns. And manages the Tech Support, Systems and Client Support teams.