Transactional Emails That Delight Customers of Services Industry
In the last post on Transactional Emails, we looked at the BASICS of Transactional Emails, how they look, how to create them and how to make the simplest emails, awesome.
Transactional emails are an inherent part of your daily operations and hence are crucial from promotional point of view. Your customers interact with you more through transactional emails than the bulk promotional ones which you send out, daily, weekly, fortnightly or monthly.
As such, transactional emails could also be referred to as 'triggered' or 'personalised', which is probably a more accurate description.
Regardless, these are some examples of the most common types of transactional emails in use:
• Newsletter sign up.
• Password reset.
• Account registration.
• Order confirmation.
• Cart abandonment.
Brands use Transactional Emails in a variety of ways by spicing up the content or by making the graphics more ooh worthy or both.
Transactional Emails in Services Industry
Studies have shown that transactional email messages can reduce checkout abandonment by as much as 40%.
That's right. Regular triggered emails can control the drop-offs and abandonment to a great extent. Transactional emails act like the friendly guide to your customer and in the services industry, every minuscule experience matter. Transactional Email helps by providing the communication channel which become the touchpoints that makeup remarkable customer experiences.
Transactional emails go way beyond just receipts and goodies. In the services industry, this could make or break a sale. Here are some examples to prove why transactional emails need to be nothing less that perfect.
Axis Bank Mutual Fund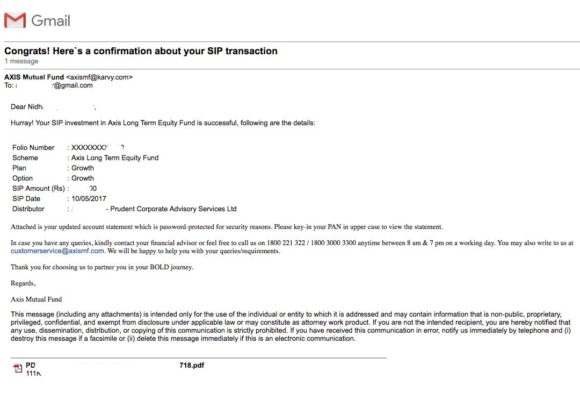 Mutual Funds are THE most attractive tools of investment for the young crowd who have just started earning. Investments are essential in the long run for a secure future and to get the youngsters into putting a part of their salary into a financial instrument is difficult than it looks. In this transactional email by Axis Bank, the tonality of the email, wins me over! Everytime I make an investment, this confirmation email acts as a pat on my back, lauding me for investing my hard earned money into something useful.
The details, the call to actions, they are all just bang on!
AirBnB

When it comes to blending customer relations with emails, no-one does it better than AirBnB. Here's the email we received just about 3-4 weeks before flying to Austria for a vacation. Look at the opening line!
Get ready for Wein! I never knew that the simplest email with reservation details, maps and directions could induce THAT much excitement! AirBNB beautifully uses customer preferences and their previous interactions to create triggered emails that are personal in nature.
Ola Money
Before I go into telling you what made me excited about this, I would like you to have a look at it. Just look at the design! It is clean, simple and it talks to you! You would say, what's so special about a confirmation email? The large sized figure of the money deposited and the new balance exudes a feeling of confidence for the customer to spend without worrying about belting cash on the next transactions.
The information below it about how you can spend that money makes it even more simpler for the user to use that virtual money elsewhere apart from the cab service.Mention here how service-based businesses can use this technique to satisfy doubts of subscribers/customers who sign-up for their services.

Transactional Emails are all about the experience and they carry the Brand Legacy with every email. That makes it all the more important to pack a punch in these simple, operational and triggered emails everyday. Have you come across any awesome examples of Transactional Emails? Let us know!