Using Data to Define the "Who, What, When" of your Email Marketing
When I say that Email Marketing is by far the most effective tool to get more returns on your investment, I am not exaggerating. Check this out –
72% of consumers say that email is their favored conduit of communication with companies they do business with. 61% say they like to receive promotional emails weekly, and 28% want them even more frequently. On an average, for every $1 you spend on email marketing, you can expect a return of $48!
Emails are your best bet at reaching your customers provided you have all the things right – Crisp and sharp subject line, compelling content, real-time data and above all, tailored, personalized offers for them. Here's the thing.
You may start off with a great response in the first campaign, but the effect will wear off as you move on because, you are sending out emails of the same kind to the same set of audiences. Wouldn't you get put off seeing the same kind of emails in your mailbox from your favourite seller? If you don't do something right away, you are sure to lose out on your customers, which you worked so hard for.
Data, Data and DATA!
You do know that after every email campaign, there is a report that is generated by your email marketing service provider. This report is a goldmine of information which will give you a preliminary view into what your customers actually want! Add to that, a skin deep data that Google analytics and its tools show up! Data gives you the direction in which you can plan your next campaign. With immaculate analytics on your side, your email campaigns cannot go wrong. There are different types of data that you can use to plan your campaigns, create and test them before sending them out.
1. Demographic
Data related to Age, Gender, Education, and Location
2. Behavioural
Data that shows their online purchase and browsing behavior. For instance: Mint coloured Maxi dresses or hatchback cars under INR 10L
3. Preferential
Preferential data is pretty interesting of the lot. Based on the kind of products your customers browse or search for, you can easily gauge the 'Kind' of products your customers are looking for. For instance, patchwork skirts or coffee flavoured cakes or say, Reebok Running Shoes. Preferential data takes you very close to your customers' needs.
4. Transactional
Transactional data is useful to send out transactional and customer service emailers. Based on your customer's buying or paying habits, you can offer deals and discounts on a certain type of payment method. For eg: Additional 10% off on Visa Debit Cards, something like that.
Using Data to Create Effective Email Content
Customer Data tells marketers a lot more than you can guess by meeting a customer in person. Based on those pointers, marketers can shape their communications resulting in higher open rates and eventually purchases.
Personalization
70% of brands do not use personalization within their email marketing strategy. And personalization does not mean that you have to send an email personally to every customer. Personalizing subject lines with the recipient's name, like this one I received from Amazon, can increase open rates by 16%

Real Time Information
Real information adds a sense of ingenuity to your email. Support your email content with real time data like Social Media Feeds, Live Deals and Offers or stock statuses.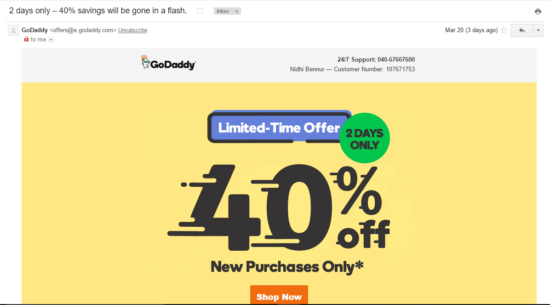 Relevant Recommendations
Recommendations appeal more than your sales pitch, because they are genuine experiences from fellow customers. Supplement your emails with popularly recommended products by your customers to spur instant purchase.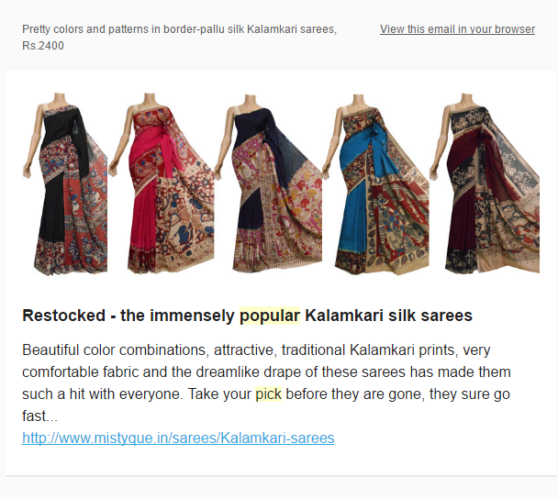 Iterative Improvements
Tried and tested always works. Try and test out your emails using A/B testing for different data sets on the same segment of customers to see what works best. (How to Test Your Emails)
Data driven communications help marketers in slicing out the noise and giving customers exactly what they are looking for. After all, customers possess a very short attention window which marketers fight to grab. How have you used Data in your email communications? Let us know in the comments below!