Using SMS for Communications In Educational Institutions
SMS Marketing has brought marketers and their customers closer than ever. While smartphones have made life on-the-go, SMS Marketing has bolstered the brand reach by leaps and bounds. Schools and educational institutions were untouched by the rat race to stay ahead and depended solely on word of mouth marketing. They were also one of the last ones to get onto the digital marketing bandwagon. That said, SMS Marketing can prove to be a useful tool to this sector, if one knows where to use them.

After all, information sent by the post or sent home with pupils can often be delayed, received too late and, in some cases, intercepted by the student if it contains some unwanted news! Phone calls are also unreliable as parents are often at work or just too busy to answer the phone. This is why an SMS service can be the perfect communication tool.
One can quickly construct a message and send it to the recipients, making it reachable at the tip of a finger of teachers, parents or pupils within seconds of being sent. Confidential messages or discussions between parents and teachers can be possible without any hindrance.
Who are the Communication entities?
Like in any business or commercial sector, education sector has three entities between which, communications take place – Students, teachers, parents. And the communication grids could be like – Teacher and student, teacher and parents, students to students, students and parents, parents to parents and teacher to teacher. An educational institution involves active participation of all these entities at a regular basis. Based on this, here's how SMS marketing can be used in each of these situations.
1. Emergency notices, Homeworks, activities
SMS is highly useful for teachers to send out a bulk SMS to students, prescribing the homework. Apart from this, in case of any special visits, activities or inspections, teachers can convey the required information to students and parents so that the students are prepared for it.
Many a times, due to unforeseen situations, schools and colleges have to be closed for a day or two. Such unplanned holidays can be notified to the students through SMS.
2. Notes, Lesson Plan and Time tables
In colleges, gathering lesson notes, syllabus for exams and exam timetables is a task in itself. Students tend to get lost in the transition from school to college or better yet distracted with the free atmosphere. Teachers, in such cases, either put up these important information on the notice boards, which go unnoticed or lost. Automated messages can be used in these cases, when the notes are made available online for students to access them. It could look like this,
Lesson plan, syllabus and notes for Physics Ch.9 are now available. You can access them at (link)
Easy, right?! Wish we had this while we were in school ☹ Sigh!
3. Events, seminars, conferences
Events, seminars and conferences are a regular scene in schools and colleges. Annual days, sports day, national day parades, installation ceremonies, office bearer appointments and all such events span more than a month, and include preparations, rehearsals etc. SMSes can be used to co-ordinate and update students, parents and participants on day to day updates.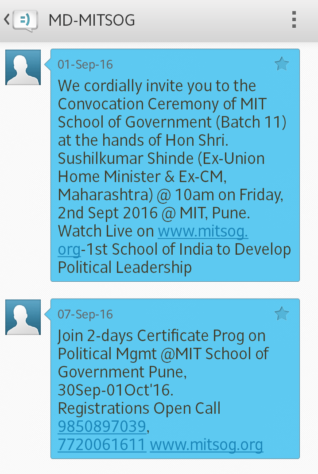 Teachers and parents can use SMS to coordinate among themselves during open days, PTA meetings and even the regular staff meetings to pass on information and notices on a real time basis.
The very thought that harnessing the power of commercial promotional tools will undermine the authenticity and originality of a school or college, is wrong. SMS is a tool. The pace with which we are progressing demands even schools to use it to their benefit.