You have tried several ways to reach out to your potential business leads, and they have successfully subscribed to your brand. Now what? You know how important first impression can be. So, sending a welcome email is that next crucial step for you. Welcome emails are most commonly triggered by someone subscribing on your website, downloading your mobile app or creating an account. They are an excellent opportunity using which you can make a killer impression before the interest of your new subscriber dwindles.
Here are six tips to ensure that your welcome email creates an engaging subscriber experience:
1. Automate to send a welcome email immediately
Don't settle for overnight batched welcome email sending. It has to be sent immediately after someone initiates an activity with your brand.
The reason is that the new subscriber is engaged with your brand at that very moment. They're on your website, browsing your app, or wherever they signed up from. They've started a conversation with your brand. Don't let the moment slip away. Remember, the average email open rate for automated welcome emails is more than 45%.
2. Generate value right away
What did you promise people in your email signup appeal? Was it to send them helpful information? Great deals? Or a signup incentive? Whatever it was, your welcome email should at least start to fulfill that promise.
To get to the value generation quickly, some brands will skip the welcome emails and start sending promotional emails. We don't recommend this approach, instead what we recommend is sending valuable information for the subscriber to know more about your product or service.
3. Use engaging content to tailor your message
A non-customer who signs up for emails on your website is a different subscriber than an existing customer who signs up during your checkout process.
The email acquisition source can tell you a lot about a new subscriber—how familiar they're likely to be with your brand, what their expectations are, etc. If you track new subscriber and analyse their behavior—their tendency to purchase, engage — and formulate messaging strategies based on that.
Use that context to tailor your messaging so that it really resonates with those subscribers. For instance, a new user recently logged into the Evernote mobile app receives the below email advising them about the features of their product, and the process to use them in an easy way. This creates a good brand impression by itself.
4. Put subscriber data to use
Leverage on the customer information you have collected during the sign-up process. Use these additional key pieces of information while automating the welcome email.
For instance, if you asked for your subscriber's name, include a personalized greeting. If you asked for their product interests and preferences, you can provide targeted information through the welcome emails. Sending a chain of welcome emails allows you to emphasize various aspects of your business, and even to customize key call-to-actions.
Evernote has smartly collected user preferences like their product needs and number of devices they own, and gone ahead to create this well targeted welcome email with rich content and beautiful responsive email design.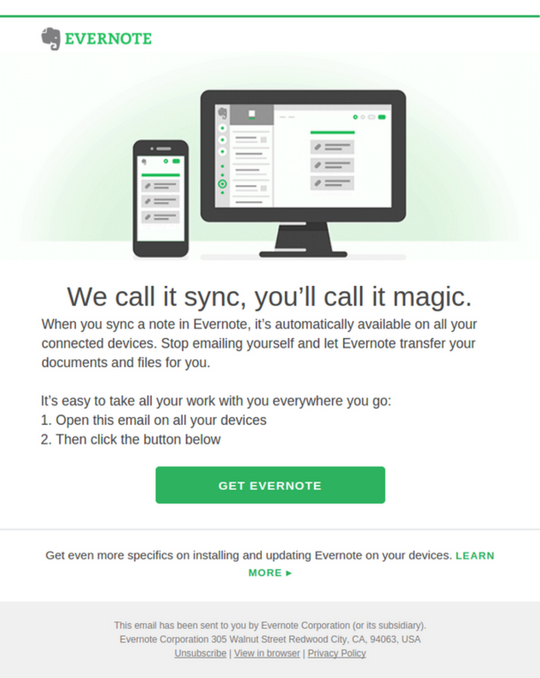 You can automate and schedule your Welcome emails in Juvlon in just a couple of simple steps. Try the newly advanced Juvlon platform for automating your emails and growing your business.