What's New With The 2018 Gmail Update
Google announced major Gmail updates in its Google I/O 2018 to help the more than 1.4 billion users to work safer, smarter and more efficiently. The new update is majorly for the web version of Gmail service, brings new functionality, security features and UI improvements. Google is also introducing a new way to manage work on the go with Tasks.
How to get the new Gmail?
G Suite accounts
New Gmail experience is available for businesses in the G Suite Early Adopter Program (EAP). You just need to go to the Admin Console and allow users to access the new Gmail. After they've turned this on, individual accounts will receive the "Try the new Gmail" option under Settings.
Personal Gmail accounts
Go to your Gmail account then click the gear icon(settings) in the top right corner, you will see an option to "Try the new Gmail" at the top of the drop-down menu.
Can you revert back to the old Gmail?
Well yes! (as of now) If you hate the new Gmail, you can revert the changes. Just go back to the Settings tab and select the option to revert to Classic Gmail. Once done, refresh your browser and you will see the older version of Gmail.
Let's take a ride through Gmail's 2018 update.
Whats new with functionality?
1. Snooze
We all receive many emails every day and it becomes difficult to filter the important ones in this clutter. To overcome this, Gmail has introduced a new feature in this update wherein you can snooze emails for a particular period of time. After snoozing, these emails would be cleared out from your inbox and would re-appear later.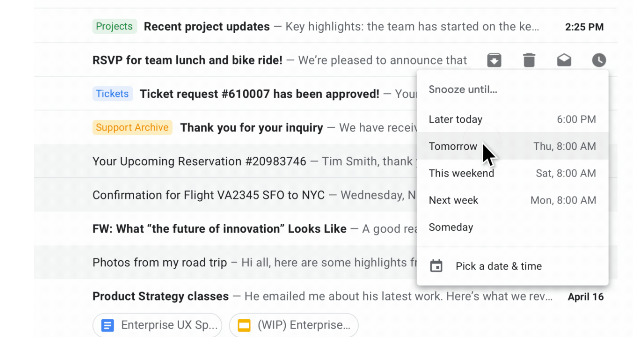 2. Nudging
With AI in Gmail's functionality, Google draws your attention to emails that it thinks are important by reminding you to respond to these emails before their deadline. Those messages get moved back to the top of your inbox with a warning. Google said this feature prevented 8 percent of people from dropping the ball on an email each week. To keep annoyance to a minimum, Google promises to send a max of three nudges per day. It's on by default, but you can turn it off if you would like.
3. Smart unsubscribes
You subscribed to a mailing list long ago and now you want to unsubscribe. How time-consuming it is when you have to visit the external website to unsubscribe from their email list? Especially if the website takes too long to respond or for which you may have lost your account login information. But now, no worries! The new Gmail update has a new unsubscribe prompt in the Gmail app to more easily stop emails from mailing lists that you signed up to, without having to go to an external website. Also, Gmail can now smartly recommend when to unsubscribe from mailing lists based on how many emails you get from the sender and how many you actually read.
4. High-priority notifications
Gmail has introduced a new way of handling email notifications for the app. This feature will make use of AI to notify you of emails that you actually need to look at right now or are important.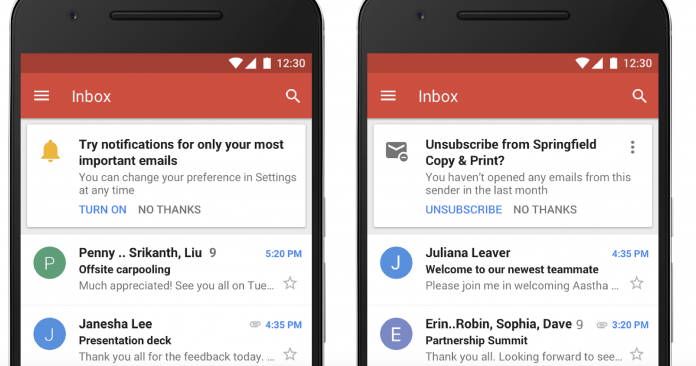 5. Offline Gmail mode
Wouldn't it would have been easier if you could work on emails offline? Just like google docs? Well, yes, the new update has introduced this much-awaited feature too! You will now be able to search, respond, write, delete or archive up to 90 days of email, just as you would while working offline.
What looks different in new Gmail?
Gmail now has an all-new design which looks less cluttered. Managing inbox should get a lot easier with new action buttons. Gmail's new design helps you take action quicker. Everything from the left sidebar to the compose button is updated.
Major update in the new Gmail interface is that you can see little buttons under the subject line which Google calls 'chips' allows you to click attachments from your inbox screen without having to open a thread.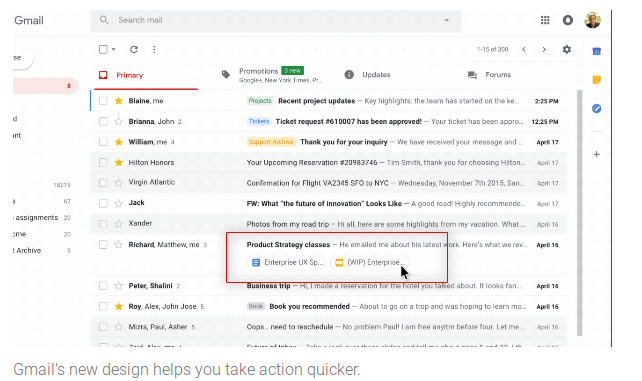 You can also hover over email to do things like archive, delete or mark as unread email thread and snooze an email until the time is right.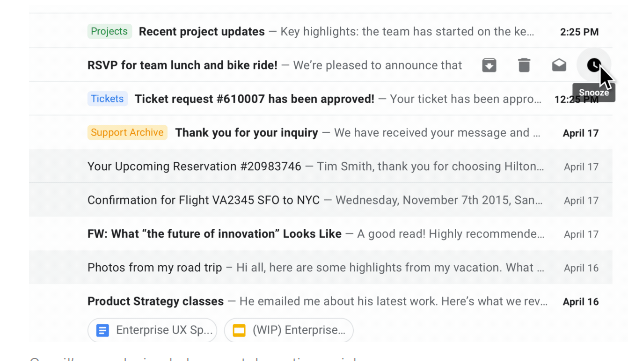 Now you can expand or shrink your inbox view. You can change into spacious or compact inbox view by just clicking on the 'display density" option in setting menu. You can expand or shrink your inbox view by clicking Menu option to make room for previewing your email. You can now edit labels and categories directly from the Menu. Scroll to the label or category you want to change, then click Settings to change.
1. Smart replies
Last year, Google introduced Smart Reply to Gmail mobile apps. In this update, Google implemented Smart Reply to Gmail on the web to help respond to messages faster. Google Integrated Gmail with AI which has enhanced its capabilities by auto-generating smart replies based on the content of the email.
2. View calendar, tasks, keep and add-ons-
There is a new bar on the right-hand side with calendar, notes, tasks and add-ons for integrations. With calendar option, you can view your daily schedule, click events to edit them, create new events, and jump to upcoming events. You can use Keep the option to create a checklist and take notes. Besides these, you can also manage to-dos in Tasks. You can use Tasks to create tasks and subtasks or add due dates with notifications. You can also drag and drop an email into Tasks to create a to-do, and then your due dates will appear in your Calendar. Add-on option allows integrating with third-party business apps you might use. You'll start to see the new side panel integration in other G Suite apps in coming month like inside of your Calendar, Docs, Sheets and Slides apps.
What are the new security features?
You'll get the latest security fixes and alerts including:
Warnings when messages aren't secure
Warnings about suspicious senders
Improved authentication and sync
1. Security warnings
Google has announced what it calls Business Email Compromise (BEC) threats ie. when someone tries to impersonate as an executive in your business to obtain confidential information. Google introduced phishing protections to prevent these threats and said Gmail can block 99.9% of BEC attempts by warning users or moving these messages to spam. Also, as part of this update, Google has redesigned Gmail's security warnings. They now appear bigger and bolder, give a clear call to action, and inform you when such email is sent to your inbox.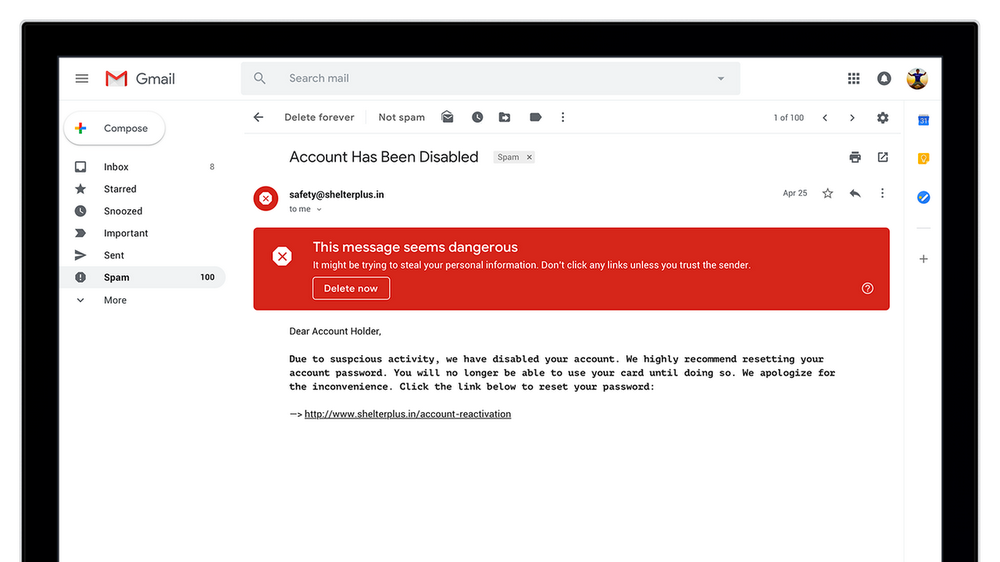 Confidential mode
You can send messages and attachments with a Confidential mode to protect sensitive information. Set limits on what your recipient can do with your email, such as setting an expiration date, requiring a passcode, or removing options to forward. When you send the email, your recipient will get a notification about the limits you've selected. You might need to enter a passcode to open the email. Built-in Information Rights Management (IRM) controls stops recipients being able to forward, download or print an email. This helps reduce the risk of confidential information being accidentally shared with the wrong people. This feature allows users to choose whether an email can self-destruct after a certain amount of time. According to the news site, users can select whether the email they send vanishes from the receiver's inbox after 24 hours, five days or even up to a year.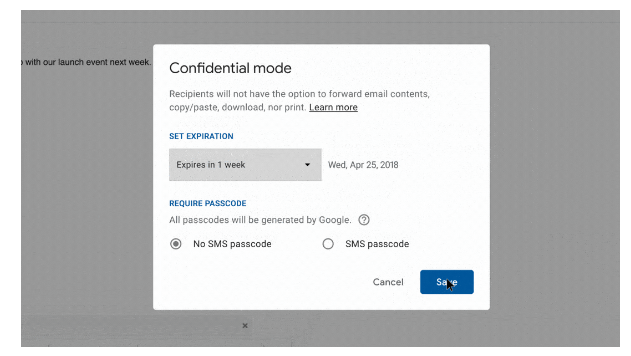 Gmail has won the hearts of email users all around the world, as it provides us the easiest, most condensed and helpful platform to receive our necessary email conversions.