By Apeksha Kshirsagar
September 1st, 2016
Emails are still here, aren't they. And they are not going anywhere. Although a lot of companies are increasingly substituting them with chat for internal communication, emails still remain the most popular form of communication outside of the company, mainly for marketing.
So popular, we send over 122.5 billion emails every hour!
Email is a great way to stay connected with your customer base, and should form an integral part of your digital marketing strategy. Reminding customers you exist with regular, engaging email content will strengthen your relationship, build brand loyalty and drive traffic to your website (or wherever else you want to).
When it comes to email marketing techniques, we have all read a ton of rules. Rules about headlines, body, A/B testing, time of scheduling etc. The more we read them, the more we realize that there is one, and most important rule, that stands the test of time and comes out shining:
Thou Shalt Not Be Boring.
Like books, marketing emails are pieces of content that require the attention of readers. Think about it – if authors go to extreme lengths to tell creative stories through books, why do we marketers fear so much about diverging from standard rules? In the case of books, the readers have already performed the intended action (purchase), as opposed to marketing emails where they have to be convinced. All the more reason that we should be more ambitious!
And based on our own experience, we can say that it does pay off.
POWER OF GOOD CONTENT
One of the easiest ways to improve your conversion rates is to locate the specific holes your leads are falling through in the sales funnel and develop a strategy for plugging them with awesome content that helps leads address their most common pain points. Helpful content is what will keep leads engaged and moving down the funnel until it's time to buy.
Developing your content strategy
Before you even begin creating content, you should develop a clearly defined strategy for the what, why and how of the content you'd like to produce. You need to understand your audience, what motivates them, and what they need to hear from you in order to make a connection to your brand. Buyers are trying to solve a problem or meet a specific need. As a result, they're gathering information to help themselves make better informed decisions. By creating content aimed at educating buyers, you can start to build a connection with prospects and eventually turn them into qualified leads.
To get users interested, you have to sound interesting. You can't plead them into giving you a chance. Unique, interesting and creative emails don't just delight the people who receive it, they also help your email stats. After all, click/open rates measure the success of your email marketing.
Some tips to remember for managing your email content are:
1. Stay focused – If you want people to click on your emails, make it as simple as possible. Anything in the email besides the link and a few lines of enticing copy is a distraction from that goal.
2. Use behavioral data – Personalize your emails based on everything you know about your subscribers.
3. Curate – If you are sending content-driven emails think about your readers. They need education, advice or inspiration. The curation mantra is send them away to bring them back.
4. Take conversion seriously – There are many things content marketers can learn from journalists. How to write on a deadline, the importance of copyediting and fact-checking, etc. But don't forget the conversion goal to drive readers to your website by providing a clear call to action in your marketing emails.
BRAND CASE STUDY : DORMIFY
With a consumer base largely consisting of young adults moving into a college dorm or first apartment, online home décor retailer Dormify needed to ensure that its marketing messages are heard loud and clear. To make a relevant connection with these consumers, Dormify turned to email marketing automation, to maximize the impact of its communications among the young demographic.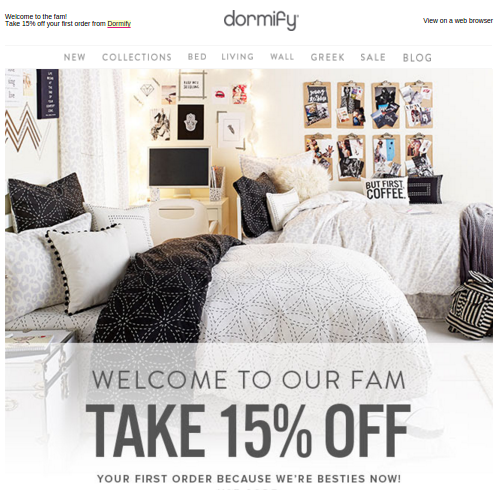 After a year-long campaign, that included personalized emails, they cracked the millenial code by achieving 92% increase in email revenue and a website conversion rate two times Dormify's average.
On top of these results, visitors that came to the web site through email campaigns stayed 42% longer and viewed 20% more pages than any other visitors.
Dormify's audience is a younger demographic, so they're living on their phones. Automated campaigns create a huge impact, with very little manpower necessary. Dormify had triggered campaigns that were part of a welcome series, in which tailored emails were sent to new subscribers introducing them to Dormify and incentivizing them to shop.
As part of the new campaign, Dormify shifted its focus to more content-oriented communication. Within emails, the retailer now includes resource guides such as 'Counting Down To College', sharing relevant information with potential consumers that could further add value to the purchase and perhaps build further engagement.
The engagement goes beyond the initial interaction and even continues after the purchase (or in some cases after a non-purchase). After a successful purchase, campaigns have encouraged buyers to share their purchases via social media. Dormify also established an abandoned cart program, designed to drive incremental revenue by sending emails over a 120-hour period to customers who leave the site with something in their cart.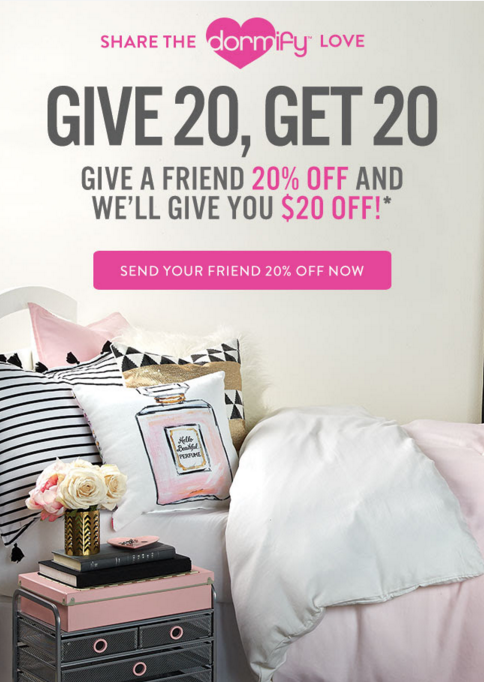 Segmenting the audience is yet another important facet. You can increase your email impact over time by becoming more selective about the content, frequency and audience for each campaign. Segmentation and relative content helped Dormify to bring the personal touch to their email marketing, that has now strengthened the brand and has challenged other marketers.
Lessons from this creative brand definately teach us to never shy away from trusting your instincts and experimenting with unique ideas. As more often than not, they will end up working well. Contact Juvlon for creating high converting marketing emails for your business.