By Apeksha Kshirsagar
Jan 31st, 2018
TourRadar, the world's largest online multi-day tour travel marketplace is conquering the tourism industry at lightening speed. TourRadar has grown rapidly over the last year, tripling its booking revenues and expanding its base of more than 500 tour operators running trips to over 200 countries.
So how have they been able to achieve this huge success along with building an equally huge network of tourists around the globe? What is the secret to their success?
Trust
TourRadar has facilitated almost 50,000 conversations of travellers asking each other for advice on a specific tour or getting excited together about their upcoming adventure. This was achieved soley by digital marketing efforts and publicity done on all online platforms, including our most favorite and trusted – Email.
Tourradar's email marketing campaigns are motivational for all businesses looking to learn best practices to build brand trust. These focus on delivering contextual, relevant experiences to all subscribers while banking on a collection of more than 50,000 tourists reviews. So let's dig into some of their best emails and learn some guidelines: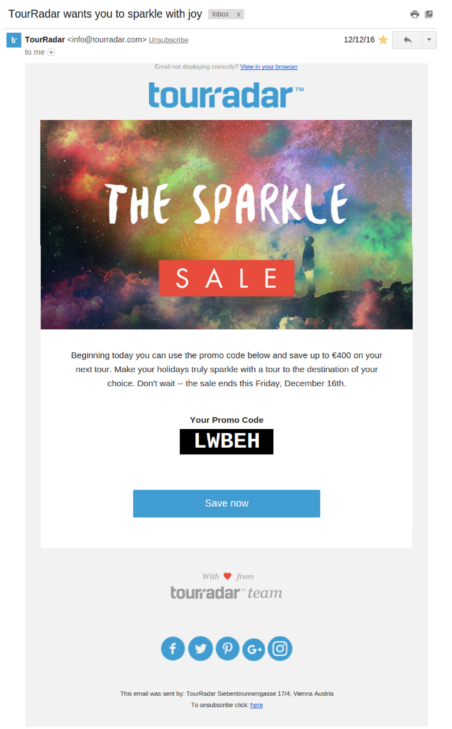 Where in the World Should I Go?
Before planning for a trip even begins, users are probably off dreaming about where they'd like to visit. They may choose to use your service or they may not, but a friendly nudge from your brand in the form a content-driven email with an attractive subject line and an appealing discount, can turn a dream into a plan.
Using Data To Provide Relevance
Provide personalized recommendations based on information from a user's earlier interests, as this is exactly the kind of data that is helpful and relevant to a subscriber. Use social proof, or the concept that we're more likely to take a leap if we know others are taking it with us, to show your most popular business deals or services based on your customers' behavior.
Following The Trends

Know what your subscribers want, capitalize on those interests, and communicate something unique. This email is equally timely based on people's buzzing new year plans. Sent just before the ending of the year, it capitalizes on the buzz about global food trends and provides better trip plans based on those interests. Though not super targeted on individual level, the concept still works perfectly.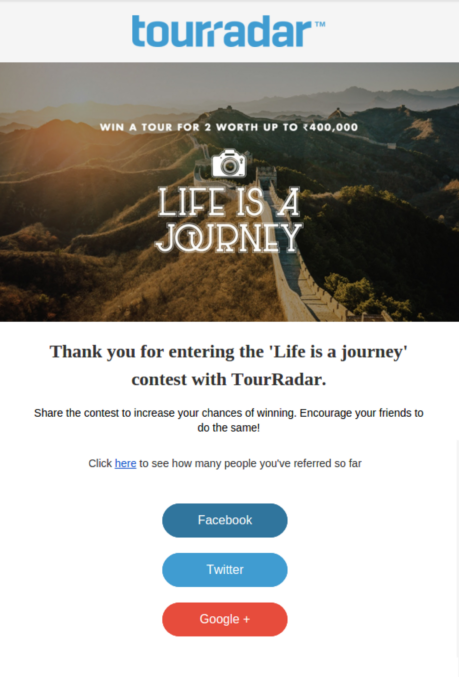 You can also engage your subscribers with well managed contests and keep them posted about its updates via automated emails sent to the contest entrants. Creating an email design in a simplistic way too can help smooth the feedback process, increase responses, and leave the subscriber with a positive experience, too.