List Subscription And Welcome Campaign Automation
By Rohit Varude
August 30th, 2018
---
---
Are you still downloading subscribers list from your website into a spreadsheet (like MS Excel) and uploading these into your email marketing software? Hopefully, you are sending your new subscribers a welcome email, ie, one of the most effective email communication. You need to stop all this manual work. Automate list subscription and welcome campaign along with it.
1. Link your newsletter/email subscription form on your website with Juvlon using APIs. In the API, specify the list in Juvlon that you would like your newsletter subscribers to join.
2. Enable the double opt-in feature of list subscription in Juvlon. This makes sure you are not getting bogus emails in your list. Juvlon sends a confirmation email to the subscriber. Once the subscriber clicks on the confirmation email, he/she is subscribed to your list.
3. Enable welcome campaigns for your list subscription. As soon as a subscription occurs in your list, a personalized welcome email is sent to the subscriber. This welcome email can be created and customized by you.
Improve your Sales Pipeline
Creating a workflow for your email marketing helps automate the sales process. This email automation graduates your leads further up the sales pipeline.
Say you are marketing real estate and you send a newsletter to your subscribers about latest properties available in your portfolio. If a subscriber clicks on any of the properties, he/she is obviously taken to the landing page of the property.
1. In addition a simple workflow could be designed (like the one in the picture above) where an automatic email is sent to the subscriber, an hour after the click, requesting an appointment for a site visit where he/she can see the property in person.
2. If the subscriber does not respond to the appointment email, the workflow automation could be further programmed to send an email 2 days later, with a video walk-through of the property that was clicked upon.
3. If the subscriber views the video, the sales person is immediately sent an email with the subscriber's contact details, so that the sales person can further call the subscriber for a site visit appointment. This email also arms the sales person with information that the subscriber has clicked on the property and viewed the video walk-through.
4. If the subscriber does not click on the video, the subscriber can be deemed as not interested, as he/she has not responded to the appointment email nor the video walk-through.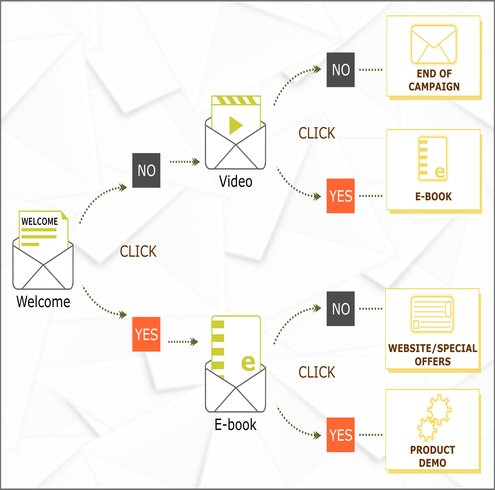 In this example, the leads either qualify themselves as valuable or your sales team get qualified leads or the leads automatically disqualify themselves. These can be fed directly into your CRM software.
This type of email workflow automation is also called drip email marketing.