The most challenging section of the society to target using emails is millennials. They are tech-savvy and know what they want. Many marketers are struggling to connect with millennials in a meaningful way keeping both revenue and growth in mind. According to research, 44% of millennials reach for their phones to check email as soon as they've turned off their morning alarm.
The trick here is to understand the best email marketing strategy for millennials and not deciding whether or not emails are important to them. Brands need to be more authentic and reliable if they want to win over the younger generations.
Keep the following tips in mind to develop the best email marketing strategy for the millennial audience:
1. Make sure your emails are responsive
According to a study by Litmus, 46% of emails are opened on a mobile device. Your emails should look good when they are opened on smartphones or tablets or they will be deleted within seconds. Responsive emails have an impact on email engagement and click-through rates.
2. Personalize beyond the "first name"
Who does not like an email which is specially tailored for the recipient? Of course everyone. Remember to use personalization beyond a custom subject line. Segment your email lists according to your recipients based on their activity on your website or app to send them emails which cater their requirement and provide your millennial subscribers a highly personalized experience.
Wishing your customer on their special days like birthday/ anniversary, thanking them for being your loyal customer, surprising them with promotional offers are some examples of personalization in emails which help customers feel special and help to build trust in your brand.

3. Make your emails more interactive
Imagine you get 2 emails, first loaded with big chunks of text and the other with visuals like GIFs, videos and images, which one would you prefer to read? Obviously, the 2nd one which is with visuals. Getting millennials to ready your emails is a big task as they do not spend much time reading emails. Here visuals play an important role.
Millennials want information which is precise and crisp. They prefer visuals over text. Try to create interactive emails using a different font, typography to highlight certain keywords in your email so that they catch your recipient's attention.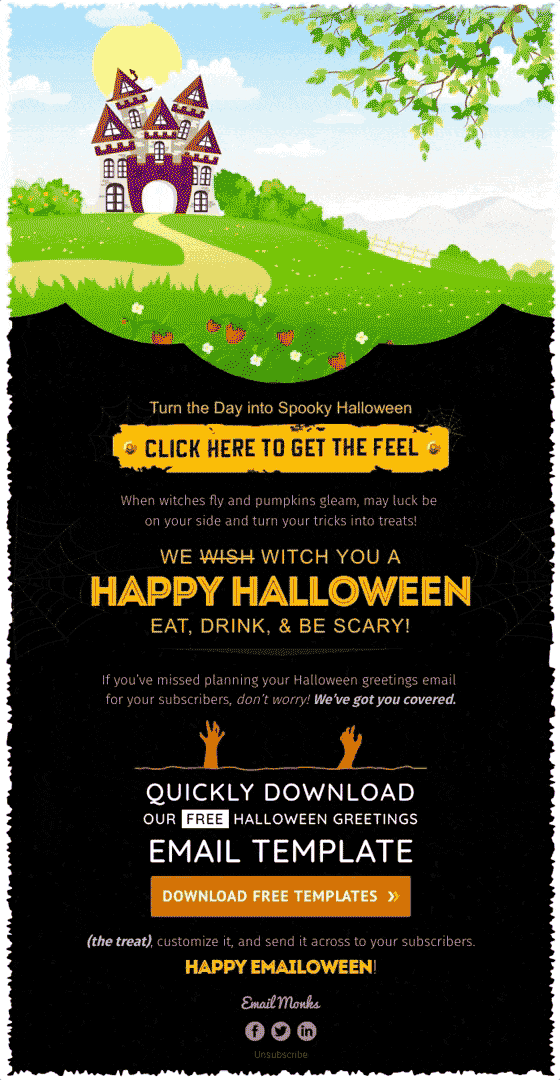 Image Source
4. Use different channels to connect
Be active on social media platforms. Integrating your email marketing strategy with social media platforms is a way that leads to the success of your email campaigns. Millennials are actively present on all social platforms. They are open to sharing content which is helpful and worth sharing.
So don't forget to include:
Social media icons in your emails
Click-to-tweet text highlights
Like and share buttons
Social feed widgets
5. Let your emails do the talking
Millennials love stories, which trigger their curiosity and unfolds bit by bit. Use story forms in your emails to engage them and sustain their interest. Let them get curious about something due to the gap between what and what they want to know.
Creating a series of emails which starts with a teaser email with a catchy subject line and content, to some knowledge-based emails and at last the final email which reveals your product/app can work wonders.
6. Provide an easy way to connect with you
Millennials have a habit to deal with issues immediately, so if they face an issue with your service or have a suggestion they should be easily able to connect with you, so make sure your support and feedback link is easily accessible. Also, make sure you get back to them as early as possible.
7. Don't sound too desperate to land a sale
Misleading subject lines and sales tactics are not going to work on millennials. They have experienced this before and don't appreciate it. Instead, keep your tone casual and focus on how you can help them to improve their lives. Offer valuable content to them. Be informative. Millennials know that they have other choices, so give them a reason to choose you.
8. Play with subject lines
Subject lines are a gateway to opening your email. Use crisp subject lines that grab attention and compel recipients to open your email. Use catchy prefix so that your recipient gets your message even before opening your email.
9. Maintain transparency
Millennials are hard to win over because they are exposed to a wide knowledge on the internet, so they know what people are talking about your brand. 40% of Millennials refer to online reviews and testimonials before purchasing a product. They strongly believe in user-generated content. So a positive review or a vote could help you to build trust and loyalty.
So don't forget to enable reviews and ratings for your products/services, include as many customer testimonials as you can on your website/landing page. Try to add photos and videos from your customers so that your prospects know how your products look and feel.
Millennials are hard to impress and harder to retain. So make sure that your brand is as transparent as possible. Lastly, keep testing your emails with respect to subject lines, preheaders, content, and graphics. Long story short- make your emails likable, shareable and relatable!
New to email marketing and don't know where to start? No issues, our support team can help you out in planning strategies which will work best for your brand. Feel free to try Juvlon for free!