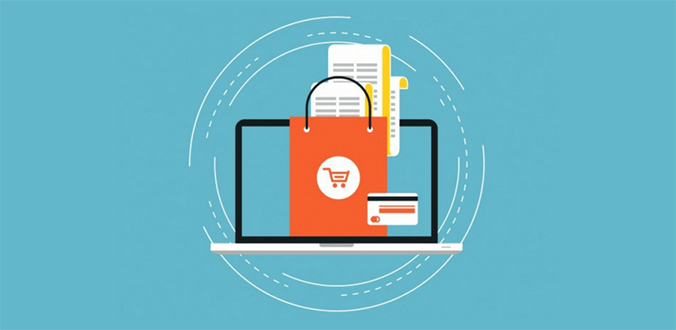 How A Retail Brand Delights Customers With Email Marketing
By Apeksha Kshirsagar
Jan 31st, 2018
---
---
Email Marketing has been a goldmine for marketers all around the world to find ways for converting their subscribers into loyal customers. With the advancement in automation technology, email provides support across all touch-points of your customer's buying journey.
Many popular brands have reached out to their customers with different innovative strategies. Some have helped us decode marketing myths, others have created new trends that have been followed by many other businesses. However, the brand that has stood out over the past few years and defied conventional marketing wisdom to deliver winning email marketing automation campaigns is – Kate Spade.
Kate Spade New York is a trendy fashion design house that was founded in 1993, and now offers a variety of products in the retail industry in the United States. According to the Kate Spade, "crisp color, graphic prints, and playful sophistication" are the hallmarks of the brand.
Defying the odds: Email Frequency
This wonderful, whimsical brand does something we'd never tell a retailer to do: They email their subscribers every single day!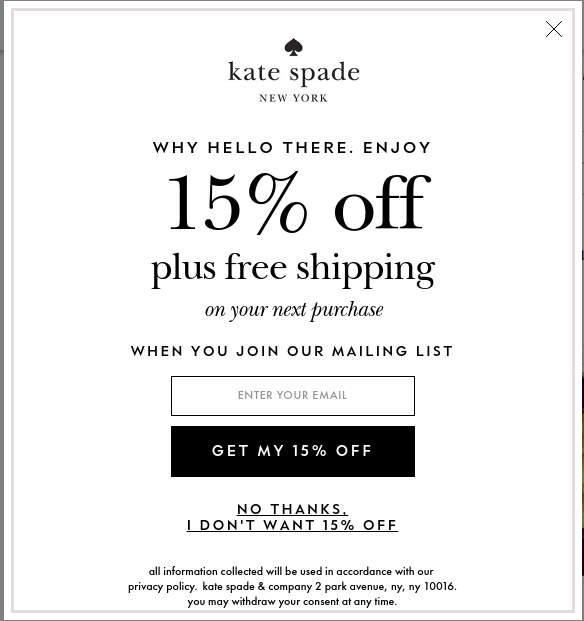 Usually, retailers are advised to not bombard their customers with tons of emails. This is because such promotional practices often result in the customers unsubscribing from the email list or marketing their emails as spam.
However, Kate Spade sends such delightful emails with constantly evolving content, that their loyal subscribers actually look forward to it every single day like some fresh hot new episode of a popular TV series! Right from offering deals for subscribing to welcoming new subscribers impressively, you are in for a real ride that will be an entertaining one, and compel you to buy sooner than you'd think –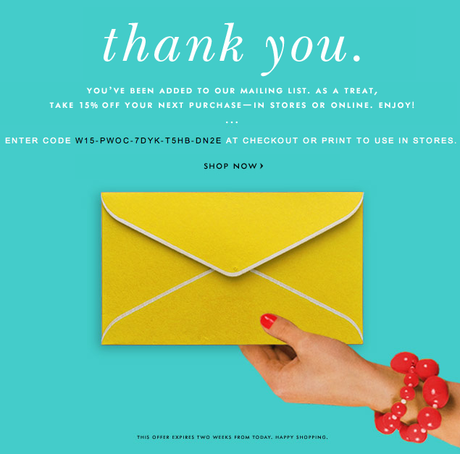 Never abandon your 'To-Be' customers
Cart abandonment emails, which notify a consumer about a shopping cart with products left in it, can be highly effective in improving a brand's conversion rate. Kate Spade Saturday's cart abandonment email excels in branding and copy-writing with its simplicity and content. It talks about the USPs of it service – which in this case include no additional shipping costs and easy returns. It also gives additional options to check out new arrivals which could be equally appealing to a potential customer. This is presented with an impressive call to action text that grabs the recipient's attention for sure.
Feedback is the key
The retail brand knows the true value of weekend offers in the e-commerce business by now. So it sent feedback emails that serve to be mutually beneficial for them and their customers. The data collected from patrons can help with planning and strategy for their business, while the 25% off deal is a gift every customer can enjoy.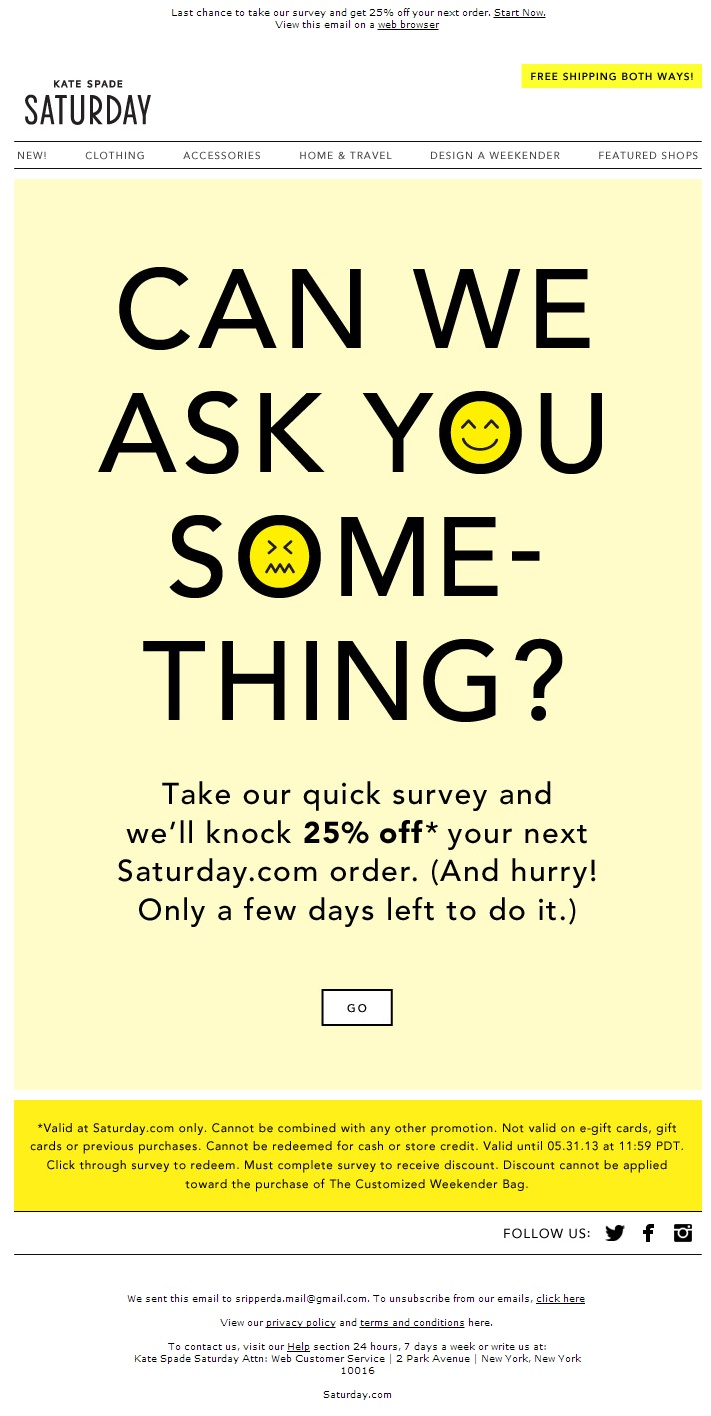 Every customer's feedback is important to determine brand direction and fuel business growth. Take a leaf out of this successful strategy for your business as it allows you to build a foundation of loyalty within your marketplace. Also, another step to ensure that your customers are receiving your emails successfully is to guide them towards setting up the right email preferences for their inbox, like the email below –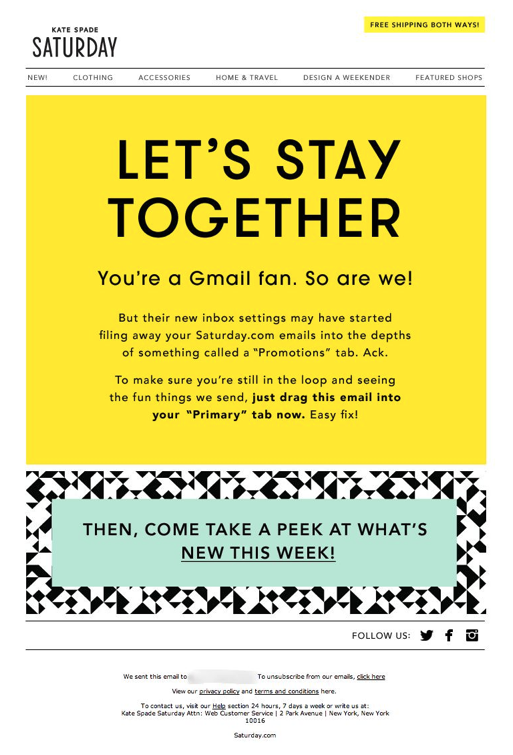 Learn how to use content, design and automation technology to create successful email marketing campaigns to grow your business with Juvlon.